For those of you who have been following along, it's likely tough to keep track of the many Chris Price projects we've featured on our site. From modern stunners we've listed and sold to perfectly placed and sustainably inclined homes, the designs grow increasingly coveted. He's operating now as KLIMA (formerly Park City Design Build), and it should come as no surprise that their project calendar is booked out for 2022...
The line is long, but the wait well worth it.
KLIMA's drool-worthy abodes are popping up all over the Intermountain West, but I particularly love his personal projects—those homes that Chris designs and builds himself. In a lucky turn, we got the chance to get first-eyes (and a lens) on his latest project, MapleHaus, which he claims is his personal favorite to date. Upon seeing the tree-shrouded sunset silhouette, we're inclined to agree.
Located on Maple Drive in Summit Park, it's perched just next to another architectural standout, the Cube House, built by architect John Sugden in 1975. You've likely noticed this modern steel and glass box sitting in the trees as you drive up Parley's Canyon—Chris was able to purchase the adjacent lot from John's wife, artist Jutta Sugden. He wanted to build something in the same vein; a nod to Cube house, to the philosophies of John Sugden, and to his mentor, the incomparable Mies van der Rohe.
These German philosophies lend to disciplined, rigid, and utilitarian design, but perhaps above all, they subscribe vehemently to function over form. In adhering to this, each design is better able to utilize space and, thereby, create efficiency…something Chris considers in every project (think: 12" thick walls, triple-pane glass, passive house standards, etc.). This time around, the rules were stricter than he's worked with in the past, which allowed for a spacial efficiency like never before. It's the most functional and efficient house he's ever built. Plumbing, duct work, and electrical runs are designed to be as short as possible for minimal energy loss and maximum efficiency. The stairwells are stacked, forming a thermal chimney in the home, and with a well placed, operable skylight above them, the heat and air flow is efficiently managed.
It's a simple box…maybe even uber-utilitarian. But every last detail is here.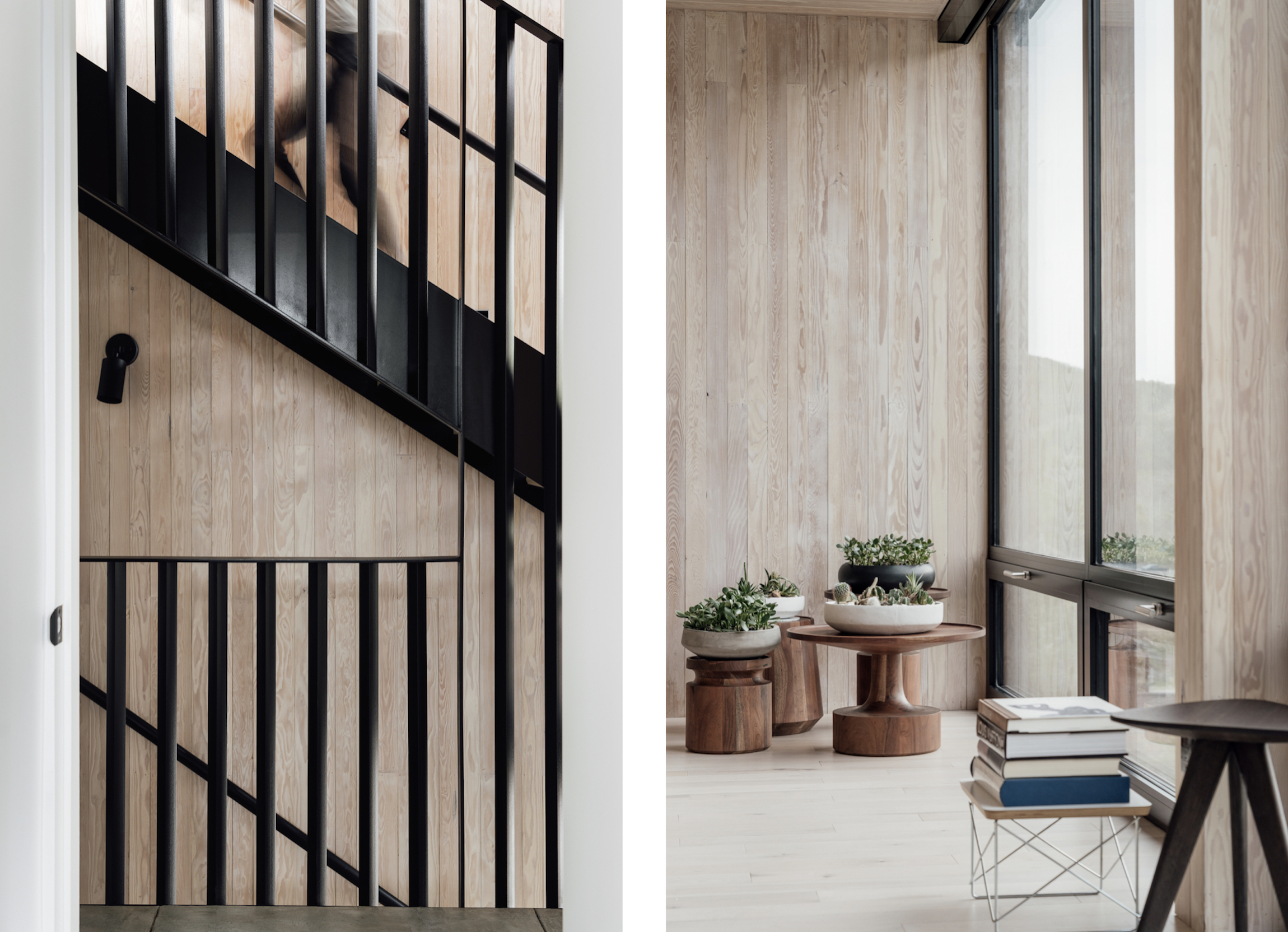 The exterior is clad in Corten steel, a finish that will patina over time, is more fire/bug/sun resistant, and requires no maintenance. The steel siding is topped by a second solar screen made from steel-angle iron, which functions solely on the west side of the home to block roughly 30% of harsh western light and offer a touch of privacy. But it also looks cool as hell.
As with many of Chris's homes, steel was brought inside for all stairways, then welded by him and his father. Painted black, they serve as a crisp contrast to the very light, very Nordic, maple-lined interior of the home (it's a maple-filled, MapleHaus on Maple Drive…and I'll give you one guess as to what his daughter's name is). Ever appreciative of the natural surroundings, Chris employed less drywall and more wood to achieve a mountainside coziness.
When you build sustainably, you create something that won't end up in a landfill in short order, and that's something we can get behind.
The next realm of conscious living is in the materials—materials that are resilient, that can remove carbon from the atmosphere. KLIMA aims to build homes that will last. For the time being, Chris's designs will continue to utilize natural materials, clean interior design, functional living spaces, and an air of timelessness. These spaces will not only still be standing in 150 years, they'll still be desirable.