Full disclosure: we've been having something of a love affair with this Ed Dreier home for years now. We've seen it through multiple owners, gasped repeatedly, drooled over the clean lines and life behind massive windows shrouded in trees. And when one architecturally-inclined cityhomeCOLLECTIVE agent represented the current owners on the purchase of said architectural wonder, we were (to say the least) beside ourselves with excitement. This home is, in our opinion, one of the most significant residential structures in Utah…the caliber of mid-century modern architecture that can be characterized a work of art. When it came time to help our clients curate a few of the spaces inside, the question was presented: how do you design the interior of such a space? The answer is simple, by all definitions. You design it minimally. Very minimally. You take the necessary measures to ensure that the structure allows nature and light to flood the interior. To subtly blur the line between inside and out…precisely what it was designed to do.
subtly blur the line between inside and out
Our clients, happily, count themselves true minimalists. They possess a love for mid-century and an aversion to clutter…a more fitting pair for the home we'd be hard pressed to find. We teamed up with some of the best contractors and tradespeople in the state–and relied on the impeccable personal style of our clients–to create a clean, culled, well-suited interior to this historic home. The scale and size of the spaces inside presented us the option of thinking "big." A huge sofa was in order for the main living area, and an oversized daybed was, essentially, begging to be placed squarely in front of the wall of windows overlooking the driveway (a thin, unassuming strip of asphalt flanked in all directions by scrub oak). We set to work on designing both from scratch.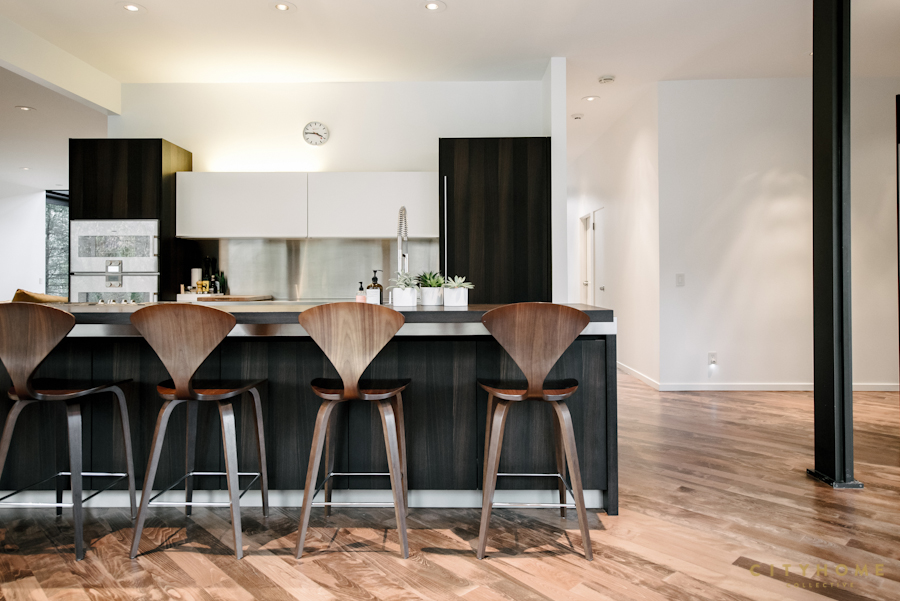 A few mid-century pieces punctuate the space
A black marble Saarinen tulip dining table, black on black Eames chairs, walnut Cherner barstools–and we sourced a few local, vintage pieces from the Green Ant and Tomorrow's House. One of our favorite rooms in the home is the wood-paneled office. Equipped with a travertine fireplace and massive windows, little was needed for the space, but our sourcing led us to a 1950s Black Freestanding Ladies Desk by German architect, Reinhold Stotz…a piece that seems designed for the room. The guest room, located off the garage, is intended to mimic a hotel suite. We added a few amazing, custom wood pieces by Modern Union (ahem: hidden mini-fridge in the headboard slab) and hired Sausage Construction for a beautifully-modern and minimal bathroom.
A cozy gold, velvet sofa and a striking linen daybed with mid-century legs to anchor the room, each constructed and upholstered to perfection by Sharp Upholstery. .
The main suite and nursery were designed entirely by our clients, who brought in some softness and color with the baby furnishings, but kept with a minimal vibe and neutral palette.