We've been adoring, COLLECTIVE fans of The Stockist since it opened (then called "Fresh") more than 10 years ago, so it's fitting that our cityhomeDESIGN team had a hand in the shop's latest revamp. Our city has seen a lot of change since owner Helen Wade ventured into the land of small business in 2009, and 9th & 9th's connecting coordinates have acted like a microcosm in that regard: it's seen a lot of growth with plenty of new faces, but it's also lost some very real near-and-dears (RIP Mazza).
"I honestly don't think I would be where I am if I didn't open up in the 9th & 9th neighborhood."
Says Helen, "There is so much support and camaraderie between the local businesses…community support that I don't think we would have received elsewhere." The area is brimming with local shops, and in recent years, that local bent has seen an extended reach to the east and—in particular—to the west. It's made Harvey Milk Blvd. a more walkable (and heavily visited) corridor, to say the least.
Along with the neighborhood itself, The Stockist has grown substantially in the last decade, but certainly not to the detriment of its loyal shoppers. Though the store has quadrupled in square footage, Helen's found a way to fill the space without losing any familiarity or making the shop feel crowded. Much of the warmth inside can be attributed to Helen's husband Mouse, who has built about 98% of the shop's displays over the years. In creating the newer ones, our team ensured that materials were chosen that would work with previous displays. Says Brea Valenzuela, one of our lead designers on the project, "we wanted to introduce displays that allowed for customization in a fast-paced, ever-changing business." For Helen's part, she was just hoping to find a layout and design that would make sense, the hope being that she could make the space functional, shoppable, and welcoming without pretension.
"I needed professionals to come in and work some magic."
Creating warmth in a space with this size, layout, and volume can be a tall order. Co-lead designer Rebecca Loosli notes, "We wanted to make it exciting to explore each new area of the shop while not feeling overwhelmed by the diverse and incredible selection throughout."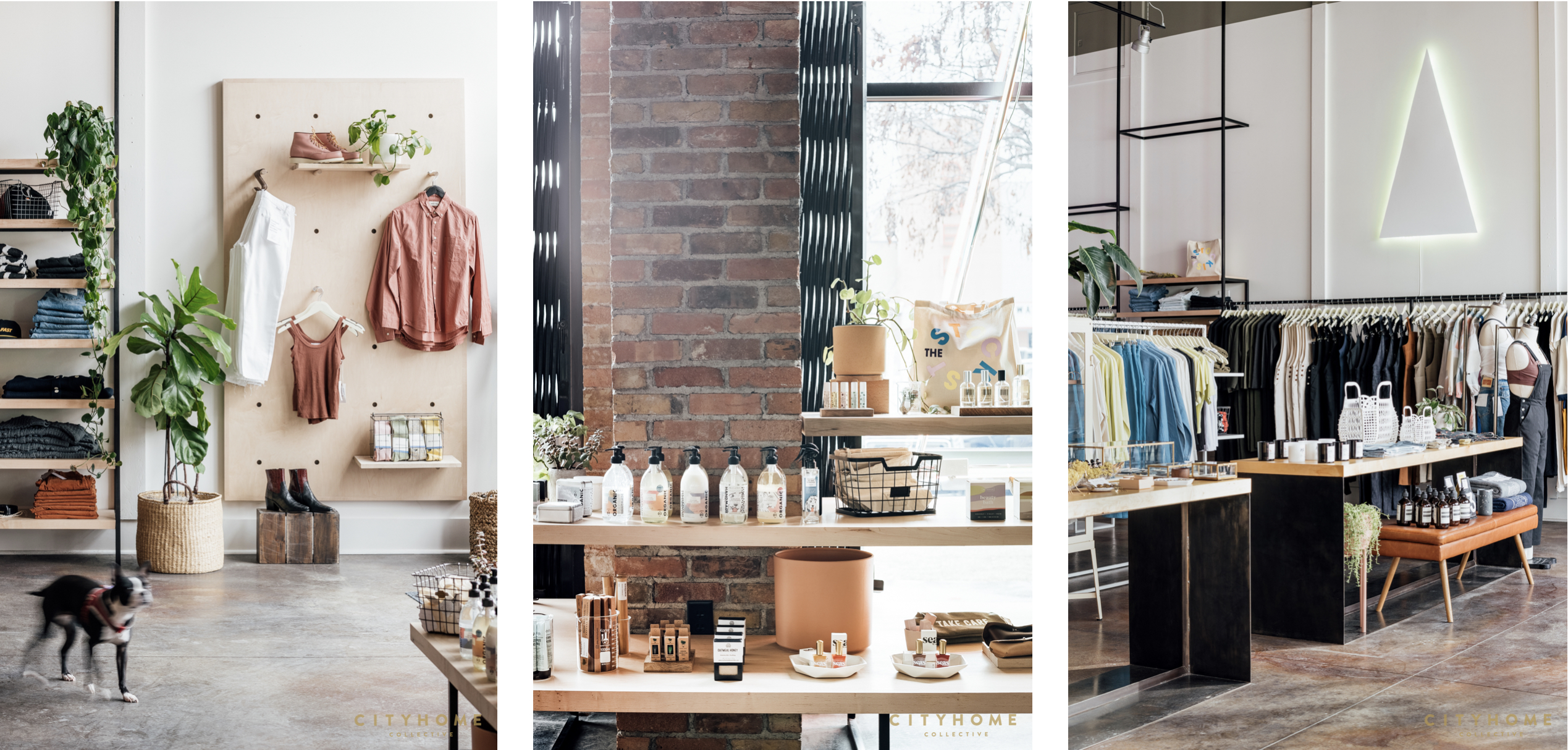 Helen also decided to tap the talents of her friend/long-time customer Moey Nelson for some art installations that would help to enliven the space (and support local artists). To date, Nelson has created a few installations, including a neon display (shown) designed to reflect the nostalgic aspects of wintertime, as well as the current one, "Spring Jubilee," which incorporates bright colors and a flower petal curtain above the register. Says Moey, "I love that the space is both utilitarian and editorial…it's a fun mix of celebrating material itself and fashion silhouette, which is nice because my work is more inspired by fashion than any other form of art." Rather than make specific requests for the rotating installations, Helen has simply approved what Moey pitches—"She's an artist. I trust her, and I know that her brain works in a way mine never will."
All told, the shop's shift in design mirrors the overall growth and change of The Stockist. "It's almost 12 years later," says Helen, "and when we started, we had no idea what we were doing. Now it's a concept space dedicated to providing quality goods for an everyday life. We focus on well-made items with an emphasis on small-batch slow fashion and independent designers."
All told, we're feeling pretty grateful that this brandisher of home goods, cool clothes, and last-minute gifts is still here to cure all any/all retail therapy woes.