The Art of Home blog series chronicles my visits to the homes of devoted art lovers to chat about how they live with, collect, and curate the pieces in their space. Through this pursuit of the artful home, I have found that such a notion is not necessarily synonymous with visual perfection, but instead suggests an environment packed with emotional intrigue and personal expression. It's one that swaps the manufactured for the handmade whenever possible, and shifts the common perception of art collecting from a lofty and unattainable pastime to a fulfilling, fun, and - dare we say it - affordable endeavor.
I've visited with artists, educators and creative professionals whose homes have inspired us to ditch those store-bought prints for something that adds more originality and inspiration to our space, while (bonus!) supporting working artists. The series continues with my recent visit to the home of Felicia Baca, who is Director of the Salt Lake City Arts Council and arguably the leading arts and culture advocate for our city. She believes that "without artists, musicians, creatives or makers…we would be devoid of a sense of community and belonging." (Here at cityhome, I have to say we agree.)
When it comes to her work in the community, which includes past roles at the Utah Division of Arts & Museums, UMOCA, and UMFA, Felicia is focused on contemporary art that addresses relevant social and cultural issues. But she's the first to admit that when curating her own home, she wants to live with pieces that are, above all, aesthetically pleasing and emotionally charged.
"While the visual object is always the draw, I'm often compelled by the people, ideas, stories, or context in which I find the art."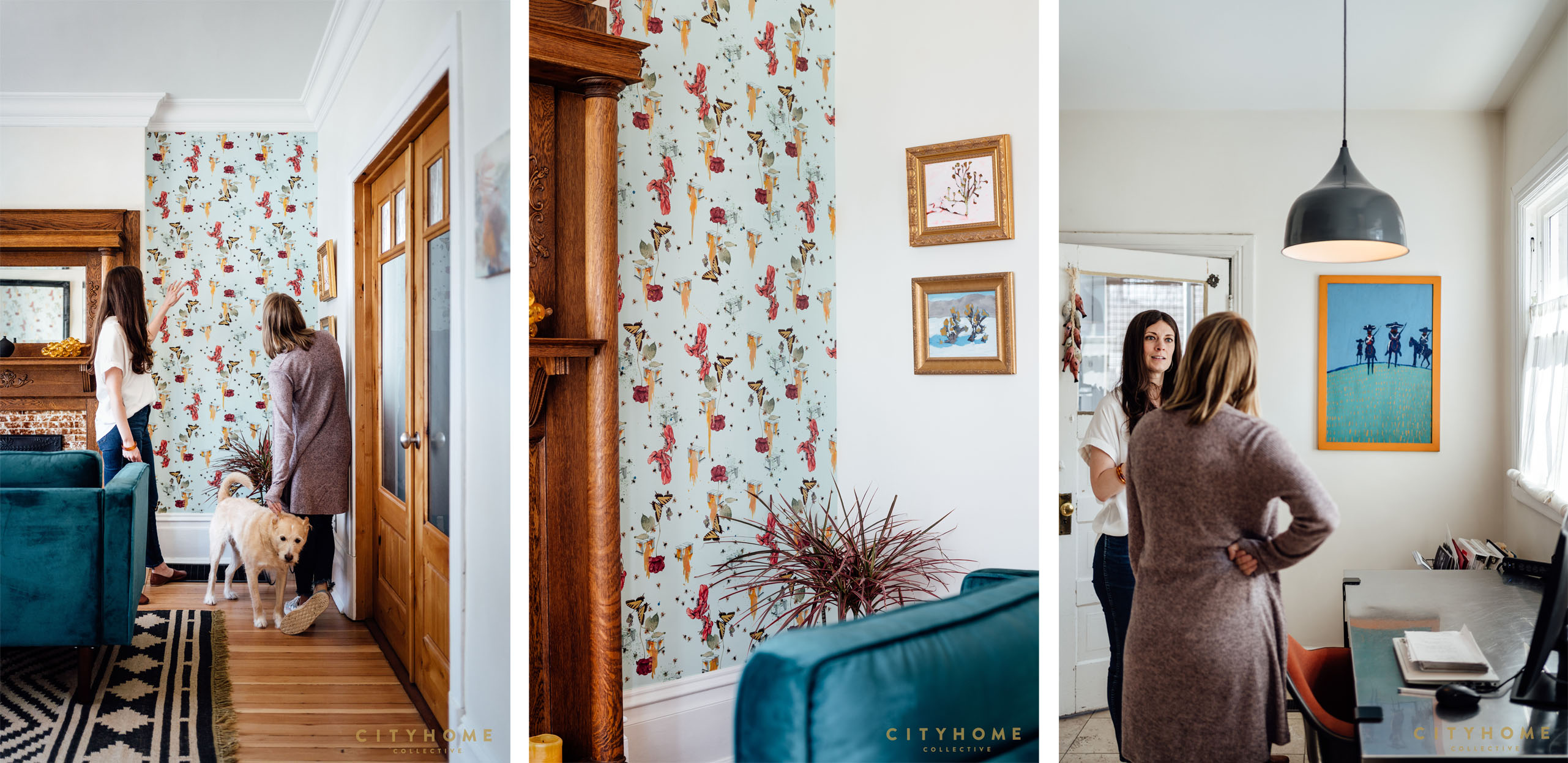 Paintings, photographs, sculpture, Native American pottery, ceramics and other natural artifacts are intentionally placed throughout her 9th & 9th bungalow; even the wallpaper was designed and hand embellished by local artist Carol Sogard.
The majority of Felicia's artworks are by Utah artists; she's bought most pieces at exhibition openings during the Salt Lake City Art Stroll or other open studio events. Prominently featured in her living room are two centerpieces of her collection: a painting by Wren Ross (represented by Modern West) and photograph by Josh Winegar (artist and professor at Weber State University in Ogden.) Other local artists featured in her collection include Al Denyer, Liberty Blake, Levi Jackson, Sandy Brunvand, Roland Thompson, and many more.*
Sentimental pieces by family artists are also intermixed throughout her collection, and a particularly special piece hangs in the corner of the bedroom: it's a black and white photograph of Felicia's mother taken by Tom Waits, who was a childhood friend of her family's. Felicia's family has always been engaged in the arts and her own upbringing was no different. "Supporting the work of artists came with an easy intentionality and was just a manifestation of our priorities as a family," she says. This sentiment clearly persists for Felicia today: in her life, career, and most importantly – within her own home.
Kelly Carper: Why is it important to you to live with original art? Can you share a little about your "why" when it comes to collecting?
Felicia Baca: Having original art was just part of the fabric of my family culture. We grew up engaging with visual art, music, dance, and theater. We were allowed to draw and paint on the walls in our rooms. For art in our home, we learned the stories of individual works of art; we talked about why they made you feel a certain way, learned who made them, where they came from, how they were acquired. Art made its way into our lives easily. Sometimes the works were hard earned from a local gallery, thrifted, collected from travels, or made by our family or friends. Our family lived minimally, but the space we existed in was artful, intentional, and precious. Supporting the work of artists came with an easy intentionality and was just a manifestation of our priorities as a family. I studied visual culture through much of school, and I'm sensitive to the things around me - whether it's visually or conceptually. I also keep the house well stocked with instruments for sharing. We value artists as career professionals that are worthy of support and essential to everyday being for all.
Carper: People tend to think that art collecting is reserved for those with a sizable disposable income. How would you encourage those who are intimidated by art collecting or who feel limited by budget and space?
Baca: I live in an 1100 square foot house and have works of art from miniatures that are barely noticeable, to some that fill a wall. Sometimes I grow out of artworks and gift them to family and friends - which can be tender to part with, and a really personal thing to share. My brother recently moved into a new house and my hand-me-downs fill the walls and have encouraged his own collecting practice. Once you live with original art, you won't want to live without it. Most of the artwork that I've collected is from emerging or mid-career artists and the majority of what I have has ranged from $50-800. Most friends will tell you I'm a reluctant shopper with some minimalism and thrifting mixed in. But I prioritize art as part of my spending, along with food and travel - in no particular order.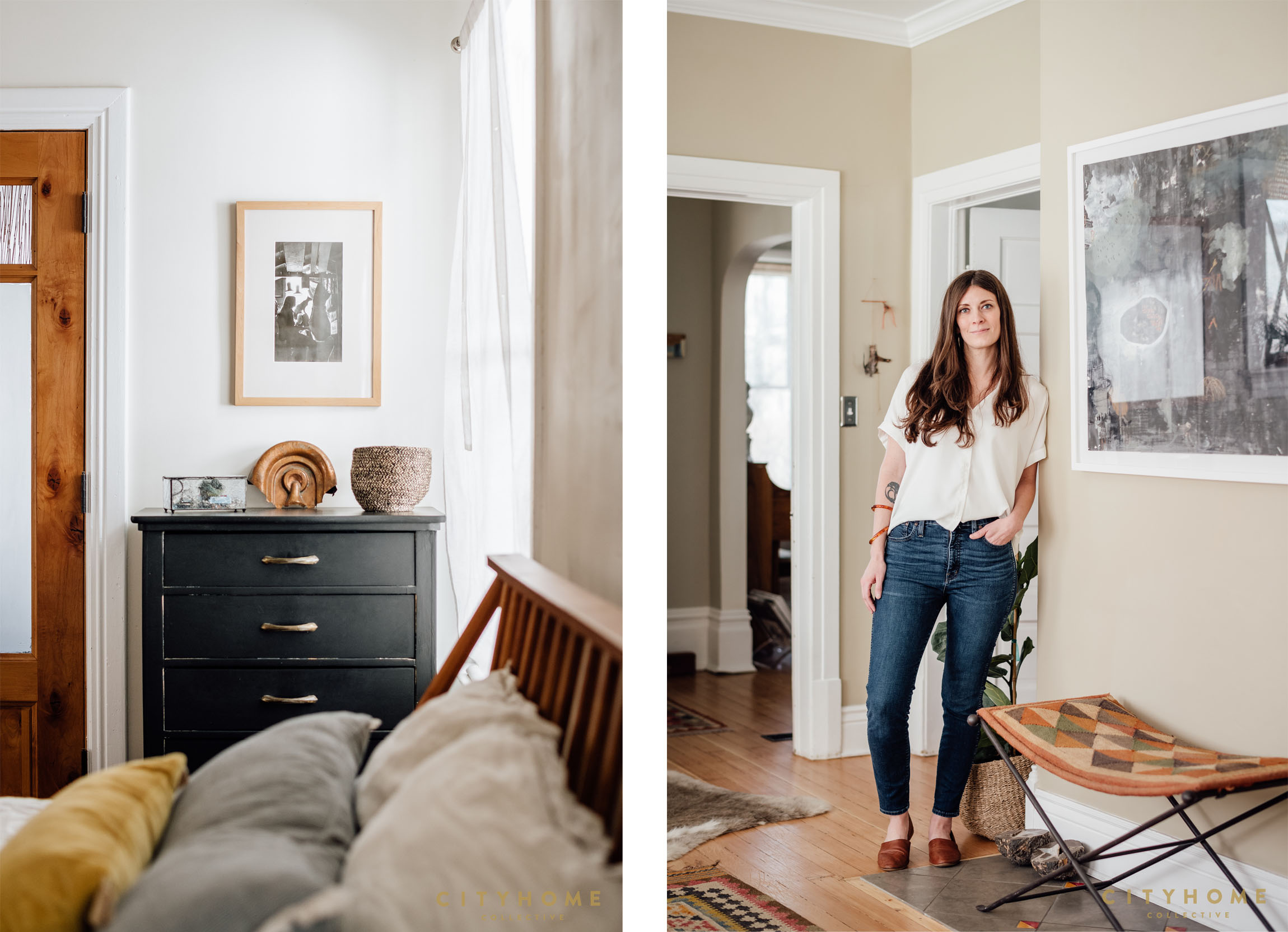 Carper: Tell us about your collection: is there a certain style, aesthetic or medium that you are drawn to when buying work for your home?
I'm mostly passionate about contemporary art, but the work I have in my home is sometimes different from what I would curate in a museum or gallery. I always think about how it will fit with the space and light - what it will be like to live with it every day. While the visual object is always the draw, I'm often compelled by the people, ideas, stories, or context in which I find the art. The artist Cassandria Parsons once gifted me a painting of sheep because I had told her a story about riding my motorcycle through a canyon when I was surprised by a flock being herded. I once bought an unfinished painting from Trent Call at a gallery stroll in the spur of the moment - I love it just the way it is. Sometimes there's a connection with a place or symbol in the work at a point in time. Sometimes I purchase works from shows I've curated that have a specialness to me or the artists. I think I have a personal relationship with almost all the artists in my collection in some way. Landscapes of sorts, the earth, plants, and animals show up regularly in my collection. You'll also find some rocks, shells, tumbleweeds, and sticks scattered throughout the house as an extension of this. I have a range of paintings, drawings, sculpture, ceramics, prints, photography, and artist books - and the challenge is always just shifting and shuffling things to fit, or making a choice to move on from a work of art.
Carper: Most of the pieces in your home are by Utah artists. Can you tell us about one or two of your favorite pieces and a little bit about the artist? Where can we find their work?
Baca: I have a mixed media work called The Blue by Wren Ross that's a favorite. It's dark with some scattered fragments of people and figures - there's some despair, some magic, weather, and a busyness to it- but with an unexpected calm of maybe both the ocean and sky. I'm also just so drawn to the textures, marks, and colors in it. I continually make new interpretations and discoveries looking at it. I also have a small handmade paper puppet of my departed cat Pepita that Wren made for me. I have another photograph titled Hikers Washington by the artist Joshua Winegar from a series called The Rapture Of. It's a photograph of a place that is unmistakably the Pacific Northwest, where some of my family lives. In this series, Winegar photographs outdoor landscapes where evidence of human intervention is present - so objects, roads, people, signs, etc. He then re-photographs the physical photograph in the studio using flashes of white light to blight out the evidence of human intervention, leaving behind an effect that looks both strangely natural and fantastical.
Carper: Your role as the executive director of the Salt Lake Arts Council revolves around supporting living artists. Why do you think it's important to value the arts not only in our homes but also in our communities?
Baca: Artists are cultural ambassadors of sorts. Without artists, musicians, creatives, or makers I think we would be devoid of a sense of community and belonging. Art inherently exists across all economic circumstances and communities throughout history and permeates every single facet of our lives whether we're consuming or making it. Art can do so many things - start a dialogue, stand for justice, connect people, ask questions, make comments, and act as a repository of the memory and values of people.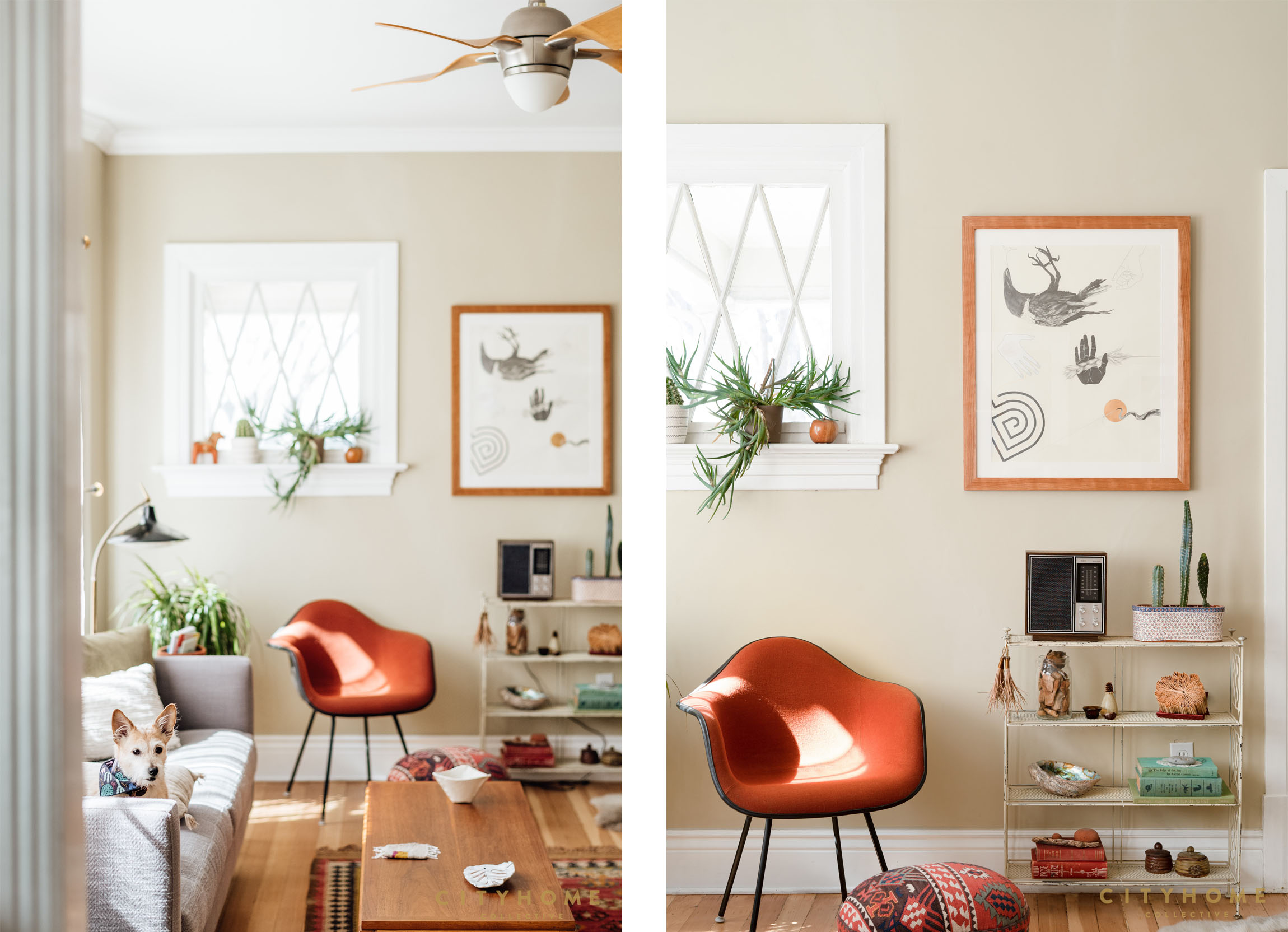 *Utah artists in Felicia's collection include: Anastasia Rynders, Wren Ross, Sandy Brunvand, Roland Thompson, Jan Andrews, Josh Winegar, Rebecca Klundt, Jason Jones, Laura Sharp Wilson, Trent Call, Wren Ross, Liberty Blake, Dana Costello, Tracy Strauss, Cassandria Parsons, Janelle James, Mary Toscano, Andrew Shaw, Kevin Artopher, Tom Aaron, Al Denyer, Steven Larson, Jean Ricahrdson, Danielle Susi, Jared Clark, Jean Richardson, Jenny Ostraff, Joseph Ostraff, Leia Bell, Suzanne Simpson, Claire Taylor, Paul Heath, Jim Williams, John Bell, Phoenix Osterman, Jonathan Frioux, Levi Jackson, Vicki Acoba, Russel Albert Daniels and others.