Situated between Sugarhouse and 9th & 9th, the home of Crystal Young and Joel Otterstrom is surely one of a kind. You've seen it here before--arresting Victorian architecture, bold interior design choices and floor-to-ceiling art curation. It's a highly personalized space and inspiring environment for their creative family, who values art of all forms.
Crystal is the Executive Director of the Utah Cultural Alliance and long-time lobbyist for the arts in our state, while Joel is a creative thinker and entrepreneur/CEO at a tech support company. They both come from artistic families: Crystal's mother and grandmother were painters, and Crystal is a talented vocalist with degrees in music theory and composition. Joel experienced a similarly artistic upbringing with parents who were also adamant collectors, his mother a singer and his father a poet.
"for me, collecting is more about comfort and connection to the piece itself than it is about the intention of the artist."
"We had a lot of art in our house growing up," says Joel, who can recall certain pieces in the family home that brought him comfort. "For me, collecting is more about comfort and connection to the piece itself than it is about the intention of the artist." Crystal agrees that it's all subjective. She's drawn to pieces that "say something, that move me, and that every time I look at them I notice new things."
The two of them have built quite a collection on this criteria, bringing everything from landscape paintings to assemblage sculpture into their creative home. The majority is by Utah artists, with prominent pieces by Nathan Florence, Janelle James, James Rees, Phoenix Ostermann, Trent Call, Aïsha Lehmann and many others. They also own pieces by early Utah artist Florence Ware and British-American pop artist Jann Haworth, who is known for co-creating album cover art for The Beatles and for her efforts advocating for women in the art world. These are intermixed with paintings by Crystal's mother and grandmother, their two kids, and Crystal's extensive pink flamingo collection for a fun and personal flair.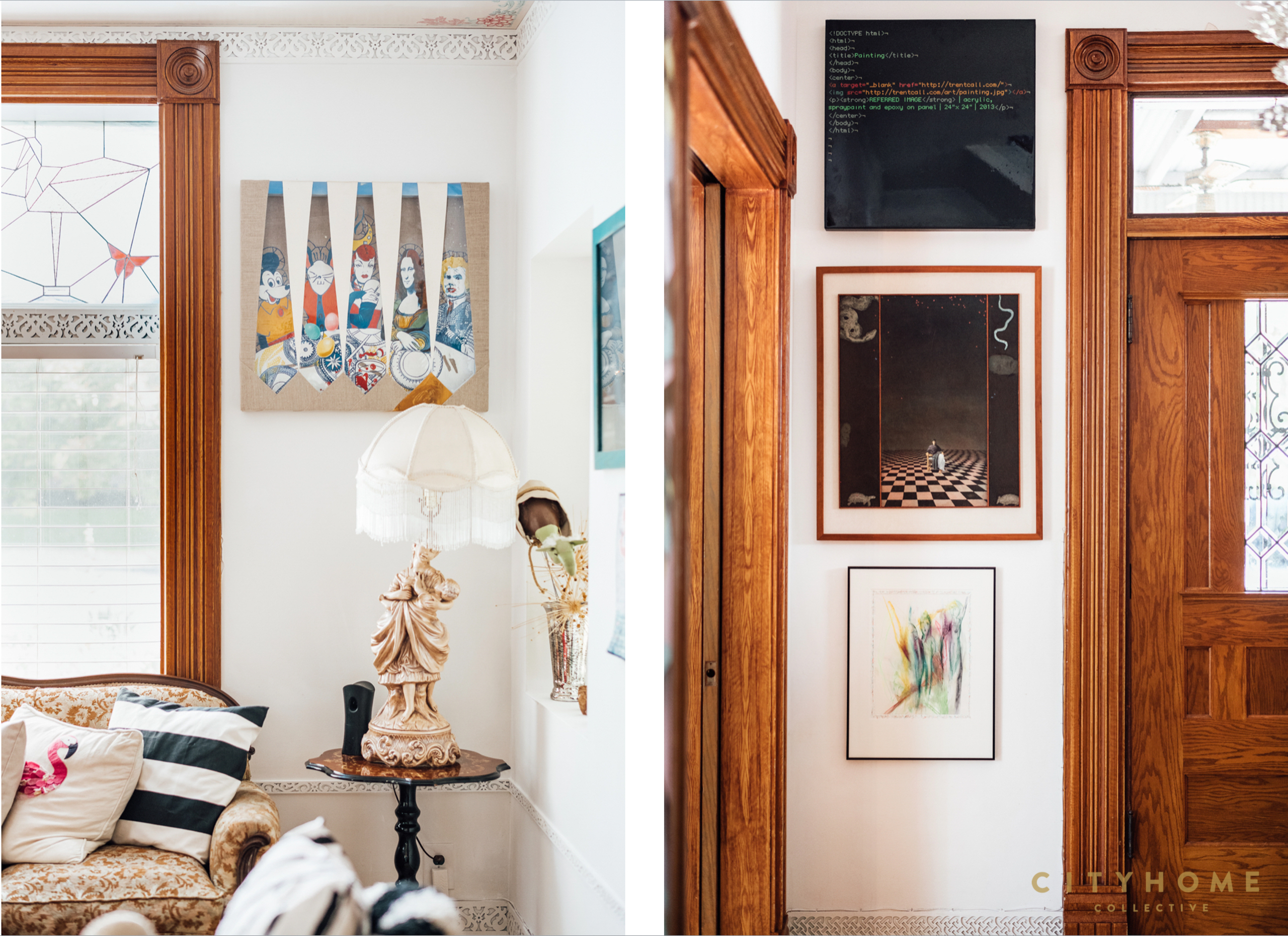 As a passionate advocate for the cultural industry, Crystal will be the first to tell you that art should be valued not just in our homes but also in our communities. Her work with UCA has been imperative in supporting our creative sector through difficult times and we, for one, are grateful for her efforts not only in her own home, but also in ours. Learn more about this important organization at www.utahculturalalliance.org.
In a bittersweet end to this chapter of home, the Otterstrom's Victorian is currently on the market.
Contact CHC listing agent, Rachael Leprey, to schedule a showing and make this lovely home yours.