What is it about our desert that calls us? Is it its quiet dignity? Its unrelenting fragility? Or perhaps it's the solace offered so many of us yearn for in times of uncertainty? Whatever the reason, we find ourselves drawn back to here time and time again. Places like this Moab Modern property skirting the La Sal mountains and the undeniably divine resort Amangiri along the Colorado Plateau speak to us deeply, almost spiritually. The desert is a place of respite and rejuvenation.
...a much needed balm for the bruises left by the boot of life's heel.
Recently, we had the pleasure of convalescing in yet another desert sanctuary, The Mesa House, where we promptly unpacked, unplugged and found ourselves wholly unweighted. This Place of Worship is the love child of dear friends of ours, Alexandra Fuller and Anson Fogel, who purchased the property a few years ago and quickly set about transforming it into the oasis that it is. We sat down with Alex and Anson to ask them about the home, their time in the desert and how both transformed them.
good news, this desert gem is available on airbnb. book your stay here.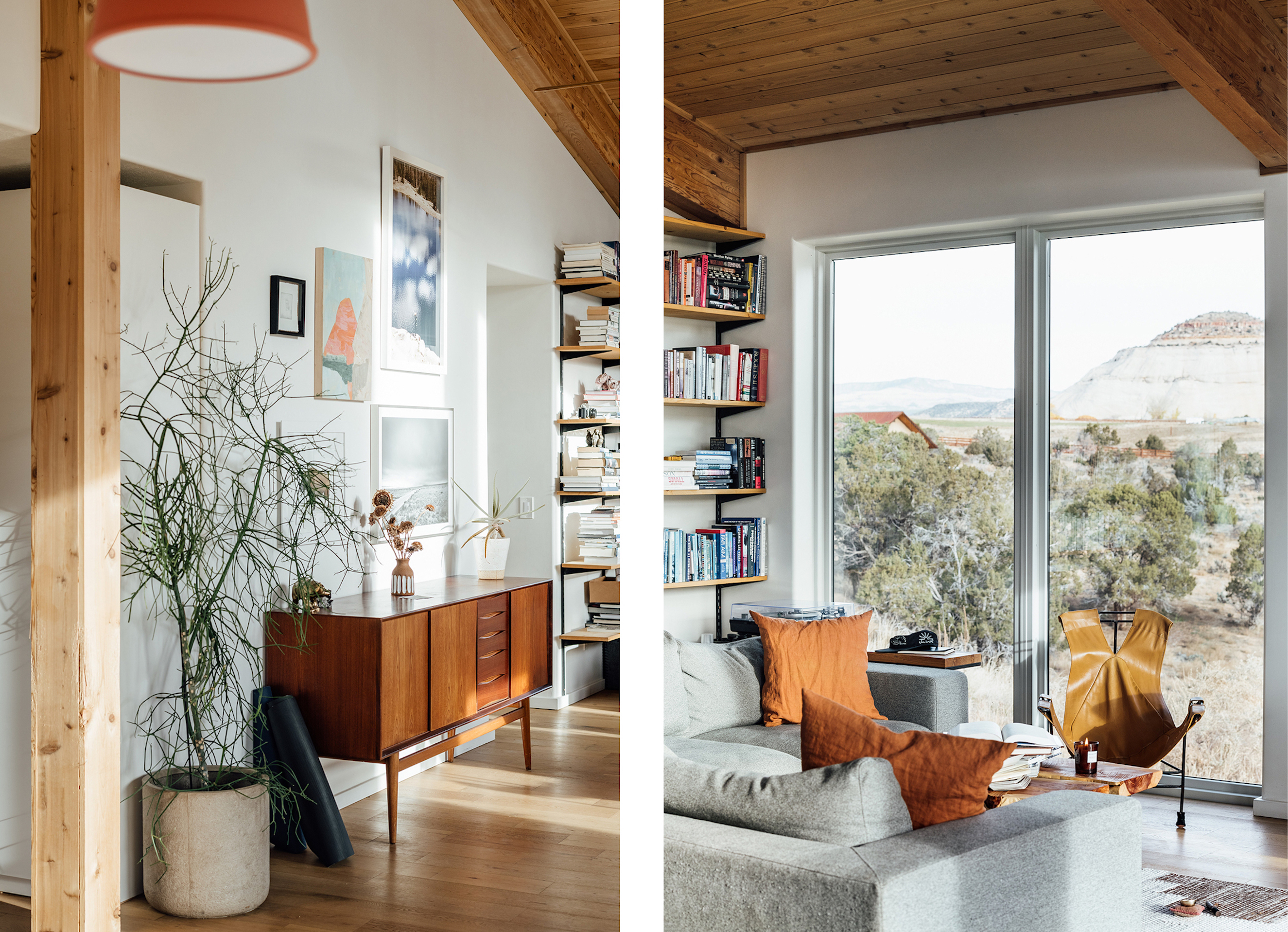 cityhomeCOLLECTIVE: So, why Boulder, Utah?
Anson & Alex: I (Anson) grew up in rural Wyoming and Colorado, and still feel most at home in very remote, wild places. The Escalante is that. Both Alex and I have been drawn to the Escalante for decades, having backpacked, canyoneered and wandered in the area since we were young. The Escalante is one of the most pristine, remote pieces of wilderness in America. So it's largely about the landscape.
CHC: You spent several years in Southern Utah. What have you discovered about yourself living in the desert?
A&A: We lived as active members of a very small, rural community, and our daughter spent two years at Boulder Elementary School. For her, those experiences were at times deeply challenging but ultimately invaluable as they gave her a perspective on life she'll always carry with her. For us, it was a time of incredible creativity and solace that coincided with Coronavirus.
CHC: Why did you choose this home?
We chose the land, and the home came with it. Our goal was always to find the right piece of land in or near Boulder, which took years. This land came with an existing house that needed extensive work. We have since remodeled that home. Now, we are building another.
CHC: Talk about the town of Boulder and its environs.
Boulder is one of the most remote towns in the Lower 48 States. It is a 2 hour drive to the nearest full-size grocery store or hospital. In the winter, the handful of restaurants and small shops shut down for the season, the tourists disappear, and it becomes very quiet. The town is a small ranching community surrounded on all sides by wilderness. The 200 full-time residents are an eclectic mix of ranchers, survivalists, hippies, and retirees. Increasingly, tourism is replacing ranching as the source of income for many residents.
CHC: Tell us about the renovation process.
A & A: When we bought the land, it had been neglected for over a decade. The house needed extensive work, the driveway was nearly impassable, and the land full of weeds and trash. We built roads, irrigation systems, ran utilities. We planted vast amounts of native seeds and continued the process of regenerating the irrigated fields as well as the native landscapes. We also largely gutted and remodeled the house, built gardens, a pond and a new barn. The lower level of the house is now a standalone apartment we rent to locals who are also the caretakers when we are away.
CHC: Not too long ago, you transformed a dated mid-century modern near the Capitol into something extraordinary. How was this experience different for you?
A & A: It was different in almost every imaginable way. There is very little skilled construction labor in Boulder, and we did most of the work ourselves with a series of friends who would come down and camp or stay in their vans. Our budget was a third of the Salt Lake project. The climate and landscape require approaches that are much different than in the City, and it is a minimum 1 hour drive each way to the hardware store and lumber yard in Loa. The short of it-- it was hard as hell.
CHC: Last question: what do you think it is about this desert of ours that calls to us?
A&A: Like the mountains, the Escalante is rugged, but it is drier, lower and older. As we age, the desert feels like a more appropriate match. The desert is stripped down, its skin older, thinner, and perhaps wiser. The trees, grasses, lichens and brush also older and wiser. The areas we grew up in have grown significantly in population and feel developed and urbanized, but the desert remains largely empty, much of it pristine, roadless wilderness.
Ultimately, for us, it is that wilderness that calls to us.