On the heels of a pretty rough 18+ months, it's safe enough to say that many of us have really been craving more connection. Whether it's with family, friends, work pals, or nature (just sitting on a patch of grass, listening to the birds), it's a longing like never before. Where can we find spaces that honor these desired connections? Where do we find the outlet we need? Just beyond the sleepy little town of Wanship, UT lies a 3,500-acre property filled with the remedies for healing and rejuvenation. A place that offers connection and practices intention...
it's a place called Blue Sky.
The land was purchased in 2004 by Mike and Barb Philips. Originally used for ranching and outdoor adventures (see: horseback riding, etc.), it also became the headquarters for Saving Gracie's Equine Healing Foundation (85 animals rescued and counting). Mike and Barb noted the positive impact that the land was having on those who visited, and they made a decision: it was time to share the space with a larger audience. They built an intimate, luxury resort that would enable guests to reconnect with the outdoor environment through adventure. To do so, they knew they'd need the help of a hotel management company--a team equal to the task and capable of filling such a tall order. Enter Auberge Resorts Collection.
Auberge is a assemblage of small, boutique resorts in storied destinations all over the world. Every property in the Auberge collection is unique: the nuances of the destination inspire, influence, and guide the experiences, design, and narrative of each resort. It's a holistic approach that we fully support (and that undoubtedly translates to happy guests and staff). We took a tour of the grounds with Auberge Resort's Area Director of Sales & Marketing for the Lodge at Blue Sky (and CHC client), Jessica Cook to get a little more info on this stunning location and property...
Tell us about the architect for the Lodge--what was the intention behind creating each space during the design process? AJC Architects. Their goal was to design a lodge with organic architecture that echoed the majesty of the surrounding mountainscape. We wanted the resort to feel like a natural extension of the land, such that the structures live in harmony with the land, rather than compete with it. The goal is for each guest to feel profoundly connected to nature at every opportunity.
"...having some time to simply pause and be with yourself is very important."
How do you prioritize and optimize the guest experience? We reach out to every single guest prior to their arrival to design a bespoke itinerary for their stay. We ask questions about what they want out of their experience. Do they want jam-packed adventure? Are wellness experiences a priority? If families are traveling together, do they want to maximize time together or send the kids to participate in our Little Vaquero's Kids Camp? These types of questions are really important. It helps to shed light on how each guest wants to feel during their stay. We also try to always build a little "soul space" into each itinerary--rather than having guests overpack their schedule, it's better to give some breathing room so that they have a chance to read a book in a beautiful light-filled nook in the Lodge, or have a quiet moment with some Gracie's Farm organic tea on their terrace overlooking the canyon. The last 15 months have been incredibly stressful for everyone, so having some time to simply pause and be with yourself is very important.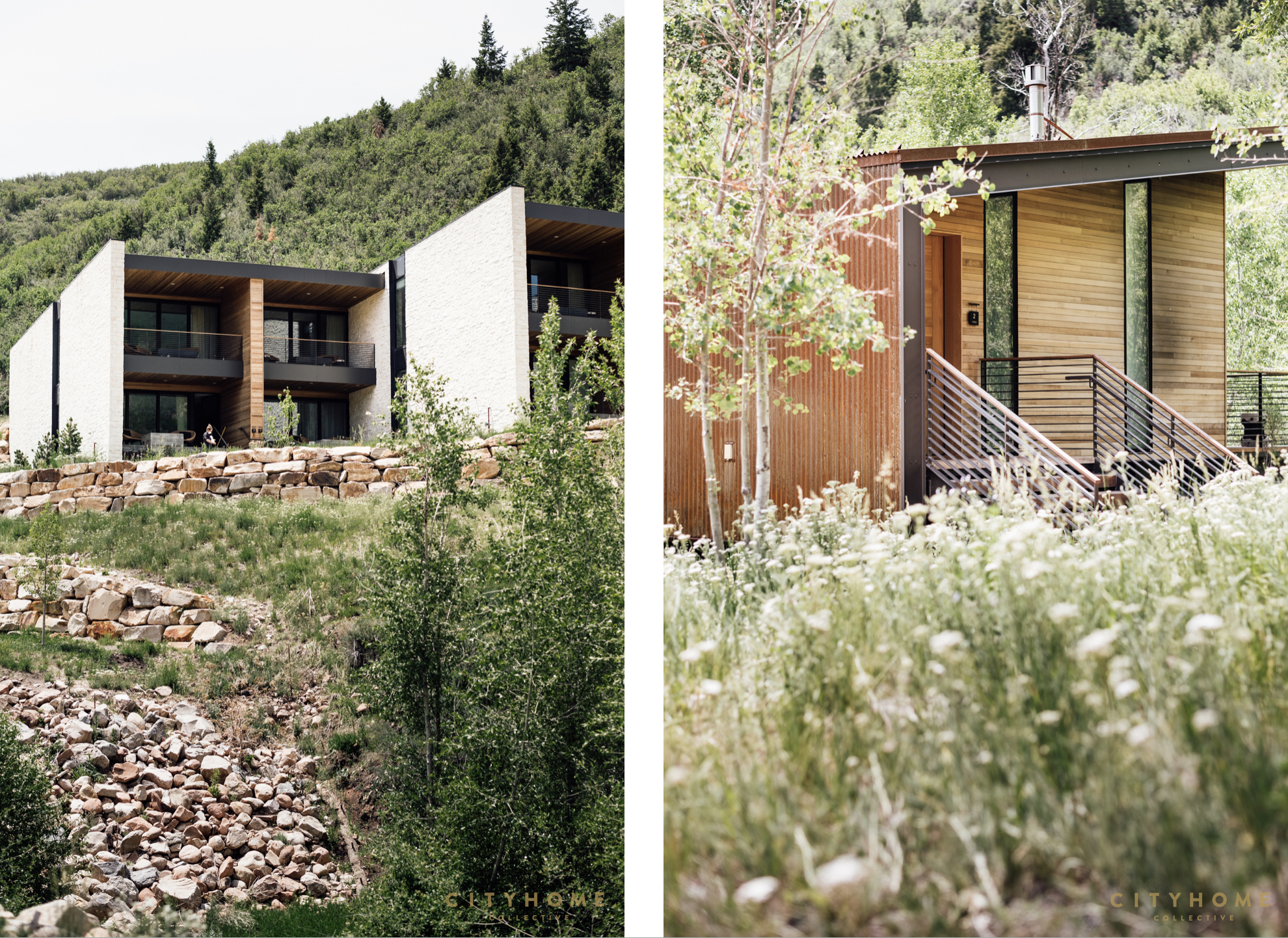 How does the Lodge incorporate its natural surroundings into the different spaces, from design to the overall guest experience? The Lodge was built on one of the toughest places on the property to construct a resort, but the location was chosen because we wanted every one of our 46 rooms and suites to have a west-facing view of dramatic Alexander Canyon. The canyon was the focal point for the build. We have three different styles and locations of accommodation, each uniquely incorporating elements of the location on which they are situated: The Sky Lodge has high ceilings and floor-to-ceiling windows, creating an ethereal atmosphere with plenty of natural light. The feeling is expansive and inspiring. Our 22 Earth Suites are built into the side of a lush undulating hillside and have living roofs with native Utah grasses and wildflowers to make them blend in with the environs. These suites evoke a feeling of groundedness, connection, space and calm. The five freestanding Creek houses are situated along the banks of Alexander Creek, tucked into a secluded aspen grove just a 5 minute walk from the main Lodge. These accommodations have 14-foot hight floor-to-ceiling windows with private terraces that overlook Alexander Creek. These units evoke a feeling of flow, ease, fluidity, and the location within the aspen grove feels like Mother Nature is giving you a big hug. Edge Spa is aptly named because it's built into the side of a dramatic precipice which overlooks the creek, and also has a living grass roof. The design has incredibly thoughtful touches: Stone sourced from Brown's Canyon Quarry, just 13 miles away, photography of our rescue horses done by a local photographer, bath salts sourced from the Great Salt Lake, bespoke bath products with essential oils especially made for us from wild sage that grows all over the property. Our adventures are entirely aimed at reconnecting people with nature: Hiking, horseback riding, fly fishing, outdoor yoga, forest bathing, mountain biking, organic farming school at Gracie's Farm (our entirely female-led regenerative farm). Even our sporting clays are thoughtful towards the earth: We order special clay discs from Europe that are biodegradable so that they don't pollute the earth when they break apart after a successful shot. The "wads" inside the ammunition are also made of paper (rather than plastic) so that they don't litter when they are discharged after a shot, and we also recycle all of our ammunition casings.
Tell us what really separates Auberge Resorts from other luxury mountain getaways. Many mountain resorts offer the iconic adventures that one associates with the West: Hiking, horses, fly fishing, shooting, etc. But we've created more thoughtful versions of them, and we've added additional experiences that are quintessentially Blue Sky, and we do it all with the utmost reverence for the land.
For example, we don't just take guests on horseback rides...we have a full horse rescue foundation on site, and we offer natural horsemanship lessons (which aims to teach guests how to communicate with horses using energetic, non-verbal queues). We don't simply go hiking...we can take you hiking to a mountaintop yurt for a fireside yoga practice or breathwork class to get centered. We don't just serve whisky...we offer an entire High West Whiskey Distillery for tastings, tours and meals. And we don't just source locally...we also grow our own organic vegetables, herbs and wildflowers at Gracie's Farm, led by our talented team of "farmHers" who till the land by hand and selective animal grazing (zero machinery to preserve soil integrity).

We have a heli adventure program that offers guests high alpine experiences year-round. The helicopter will land on Blue Sky's property next to our mountaintop yurt so you don't need to transfer to an FBO for take-off. In the warmer months we offer heli hiking, heli fly fishing on beautiful mountain lakes and streams that are rarely fished, heli mountain biking, heli yoga and even a few heli weddings (think: couple + officiant + photographer + some champagne). In the winter we offer heli skiing/snowboarding. What most people don't know is that we offer intermediate heli skiing, not just daredevil expert-only excursions. The intermediate heli skiing takes guests into the Wasatch Mountain Range which has terrain that is much less technical than "typical" heli ski terrain. If you can confidently ski a blue or double blue run at a mountain resort, you can heli ski with us.

Whether its walking the trails along the creek, enjoying a drink at the bar, or sitting by the fire in one of the Earth Suites, the feeling of tranquility is tangible. Many of the guests that arrive with plans to discover the surrounding areas like nearby Park City during their stay find themselves spending all their time at Blue Sky. Not just for the abundance of experiences offered, but for the quiet serenity the space offers to those willing to slow down and reconnect.