Some years ago, the CHC team wandered wide-eyed through the vast handwoven dreamscape that is Adib's Rug Gallery. In doing so, we learned a little about owner, Dr. Hamid Adib: Dr. Adib is an educator, engineer, former research scientist, philanthropist, one of our country's foremost antique rug experts, and in recent years, an artist.
"I was born to a family who was heavily involved with colors, patterns, weaving, etc.," says Dr. Adib. "Art was always a part of my life in many different forms: music, film, interior design, architecture, fashion, paintings from the most contemporary to the most traditional, handwoven rugs and tapestries, and antiquities of all sorts. As a scientist, the technical projects created challenges for my brain and my artistic passion always created peace and passion for my soul. The combination made me more balanced."
In recent months, Dr. Adib and his wife, Maryam, have slowly been working to remodel their spacious Olympus Cove home. There's a welcoming vibe, to say the least—a space wherein you feel perfectly at home, but curious to know more about and discuss each piece. It's a mixture of contemporary and traditional components—his own works punctuate the rooms, juxtaposed perfectly by traditional rugs and warm details. Says Hamid,
"I'm all for diversity. I want to be able to walk from one space in my home to the next and feel the connection between them, but I don't want to feel I'm in the same place I was a few minutes ago."
Tiffany Fawson: What are your favorite spaces in your home?
Dr. Hamid Adib: Being Persian, the kitchen tends to be the most used part of the whole house. Our kitchen and family room are modern style but decorated with a mixture of traditional, transitional, and contemporary components to make them more cozy, eclectic, and warm. It is attached to our balcony that faces the valley. This part of the house is where we spend most of our time as a family.
TF: What is important to you in creating a safe space/home for you and your loved ones?
DHA: A safe space for my family and I is where we can relax and enjoy the ambiance as our comfort zone. We use different parts of the house for different reasons. Some like their space to be very calm and simple. Some like theirs to be loud and complex. We like it to be a combination of ideas that provide us safety and statement, side by side. Again, for us, it is all about moderation and balance within our spaces.
TF: Your business is one that clearly celebrates timelessness and history. How does that affect your own personal space? And how are you able to marry that with more contemporary/modern details?
DHA: Sometimes, when you use all contemporary components or all traditional components, they can give you a predictable effect, and for some tastes that is exactly what they look for and that is totally fine. In my world, I'm all for diversity. I want to be able to walk from one space in my home to the next and feel the connection between them, but I don't want to feel I'm in the same space I was a few minutes ago. I believe each room has to have its own identity, and at the same time be very complementary to the rest of your home. It can be easier to use contemporary flooring and contemporary painting and contemporary furniture and light and window treatments and rugs, etc.—or to use all transitional or all traditional components. It is a little harder to mix components from different years/styles/worlds. But once you do it appropriately, the result to me personally is more exciting and timeless.
Tiffany: Why art for you? And why now? What does creating these pieces mean to you?
DHA: Art is a universal language—everyone who does not understand my vocal language can understand my illustrative language. Art is like therapy for my soul, and it aligns and harmonizes me with nature and my environment. Art is also one of the best means to bring the people together. They may have disagreements on politics, religion, culture, etc., but you can be assured when it comes to art, they tend to get along. That is more needed now in this dispersed world of ours than ever before! Art is love, passion, mystery, an escape from the hectic world, it is the journey of free minds and souls. Art allows me to run away to places that ordinarily I cannot. Art is a touch of what the Lord does himself. Having his spirit within me, makes me want to create too, of course on a much smaller scale. I think it was Albert Einstein who said, "Creativity is intelligence having fun." I am not claiming that I am intelligent, but for sure I am having fun.
TF: All proceeds from your works go to the Heal Child Skin Disease Foundation. Tell us more about this:

DHA: The Heal Child Skin Disease (CSD) Foundation's mission is to provide aid to underprivileged children suffering from a variety of severe genetic skin diseases, particularly Epidermolysis Bullosa (EB). These patients are generally from the regions where their families are also involved with the handwoven rug industry...since I've been a part of that industry from childhood, I'm dedicated to helping them, both in that part of the world and hopefully all around the world.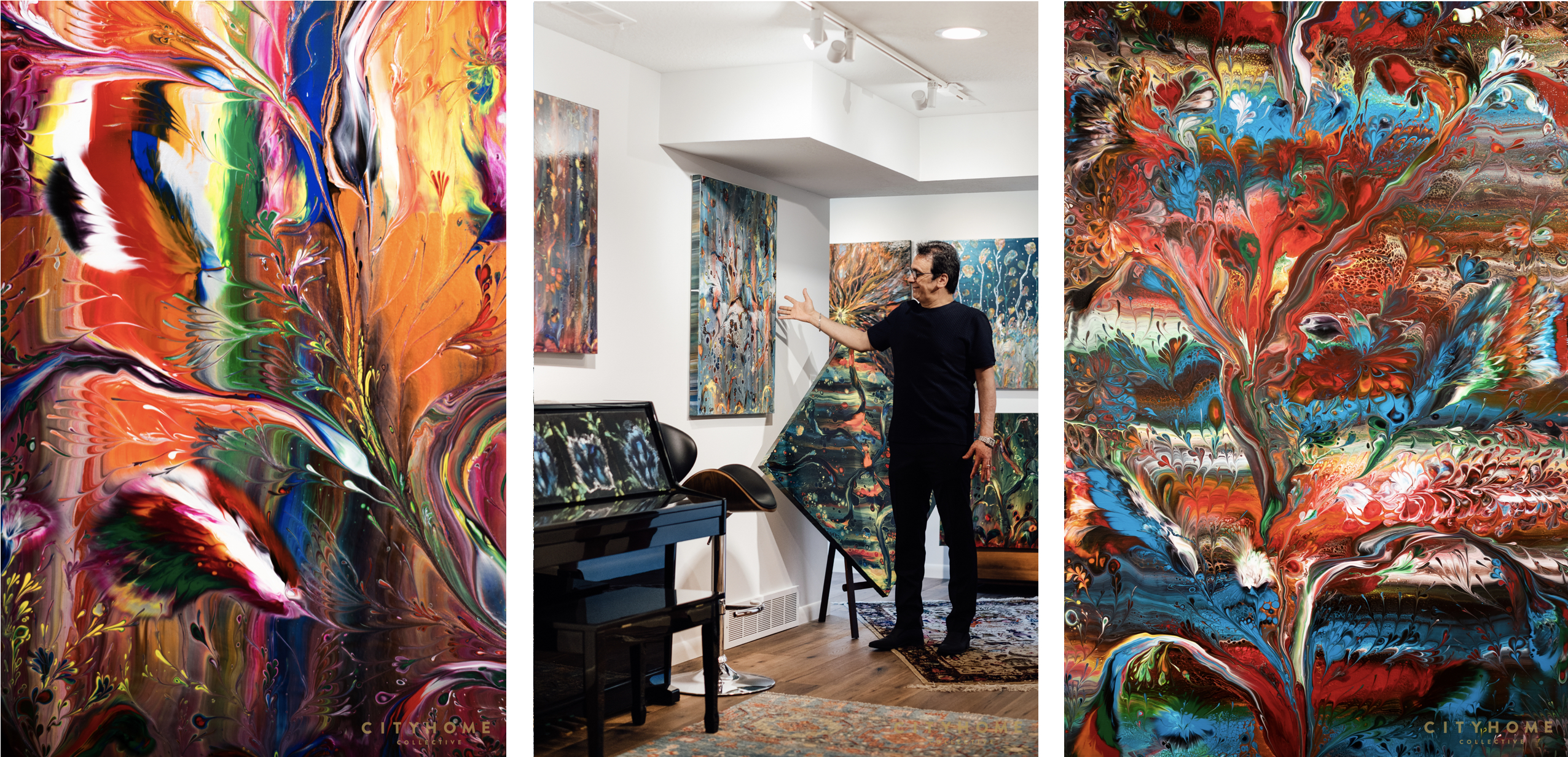 Tiffany: Your mantra is, 'Service above self' is a lifestyle, not an event. What does this mean to you? And what was the impetus for living in accordance with it?

DHA: To me "service above self" means you're doing a service selflessly...without any ego. Many do good for their communities to get some sort of recognition, or simply network, or to promote themselves or their businesses, and that is totally fine. But when you engage in "service above self," you are there to serve others above all else. I don't look at it as a one-time thing, it is a lifestyle for me. I live through others—their smiles charge my soul's battery in the most amazing way. I believe life is more like an echo and what you give and send out gets back to you in the most mysterious ways. What you see in others in reality is what exists within you. So, if you are emitting negativity, you will receive negativity; if you are promoting peace and kindness, you will feel the calm and tranquility within you. Therefore, provide kindness! Don't do good with the intention of getting something good back! Do it because it is right thing to do!
TF: What is next for you?
DHA: I want to get to a point that I can dedicate more of my time to my family, friends, and charity groups. I want to be able to participate in and work to improve the lives of those whom I can, even just a tiny bit. Every penny that I generate from my own paintings, goes to my 600+ patients dealing with severe skin diseases in parts of the world that their families make under $100 a month. That amount is not sufficient to feed their families, let alone get treatment, surgeries, and medical supplies that are beyond their imaginations. I want to be able to expand my art to serve more and more of those desperate, innocent human beings.
TF: Why Salt Lake City? Do you have any favorite things about this place? Why have you stayed all these years?
DHA: When I came to Salt Lake City, my commitment to the world of research and academia at the University of Utah was about four years. Except one cousin, we had no blood relatives here. Most of my family were on the west or east coast and the rest of the world. Immediately after getting to Utah, we fell in love with the nature and the friendly people here, but we did not even think of staying here long-term because of the lack of family.

 It took us a couple years to realize this can be a place that we can raise our children and by then we had many amazing friends that in a way became family to us. They supported us in so many ways. Four years has now turned out to be 35 beautiful years.
"We bought a house, but we've gradually remodeled it, decorated it, and made it our home. It's where love, hope, dreams, and memories coexist side by side. We periodically share it with friends and family, and while we are together the stories and laughter never end.
It's been said that the ultimate luxury is being able to relax and enjoy your home after a hard day's work. That's exactly where I want to be."