"The Art of Home" blog series explores the spaces of local art lovers and collectors, who, more often than not, also tend to be community leaders and entrepreneurs in the arts. My most recent interview and home tour was with fashion photographer, producer and director Heidi Gress, whose work takes her all over the world with a client list ranging from BMW to Aveda cosmetics. Heidi's local endeavors are equally impressive; she is a former owner of (A)perture marketing company and art gallery, whose projects supported emerging artists and raised money for charitable organizations through unique partnerships and conceptual exhibitions. Perhaps most notably, she also co-founded the Art Meets Fashion Foundation, a non-profit that merges art with fashion to benefit various causes through high profile events.
Creative people shape creative spaces (and vice versa) which definitely proves to be true in Heidi's unique home, both past and present.
Previously owned by artists and built by a sculptor in the 1970s, the home is made from repurposed oil drums that expand and contract depending on the season. Its unconventional shape makes for a fun yet challenging environment to design and display art, which Heidi tackles with an all-in approach that she describes as "eclectic maximalism." Original artwork acquired by purchase or trade hangs on wallpapered or brightly painted walls, surrounded by décor and artifacts collected from her world travels. Many pieces in her collection are by local artists, as she feels it is imperative to support other creatives in the community. Heidi also comes from a family of artists and art lovers; paintings by her father are prominently displayed throughout her space, in addition to several of her own photographs from fashion shoots or documentary projects. "Each piece in my home has a story attached to it, whether a country, a person or a history that I am connected to," she says. "If it makes me happy, it goes on my walls."
Heidi's unique home is a respite between her travels, a work-from-home haven, and an outlet for her own creative design expression. Read our interview to learn more about the art collection and design philosophies that shape her space.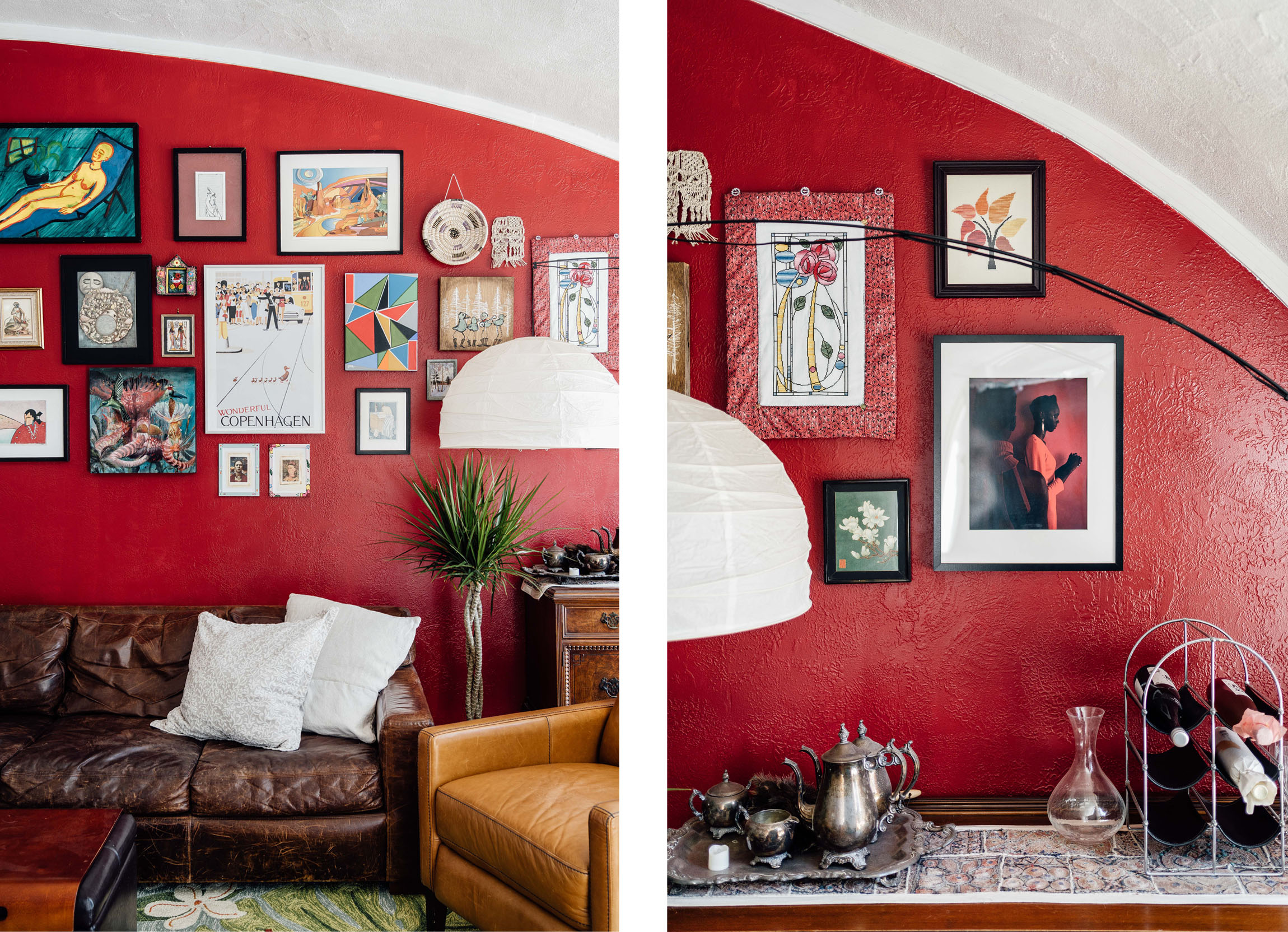 Let's start by talking about the biggest piece of art in your collection, the house itself! Can you share a little about its architectural history and unique features? What was it that first attracted you to the home?
The house was built in 1973 and was designed by a local sculptor Mont Crosland. It is made up of multiple fiberglass domes with a traditional basement foundation. It has 6 bedrooms, 3.5 baths, and is approximately 3600 sq. ft. It is highly energy efficient and the house breathes in the hot and cold climate. All the seams are flexible and allow for this. Everyone in this neighborhood calls it the igloo house, but I always thought it resembled something from Star Wars on Tatooine.
When I first toured the home the owner Lynn Behm said he felt only an artist would appreciate the space. Behm had lived in the house with his late wife who loved art and his daughter who studied hair design. I felt an instant energy with the home and even though it is difficult to work out the best way to display art on the walls, it has almost pushed me to be more creative in my approach.
If you had to label your style or design philosophy when it comes to curating your home, what would that be? How is it reflected in your space and art collection?
I think my style is best categorized as eclectic maximalist. Eclectic and maximalist interior design styles are joyful and playful, and they depend on finely sourced objects, fun-looking bold patterns, and an array of textures. Eclectic maximalism interior design appreciates furniture and home accessories that often invade the house with larger-than-life energy. I add layers, textures and materials. I source art, furniture, and decorative items from different eras as well. Nevertheless, I try to look for a balance - like a complementary color scheme or find a focal point in each space so it doesn't come across as chaotic or messy.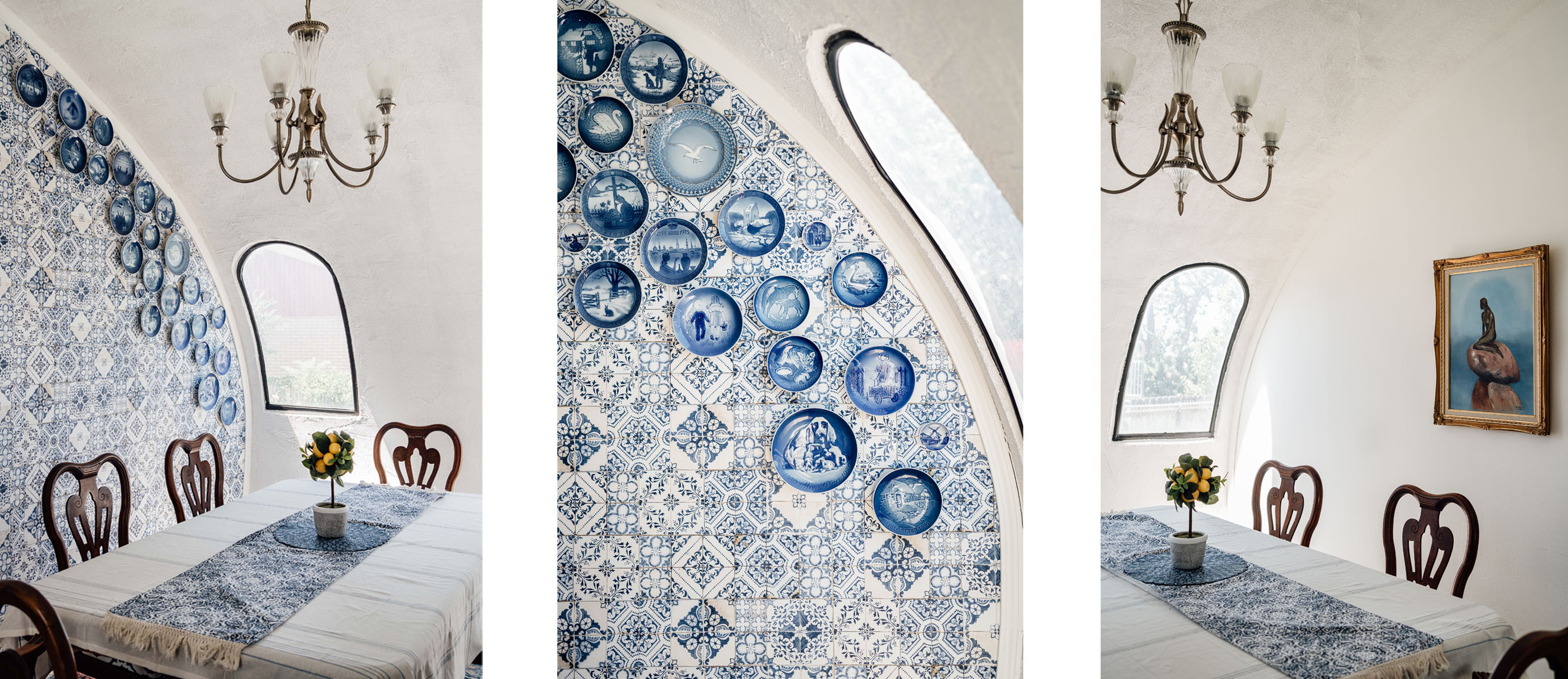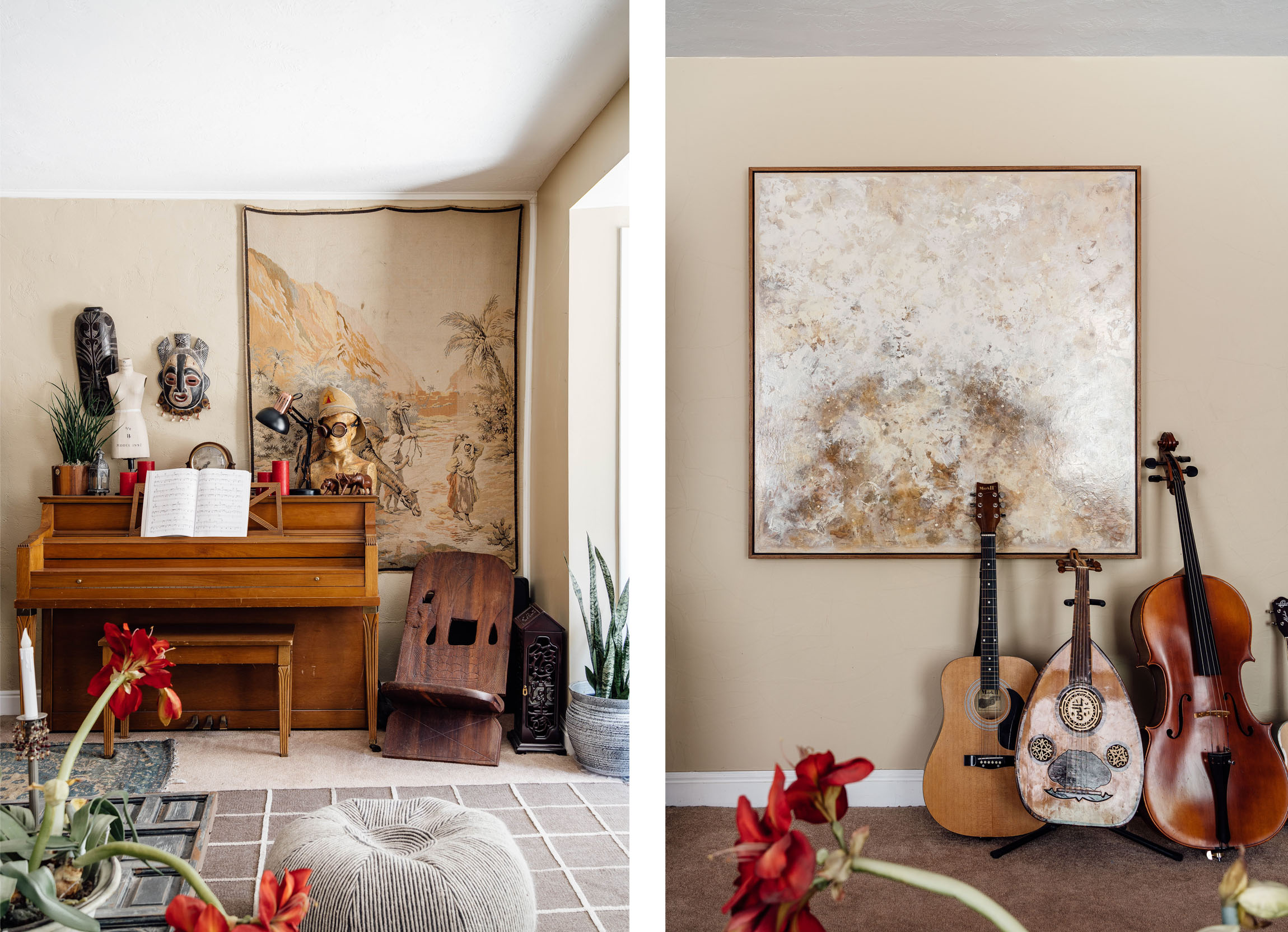 Why is it important to you to live with original art? Can you share a little about your "why" when it comes to collecting?
I don't really have a specific guideline to collecting art. If it makes me happy it goes on my walls. I am purely an emotional collector. I have been lucky enough to work with some exceptional artists and some of my art pieces are gifts or trades, others I have invested in because I really enjoy the work. I do think it's important to have art that speaks to you. I love original art, but sometimes I can't afford a piece so I might get a print from the artist. I recently went to an exhibition in Amsterdam and The Kid's art really spoke to me. I could only buy a print since purchasing an actual piece was impossible. In addition, I also collect from my travels. I like meeting an artist on the street or a carver or basket weaver and buying handmade art - plus, it supports the local economy of where I am.
Tell us about your collection. Is there a certain style, aesthetic or medium that you are drawn to when buying artwork for your home? What attracts you to purchase/collect certain pieces?
The art has to tell a story. I have one oil painting my father did for my grandfather of his home in Denmark and it hung over my grandparents bed my entire life; later my father painted acrylic abstracts and purely emotionally driven works. My dining room has a bold Moroccan blue and white wallpaper and is lined with blue plates that have been passed down through the women in our family, a Danish tradition. The tapestries in the entry room are from my great uncle who worked in set design in Hollywood 1930s-1950s and they were from a romantic Arabian themed film set.
Other works throughout the home illustrate African Diaspora of the Black American or the struggles of judgment placed on women. We also have Arabic art since my partner is from Saudi Arabia, but we choose to display it in a contemporary manner, i.e. a neon sign, paintings on skateboards, etc. Each piece in my home has a story attached to it whether a country, a person or a history that I am connected to. I have a few images of my own and cameras I have collected. I'm always acquiring new pieces, but I am starting to run out of space!
What advice do you have for other art lovers who are designing and curating unconventional spaces?
Just do what feels right! You don't need a big budget, get creative. Your art can be your walls, I have plenty of crazy wallpaper and colors all over. I have tried everything. The cool thing about art is you can always try again. Want to paint that wall yellow? Do it! Want to splurge on a mixed media piece from your favorite artist? Why not! Love a poem? Well, get out the calligraphy set and frame it up. If you choose to live in an unconventional space then you already have an unconventional spirit. Your space should feel like you. Have fun, don't take yourself too seriously. Life is too short to live a boring life!