As with every summer's approach, we begin to feel that stirring. It's undeniable, the yearning inside to get out, to explore nature. And this season that wanderlust feels especially strong. So, we air out our tents, wash our RVs and motor homes, and try to find where the hell we left our binoculars. We head head out, for the call of the wild is strong and we must answer.
It's time for the great, American road trip.
If road tripping means touring some of this state's most magnificent mesas and sidewinding through canyons carved by eons of wind and water, then we'd strongly suggest Route 12. This scenic byway (also designated an All-American road) will lead you through sections of Dixie National Forest, Bryce Canyon National Park, and Grand Staircase-Escalante National Monument. It's about as much jaw dropping, eye candy as the brain can handle. And when it's time to circle the wagons, there's no better spot to pull in and unplug than Yonder Escalante.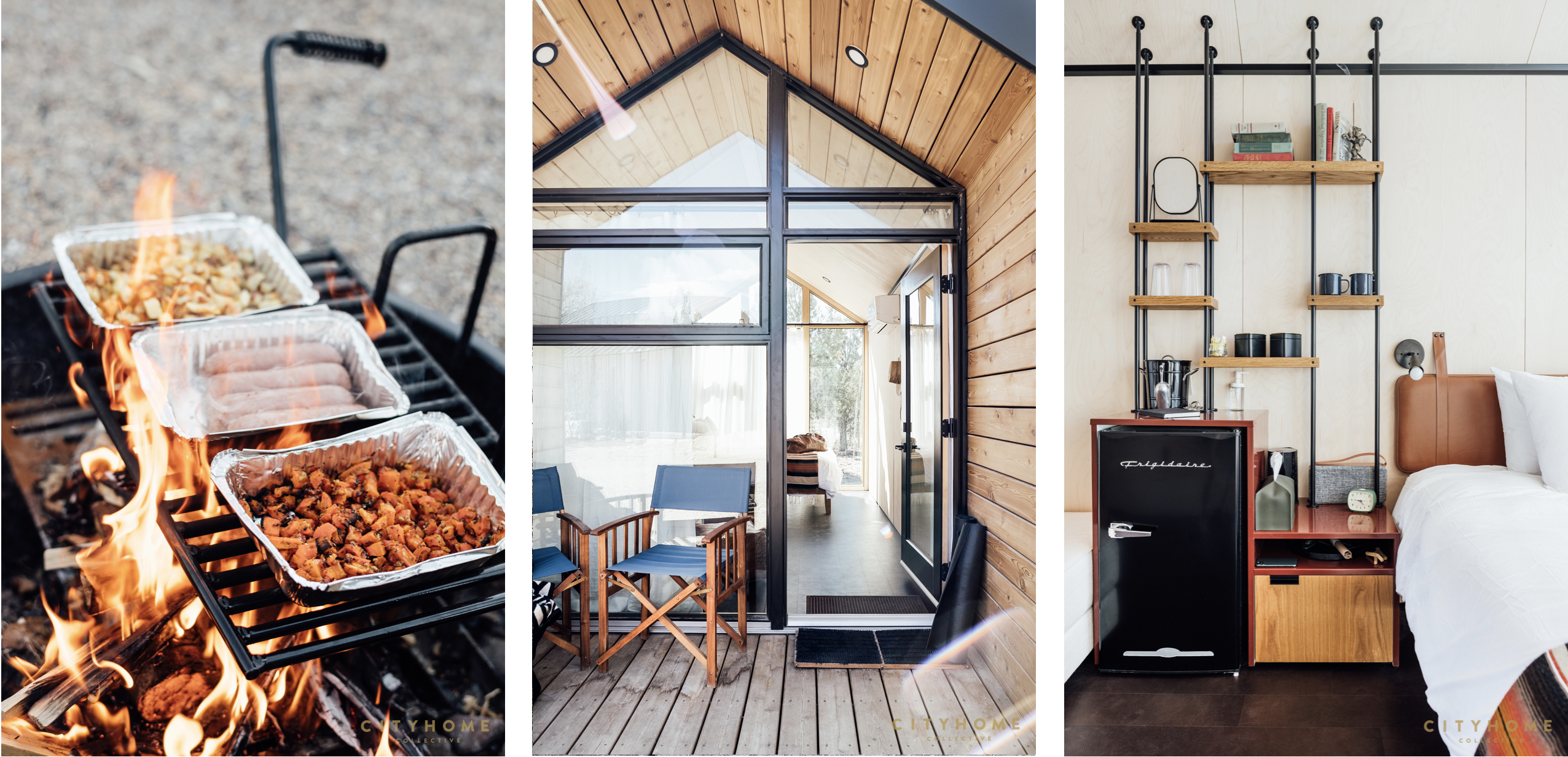 Located minutes from Escalante, Yonder perfectly integrates modern hospitality and vintage nostalgia. A handful of minimally modern cabins made from glass walls and exposed birch plywood are flawlessly offset by a slew of beautiful, vintage cars parked in front of an old, restored drive in: it might technically be an RV park, but this is decidedly not the KOA.
Launched just this year, Yonder offers plenty of sleeping accommodations. Aside from the 22 custom-designed, A-frame cabins that caught our COLLECTIVE eye, you'll find 10 Americana-inspired Airstreams and 67 RV spots. There's also an indoor-outdoor clubhouse––perfect for some early morning reflection or evenings under the stars making s'mores––and a 24-hour general store with grab-and-go sandwiches, beer, wine, spirits, and locally roasted Blue Copper Coffee. Dinner kits (prepped on-site) may be purchased as well. Additionally, the park offers private indoor or outdoor showers, laundry facilities, and a lounge pool and hot tub. Essentially everything you'll need to settle in and wind down.
We spoke with Hannah Collins, CEO of Yonder, who told us staying true to the essence of Escalante (and Southern Utah as a whole) was critical to the project. "We wanted to remain authentic to the sense of adventure and discovery, and the drive-in with its classic cars and sweeping views of the mountains offers a visceral aspect to the experience." We couldn't agree more. Visit the Yonder website to book your next trip...
Here, the spirit of the American West is alive and well.
A FEW EXTRA TRIP TIPS
Inspirational reading: we suggest "Desert Solitaire" by Edward Abbey (in the spirit of growing your appreciation for the sandstone wilderness)
Scenic route: take the Burr Trail switchbacks (from Bullfrog to Boulder) for some seriously stunning scenery
Day hike: we recommend Lower Calf Creek Falls, a six-mile (round-trip) moderate/easy hike along tthat leads to a 126-ft. waterfall
Fine dining: Hell's Backbone Grill in Boulder––this, friends, is a definitive no-brainer
BTS: pay a visit to Brett Millet at Urban Vintage (177 E Broadway SLC), who can give you the lowdown on the interior design of Yonder's Americana Airstreams