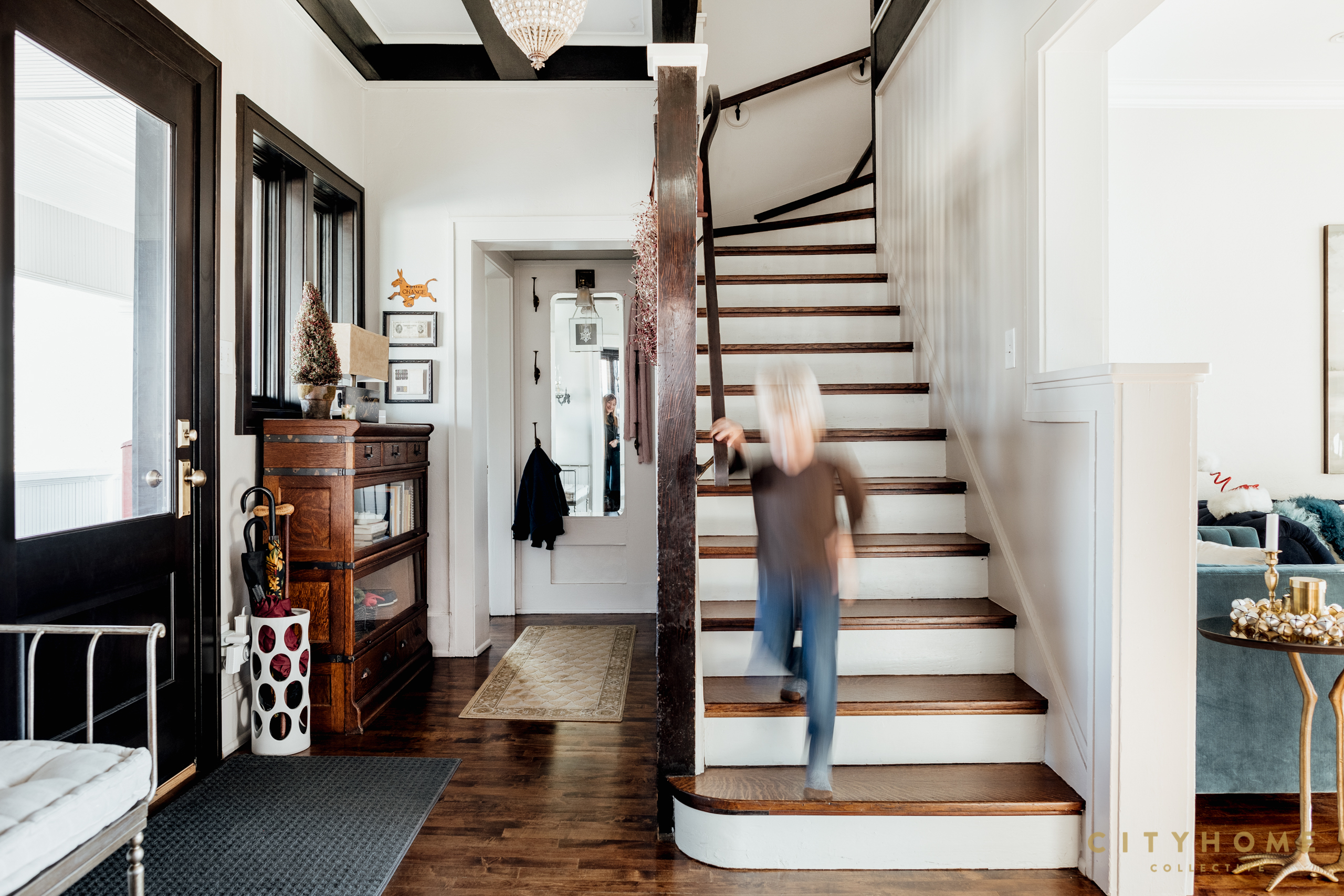 As the Covid-19 pandemic shook up our content creation world with limited opportunities for accessing the spaces of others, we've looked inward for ideas. Enter COLLECTIVE Casas, wherein we open the doors wide to the unique abodes of our team members, and talk about the curiosities and quirks of our spaces now that we're in them damn near 24/7.
One of the things we love best about our COLLECTIVE's approach to life and living is celebrating the unique character of spaces and the people who inhabit them. From adaptively re-used historic storefronts to sprawling mid-mods to 500 sq. ft. flats—from downtown SLC living to the extra elbow room of the foothills—this series has made us fall in love with and appreciate our Salty City and her environs all over again, from the perspective of our own doorsteps.
For this round of Collective Casas, we checked in with our COLLECTIVE Broker and CFO Leigh Anne Bernal, one of the company's original real estate agents. Leigh Anne moved to SLC from the east coast in 2010 after departing from a 20-year career in corporate finance with Fortune 500 companies. She identified real estate as a path that combined her love of DIY house renovation projects and her affinity for working one-on-one with clients. When cityhomeCOLLECTIVE founder Cody Derrick sat down with her via video call to chat about the never-ending project that is her 1912 not-quite-a-bungalow in Sugar House, Leigh Anne had just finished the final flourishes of her holiday decorating with the help of her husband Jon and their insanely adorable five-year-old Truman.
"There's just something about a house that speaks to you..."
Cody Derrick: So, I remember when you bought this house. It's been a while, yeah?
Leigh Anne Bernal: Yes! I bought it in late December, 2011. I think I was even on the phone with you when I walked in here for the first showing and it was mayhem. Anyway, I walked in the front door and immediately saw this beautiful staircase and these amazing big windows and I was thinking, "Oh, I have to buy this house."
CD: What else about this home made you say, "Wow, this is the one?"
LAB: I loved the high ceilings, and all of the windows that bring in so much light, and the unique nature of having a guest cottage in the back. There's just something about a house that speaks to you, and it's different for everyone. For me, the charm of this house and the feeling of comfort I got from this beautiful, old historical home, and it being such a different kind of property is what attracted me.
CD: Tell us a little more about the rad bones of this house, maybe more about the architecture?
LAB: Well, it was built in 1912, and it's not your traditional Craftsman, right? It's got some quirks, for sure. The staircase at the entry has stair treads that are all quarter-sawn oak; you just can't get that kind of wood anymore. The labor that went into this construction is amazing: the tongue-and-groove cedar, the built-in cabinets, all of it was done with hand tools. The house was built out of sturdy, old wood. It's stronger than anything you're going to find today. Don't get me wrong, we've still had to put a lot of work into it! We'll be doing something involving the framing and we're always laughing, "Oh, crap, this is NOT square."
CD: You've renovated a ton of houses over the years. How has that translated into your work with real estate clients?
LAB: Even when I was still doing my corporate job, I was always interested in real estate, and I've always loved design. During the renovation projects I completed in the past, I learned how to lay floors and do tile—you know, all the basics. I get a real kick out of talking with my clients about what they love about houses, and what kind of projects that they are willing (or not!) to take on. Being able to talk with them intelligently about what's wrong with the electrical system of the house they're considering buying is a bonus.
So, we have these little things we do and stories we tell to keep older traditions going, and we pepper those in with the beautiful, newer things.
CD: Having toured hundreds, if not thousands, of homes, how do you think people should best go about identifying the space that's right for them? Do you have any thoughts on the less-obvious characteristics that make a home exceptional?
LAB: I tend to focus more on the feel of a home than its style. If something is well done, the quality tends to come through. There are plenty of styles that I like. I love mid-century modern and I'm not at all opposed to more minimal modern structures but, above all else, I think I gravitate towards the charm of a space. If there are parts of it that feel unique and comforting then, to me, it's a winner, and I encourage my clients to take a similar approach in their search. Before I let clients go under contract, we have a conversation that's really focused on imagining what their life will look like in this new home. If it's easy and exciting for them to picture where they'll sit and read, how they'll cook and entertain, and where they'll unwind, then chances are it's a good fit. I like to think of homes as actual characters in their owners' stories. Whenever possible, I think it's important to look beyond trends and instead focus on what qualities in that character are going to offer you the most support.
CD: Speaking of important qualities, are there specific memories about this house that you hope Truman—your 5-year-old—carries with him?
LAB: Good question. More than anything I'm waiting for the day when he wakes up and realizes that not everybody lives in a compound. We often refer to Megan—the lovely friend of ours who rents the cottage in the backyard—as "Megan in the backyard," and since we put the mother-in-law apartment on Airbnb we frequently have to remind him to keep the jumping and yelling to a minimum because of the "people in the basement." Beyond that, before the pandemic, we were lucky enough to have neighbors and friends coming and going all the time. I guess I hope that he remembers how wonderful it can be to have good neighbors, close friends, and new people all congregating in the same space.
CD: We've caught your home outfitted in its most festive decor—do you hold any particular philosophy on decorating for the holidays?
LAB: For me, it's sort of like decorating this house. I have this really old ornament—a decorated, ornate egg—that was made by my great Aunt Renie. I cannot imagine how much time it took her to make that egg, but these are the handmade things that are meaningful that I can tell my son about when we're decorating the tree. We also have a tradition where every year we buy two of the same new ornament that represents something that was happening in our family at the time. One of them goes on our tree and the other one goes into a box for Truman so that when he moves out he will have a collection of his own and will be able to carry on that tradition. So, we have these little things we do and stories we tell to keep older traditions going, and we pepper those in with the beautiful, newer things. And it makes sense because if all we had on this tree were older ornaments, it wouldn't fit our style. For me, the aesthetic of this room demands that we bring it into the now. I think that's the beauty of putting in new windows that are energy efficient with frames that still have historical nature to them. I take that same approach with holiday decorations. It's memories and history and family and roots integrated—and hopefully tied together beautifully—with a sense of style and design that pulls it all together and gives you and your eyes a place to relax.