The Art of Home blog series chronicles my visits to the homes of devoted art lovers to chat about how they live with, collect, and curate the pieces in their space. Their stories inspire us to integrate original art and handmade objects into our homes – and are shifting the common perception of "art collecting" from a lofty pastime to a fulfilling, fun, and attainable endeavor.
Meggan Waltman is a local artist whose Yalecrest home echoes her own painting style: light and airy with a sophisticated balance of bold color, pattern, and pastel hues. Perfectly perched on Yale Ave, the home's large vertical windows allow natural light to stream into the front sitting rooms, which are curated with vintage or designed furniture, artwork, books, pottery, and other artful oddities. Her collection continues throughout the rest of the home, which she owns with husband/architect Brad Waltman of Inhabit Design Build.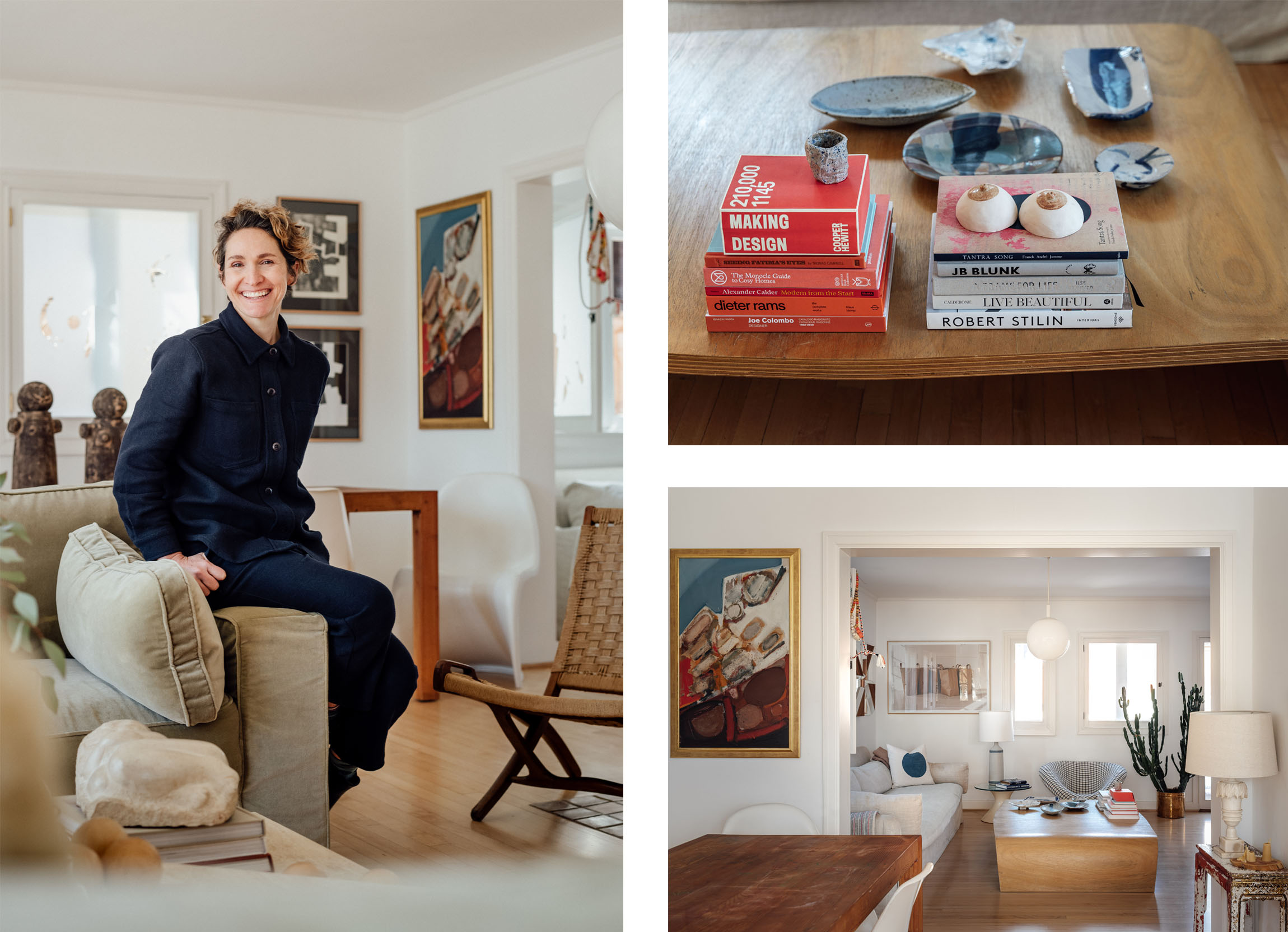 Not surprisingly, Meggan is also an interior stylist; she's the former owner of the Harvey Shop in the 9th and 9th neighborhood, and now works with patrons directly to style art and objects for their homes. When sourcing pieces for clients, her mantra is "affordable yet authentic," as she aims to bring aesthetic balance to their space. When it comes to buying art for her own collection, Meggan chooses pieces based on personal connection, intuition, and a joyful yet comforting mood. Photographs by Ester Voisin and Seth Smoot, a collage by Colour Maisch, and an intimate abstract by Portia Snow are prominently displayed as local pieces in her space, intermixed with her own artwork and vintage paintings sourced from local shops or at auctions. Many pieces are grouped, with paintings hung salon-style or ceramics clustered by color. An assortment of blue pottery fills a kitchen shelf while a collection of pink design books stack naturally on a coffee table.
"One might feel random, but ten is a statement," says Meggan of her cohesive home curating.
Having purchased most of her vintage art and furniture from shops like the Green Ant, Shadowplay, Urban Vintage and other local haunts, Meggan encourages those seeking a unique yet cohesive look to do the same. "I used to sift through junk shops to find the good stuff, but now I just wait for other people to curate it – our local shop owners have a great eye."
Once a savvy shop owner herself, Meggan definitely has her own unique eye for art and design, which she, no doubt, developed from personal experience in creative fields. Having been a musician her entire life, she pursued it professionally in LA while working for a designer as a day job. She's always crafted and sewed, but ultimately pursued painting as an adult. Most recently, her art has been featured by Modern West Fine Art and 801 Salon at Vis.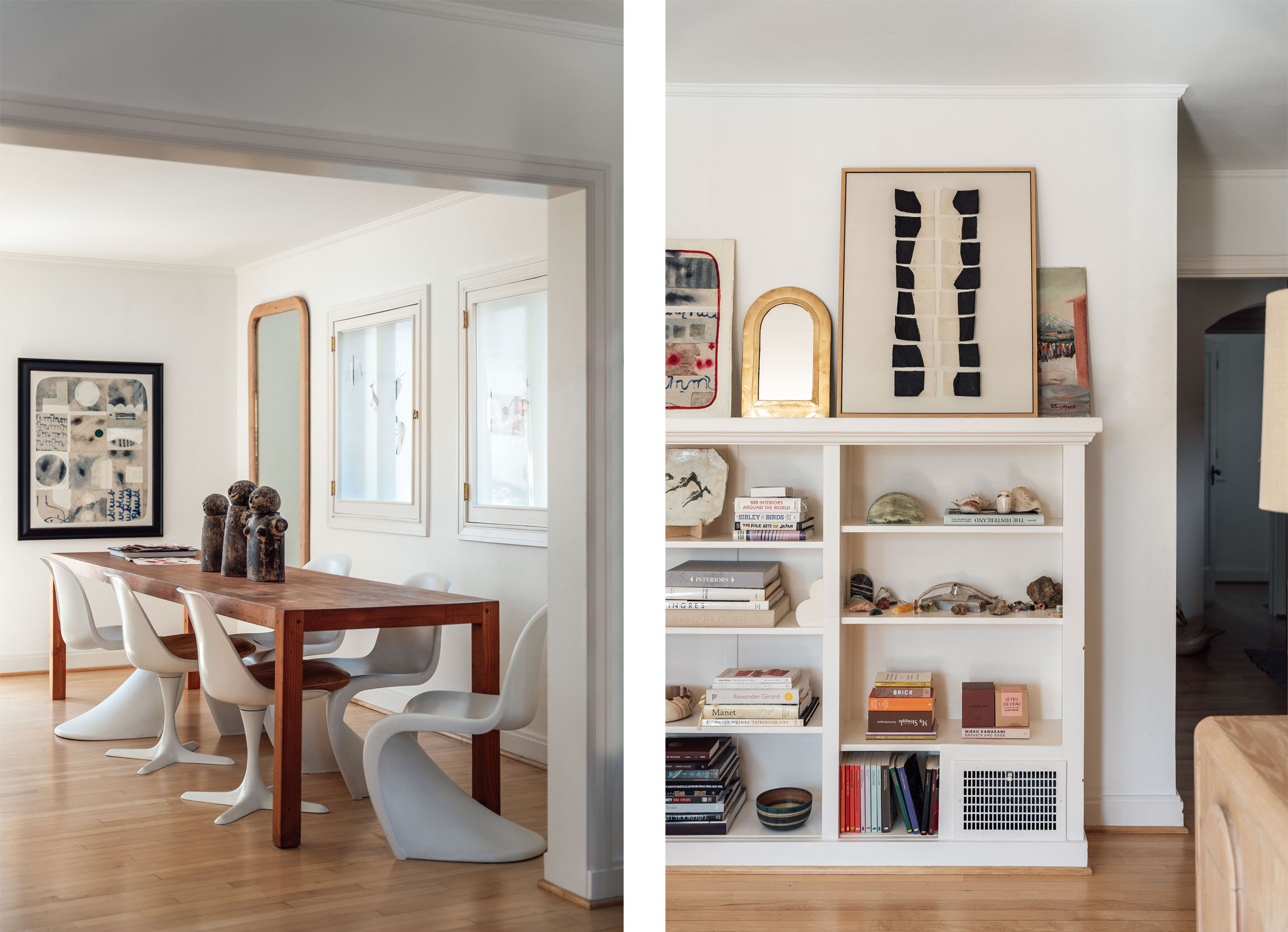 Meggan's paintings are minimalist and abstract, created with oil and natural pigment yet achieve a fluid translucency similar to watercolor. While she loves to paint large, keeping inventory on hand became a logistical challenge and led to her current series of paper tile paintings, which are built from small square paintings on cotton rag paper. With the ability to work small, she can create these pieces in her home and work collaboratively with clients who may be interested in specific elements, tones or sizes. "It's a fun experience and hopefully brings meaning to what people have in their home," she says of co-creating the compositions. Personal connection is one of the most important factors for Meggan when purchasing art for her home, and this process allows her to impart that experience to buyers of her own work.
Meggan gave us a few more insights into her approach to art collecting and home styling in the Q&A below…
Why is it important for you to live with original art & objects? What is your "why" when it comes to collecting?
I enjoy living with original art and unique objects because they help create a joyful and comforting mood. Choosing a piece of original art is intuitive, there is a personal connection that is made that feels authentic and grounding to me. I like having things around that lift me up, spark curiosity and make me feel like our home is where we can relax, be ourselves, get cozy and regenerate.
You also source and style art for clients – what are some of the things that you consider when choosing artwork for a specific space or design?
The most helpful thing for me when styling and sourcing for a project is getting to know my client/clients!!! I love seeing what they have collected so far? What they feel is missing? What they have always wanted to live with but haven't known how to make work with what they already own? What is working for them in their space and What is bringing them down or turning them off about their space?
What do you think are the biggest influences on your design style?
Travel, nature, art, grandmas.
In addition to pieces by current artists (including yourself!), there's also a lot of vintage art in your home and intentional furniture pieces that are vintage or personally designed. Do you have any tips on how to cohesively style an eclectic collection?
Start with something you love, and then just add to it! Try to keep a common thread that continues throughout the collection and as it grows, edit out pieces that seem out of place or less special than the others.