There is a restorative Japanese tradition that originated in the 1980s called Shinrin-Yoku, a sacred practice of 'forest bath' simply meaning bathing (submerging) oneself in nature with the intention of taking in the forest atmosphere and receiving therapeutic benefits. Before we initiated the design concept for this new build construction, we were collectively mesmerized by the phantasmagorical beauty of the untouched nature that surrounded the site. The ascent through The Colony at Park City, with its beguiling vistas of mountains enveloped in a misty veil, has an almost meditative quality paralleling the experience of civilians guided by forest-abiding Yamabushi monks. As we approached the site the sounds of magnanimous pines gently swaying on the breeze and a cooing stream faintly cascading out of the belly of the mountain intensified and transformed us into a state of stillness and calm.
The vision was a house intended for wholesome living rather than a showpiece, a home that would embrace and embody our client's joie de vivre, generosity and spontaneity.
A home that would highlight the unbreakable bond between architecture and nature, till the lines between the two become so blurred that we become nature. A home that pulsates with an abundance of life and laughter, sounds of plates clinking, where there are friends with muddy boots and dogs entangling under dining tables, and yet the home never feels crowded. The expertly orchestrated layout of the home contains spaces that invite group gatherings and simultaneously encourages individual contemplative experiences where one communes with nature. Nature is omnipresent and ingrained in every fiber of the home, not just through the thoughtful integration of interior and exterior spaces and placement of openings that highlight the surrounding views, but in the selection of materials the interior comprises—blonde oaks with minimal protective finish that preserve the inherent essence of wood, bespoke hand-finished metals that finely patina and exude that wabi-sabi quality of imperfect perfection, plasters that have been hand molded into sculptural shapes of colossal proportions (main fireplace), natural stones whose leathered surface becomes more burnished and warmer to the touch, organic fibers and hand-woven rugs that infuse the air with a slightly musky scent of a damp fleece moistened by humid coastal air. Even the collections of art and pottery are deeply personal as they were lovingly created by the homeowner who is a talented artist. The home also houses a space that doubles as her art studio.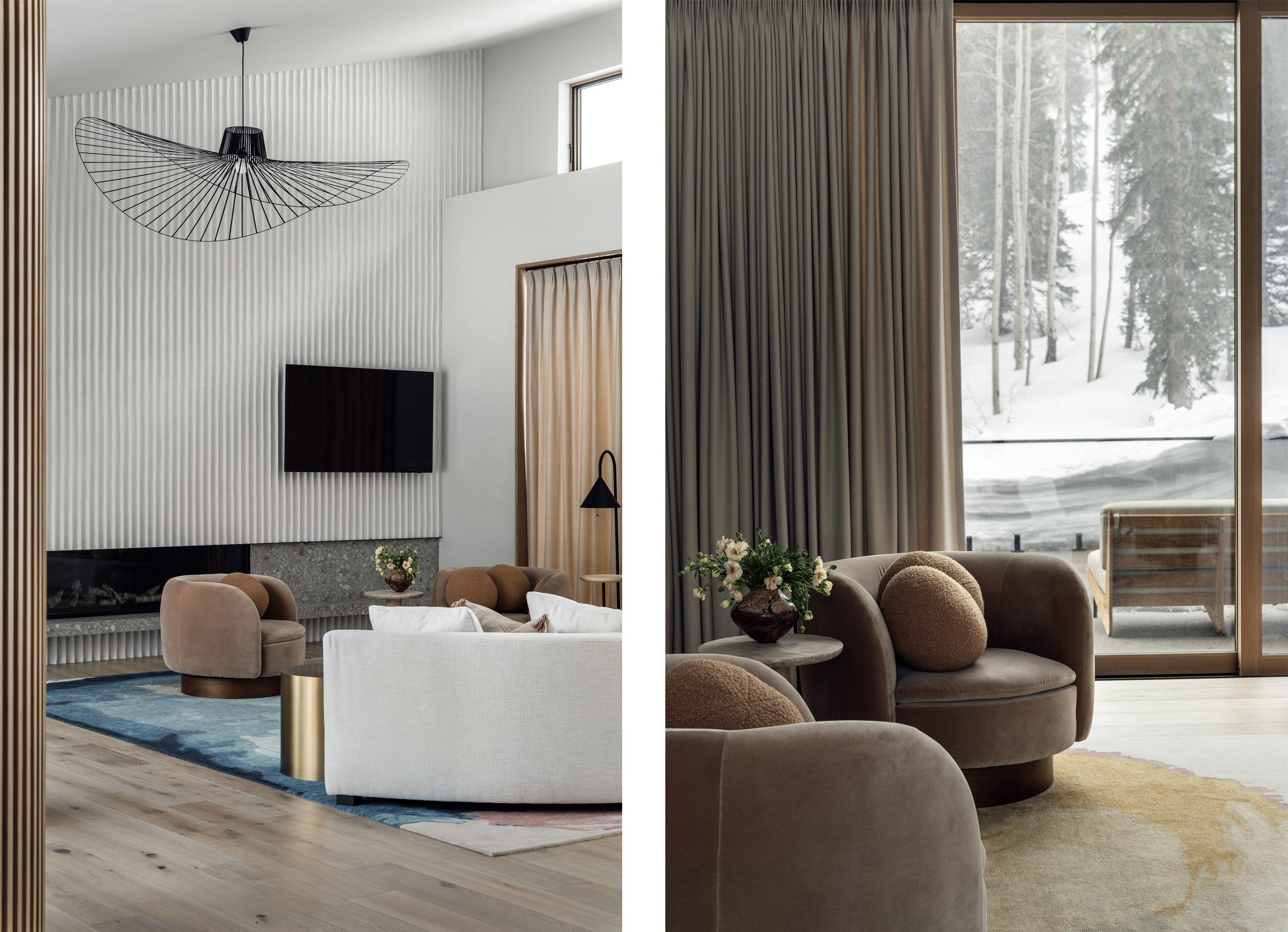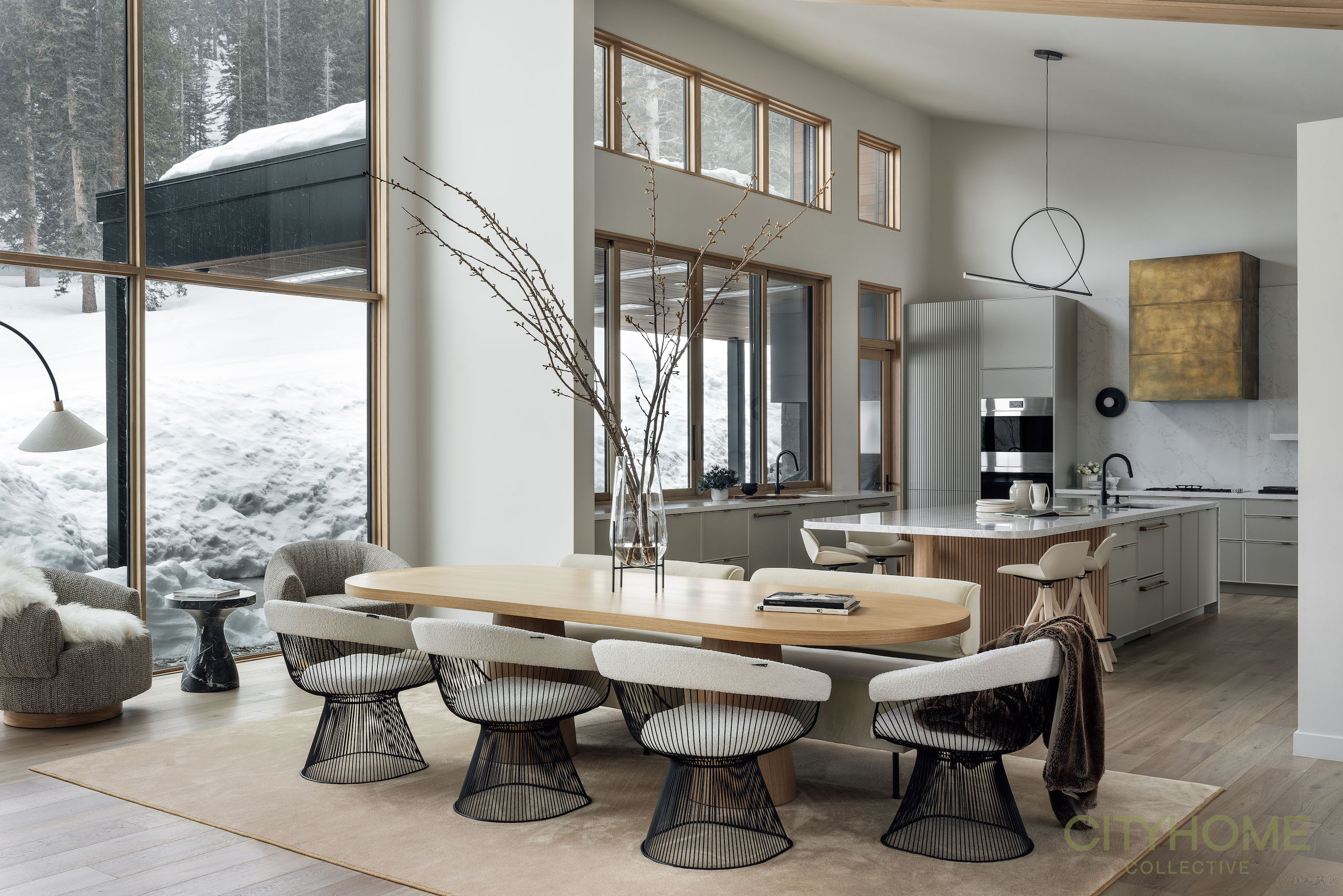 The architecture of this home is thoughtful, purist, and poetic in its ability to achieve refinement without unnecessary embellishments.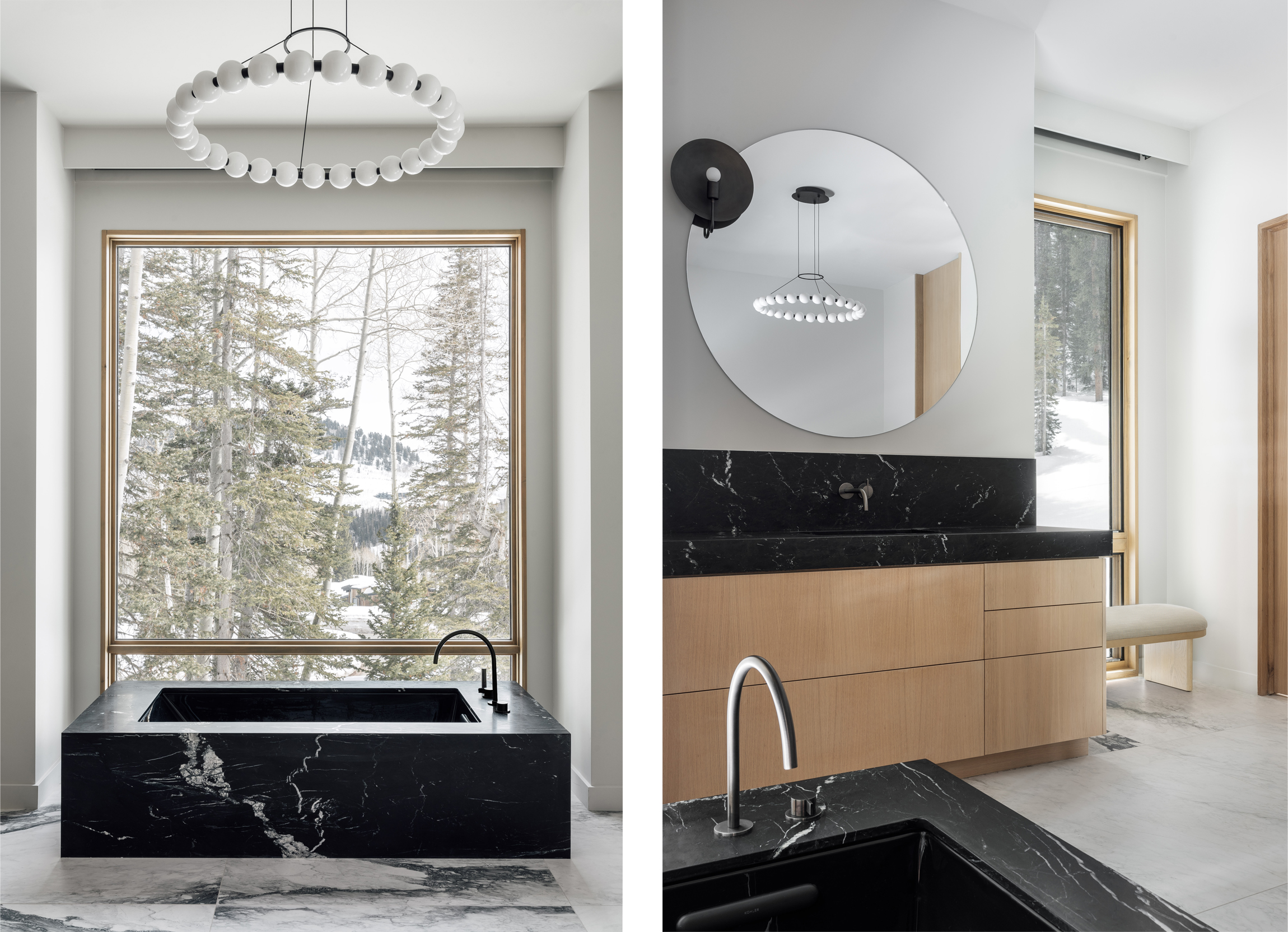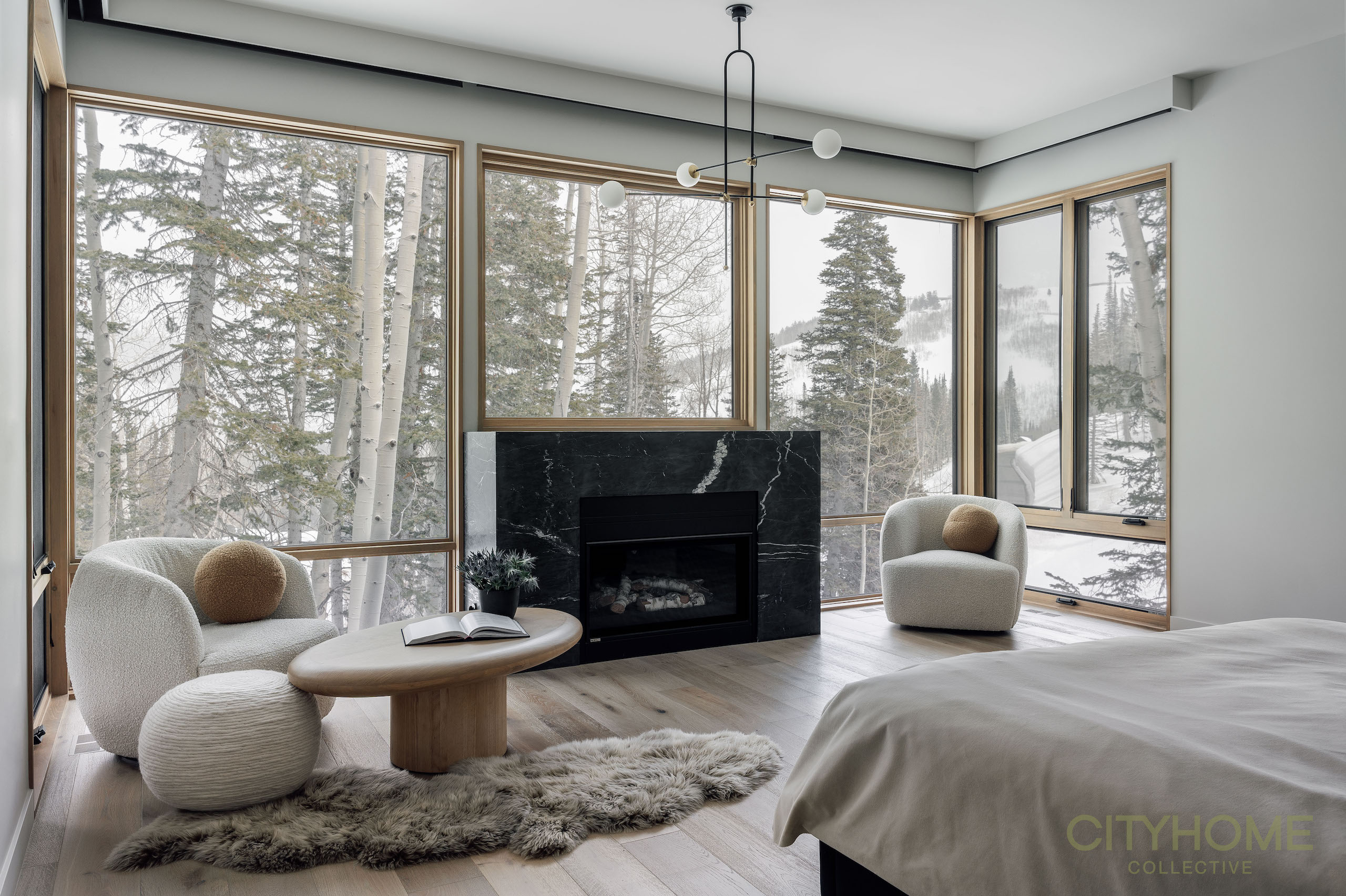 Costantino Grandjacquet, aka Tino's ability to encapsulate essence in form with a well-curated edited material palette truly allows nature to permeate and elevate each space. A bedroom that is encased in glass where one wakes up to unobstructed views of snowy mountain peaks while gazing at the warm glow of the fire, bathing in the oversized stone tub in the dimly candle-lit bathroom while dusk and early snowflakes descend on an oversized canvas-like window, laughter of friends that have just skied down and are navigating their way through the custom built ski room, and steaming beverages getting passed across the basement bar to pink-cheeked pals drying their socks and warming their hands by the primal like fireplace are a few scenes you may encounter here. Four walls are only as good as the memories created between them. So many trades had to come together to bring this vision to life. Our beloved general contractor, Todd Arenson, expertly orchestrated expertly orchestrated the multiple trades needed to execute this highly custom endeavor with poise, patience, incredible warmth, and humor.
Building a home, over a span of close to three years, in the midst of covid, on the top of the hill no less where each one of us experienced trying personal trials and navigated multiple challenges that arose along the way has created an invaluable bond, comradeship and profound gratitude for each other and what we managed to co-create together—a sanctuary at the edge of the slopes where one feels one with nature.
click here to view the full project