This modern take on the American Farmhouse-style of architecture is the blessed result between the collaborative efforts of its music and community-devoted inhabitants and the adept humans at Sparano + Mooney, one of SLC's most revered architecture firms. Recently, we had the opportunity to speak with both about this home and the process that went into its creation.
CHC: Did you have something specific in mind when this process began?
Neylan McBaine, homeowner: We wanted a distinctive, beautiful work of art that would also be a comfortable family home to raise our three daughters. As musicians who love to host concerts, we also wanted something that would serve as a great performance space.
CHC: How would you describe your personal style, and how does that compare to the style of this home?
NM: I grew up with English chintz mixed with a heavy dose of traditional influence. My personal style as an adult is minimalistic, although I do like to think I have a warm personality. This home matches that quite well. It is important that a home be both functional and comfortable and an effusion of beauty, such as art or mountain views is always welcome.
I want an interior space to speak for itself.
CHC: Speaking of interior spaces, let's talk about yours. It's incredible. Was it your work or that of an interior designer?
NM: We used Kaye Christiansen Englert for the interior design. We'd worked with her before, and we felt her contemporary style matched the home. We used lots of color in the open space to achieve warmth, and where we wanted more intimacy we employed wood on the ceilings. For our daughters' rooms, we let them choose their own colors and materials and furniture, and it's amazing how each turned out entirely different from the others!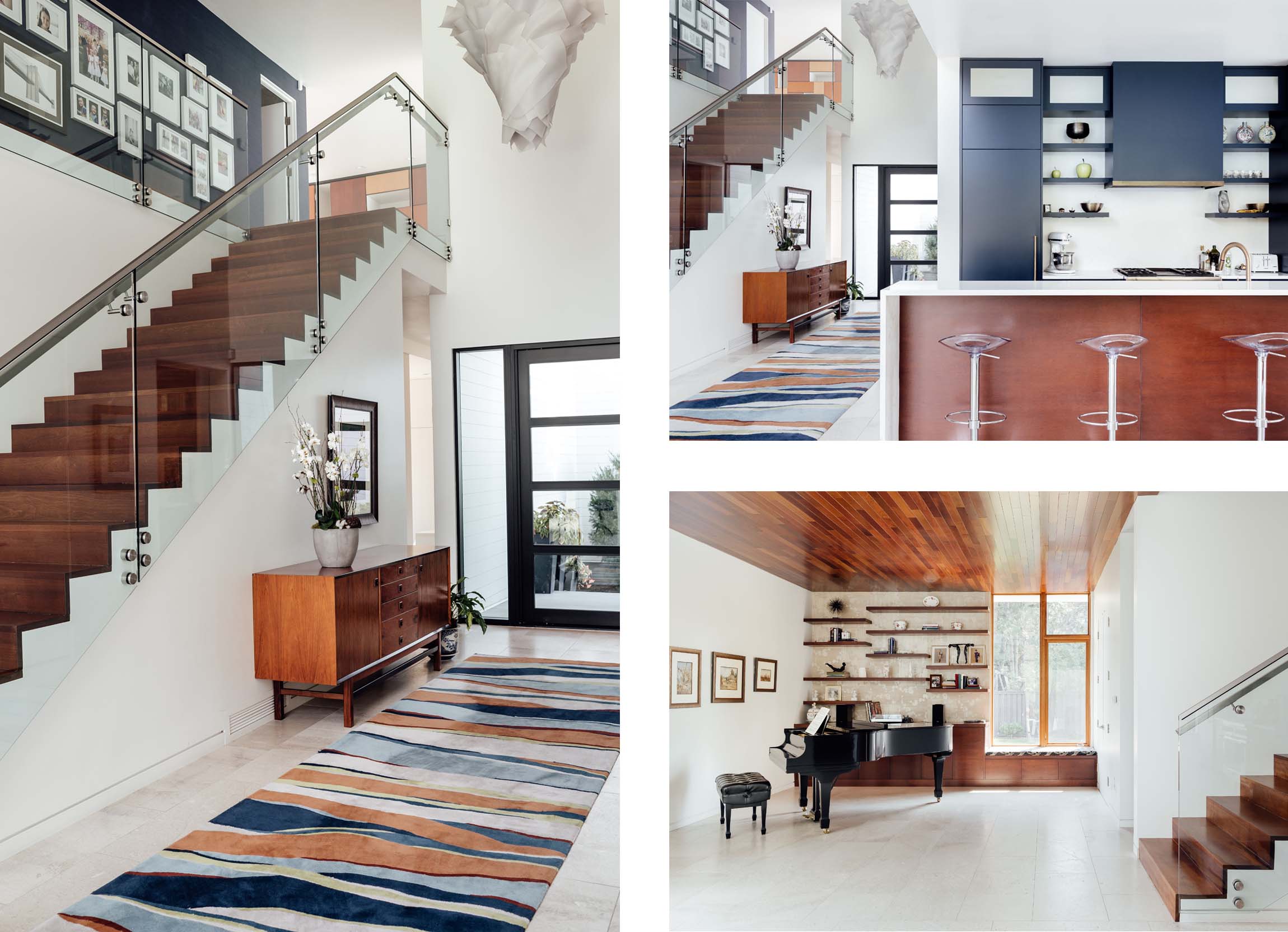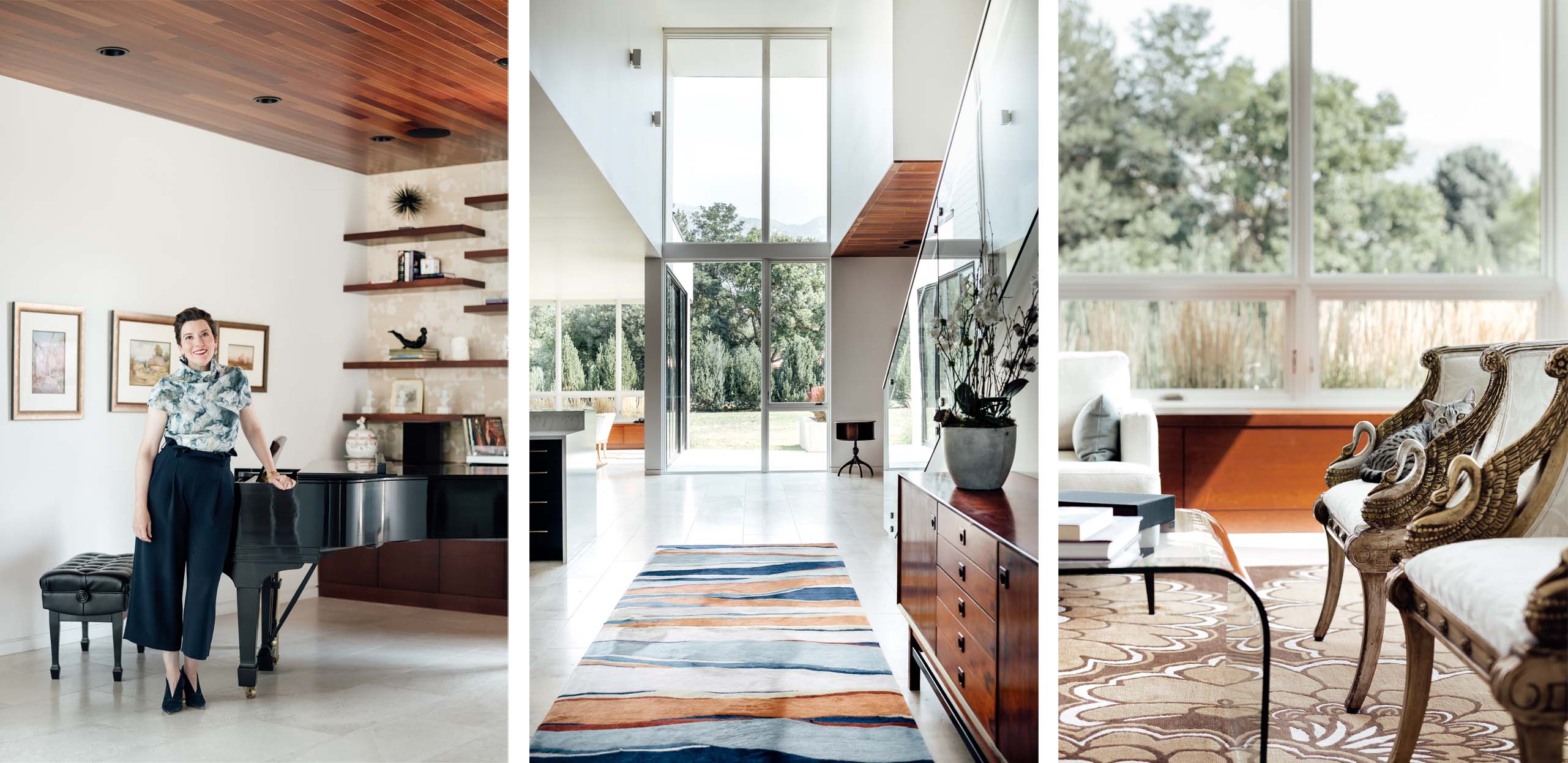 CHC: Tell us about your favorite room in the house. Where do you find yourself spending the most time and why?
NM: I spend most of my day in the library, off the kitchen and living room. We used a wonderful zebrawood for the media unit shelving and bookshelves. We also covered the ceiling in rosewood. We have a large blue velvet couch and a Scandinavian wool multicolored shag carpet, and it feels so cozy and interesting. My books are old friends. I work at a desk there, and we gather there for family movies.
CHC: Tell us why you chose this particular location for your home. How much of the surrounding environment informed your decisions on the design, both exterior and interior?
NM: I'm from New York City and had lived in apartments my whole life, and so we were looking for land to build a home. This plot was the last bit of a family farm smack in the middle of Holladay. The first time we saw it, there were horses grazing. And with Mount Olympus right above, we knew this was the spot. The structure of the home is technically a modern farmhouse, but it is actually two masses that are levered. The bottom mass is white, and it is the public space. The top mass is grey, like granite, and it contains the private spaces upstairs. Anne and John were particularly excited to wrap the whole top mass in slate, instead of just the roof, so it looks like a single wrapped mass.
CHC: You worked with one of our favorite architectural duos Sparano + Mooney in the creation of your home. What made you choose them?
NM: We had a colleague whose home we admired and who had used Sparano + Mooney. After spending time touring the valley to see their work like the Catholic church on Redwood Road, we felt Anne and John were eminently qualified to create a unique plan for us.
CHC: All told, is there anything that has really surprised you about the home?
NM: How much people love it! We find people driving by very slowly to look at it and people tell us it's their very favorite house.
WE ARE THRILLED TO GET TO LIVE IN SOMETHING THAT ADDS TO THE BEAUTY AND ARCHITECTURAL DIVERSITY OF UTAH'S WONDERFUL COMMUNITIES.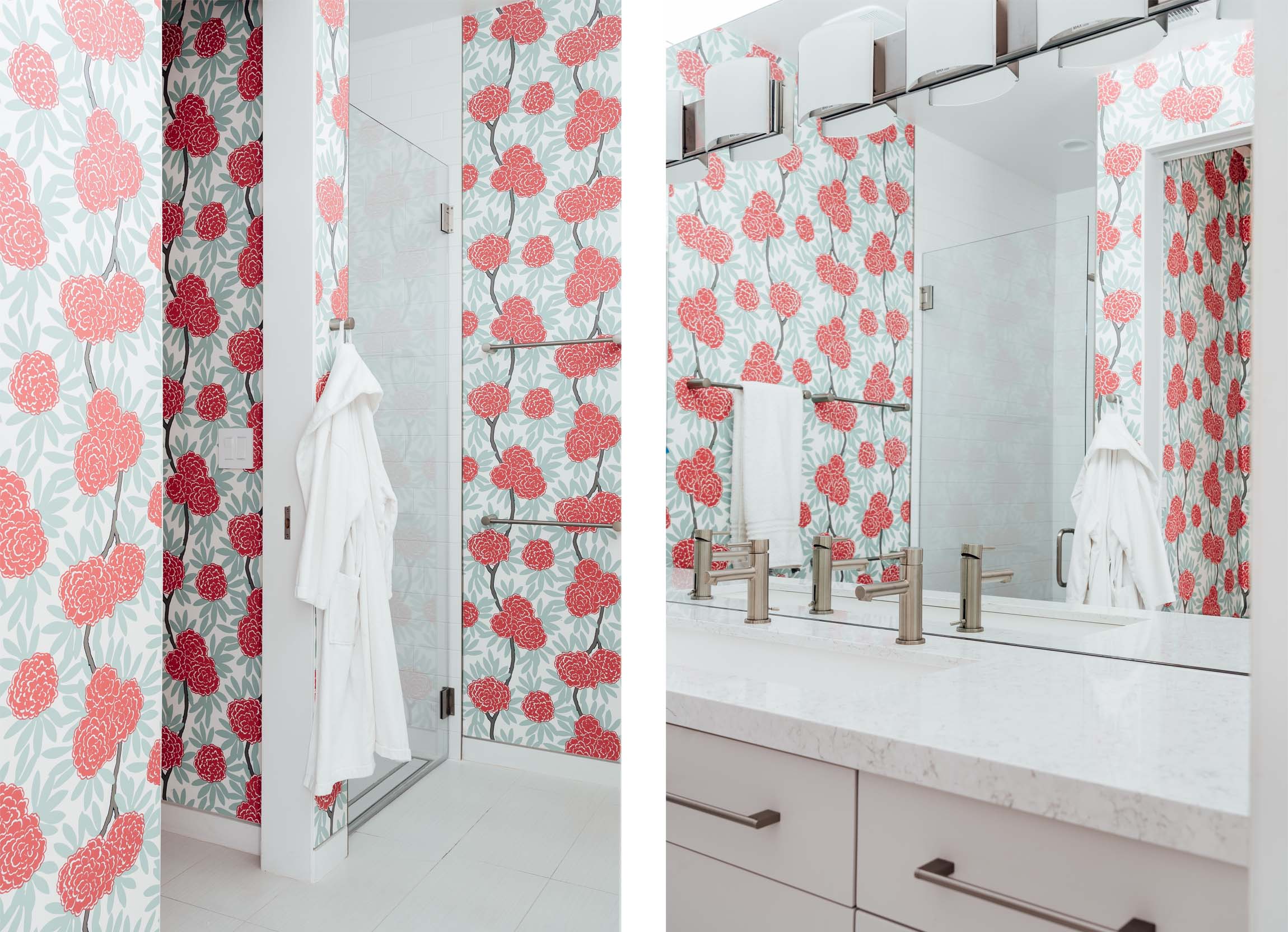 No interview about a residence such as this would be complete without also discussing its merits with the home's architects. We next sat down with Anne Mooney of Sparano + Mooney and asked her to speak on the project.
CHC: How would you describe this home?
Anne Mooney: The architecture was inspired by shifting light and mountain views and by the poems of Jean Sibelius whose work so eloquently captures nature and the indescribable aspects of family, things which evolve yet have a forever presence. And just as Sibelius' Tapiola was inspired by the distinct light and color of the changing seasons, so was this residential design.
...INSPIRED BY THE CONNECTION OF THE SITE TO THE DRAMATIC MOUNTAIN LANDSCAPE SURROUNDING IT.
CHC: Did the clients come to you with specific requests or a particular vision in mind? How did you land on the existing structure.
AM: The clients come from a lineage of musicians and wanted to create a home that could function well as spaces for both family living and small performances. It was important to them this space function well for them, but also be available to the music community to host events, so an expansive space was created where the lower volume and the upper volume overlap, with a large window providing a directed view to the Wasatch Mountains as the backdrop. We located the music room adjacent to the double-height space and the living area so that plenty of seating could be accommodated. Meticulous consideration was given to acoustics, and ceiling and wall assemblies were designed to ensure privacy between the music room and bedrooms above.
CHC: Why do you feel you were selected for this project?
AM: The clients selected our office because of the sensitive approach to site that we incorporate in our design process. They were also interested in a modern take on architecture in mountain settings and were intrigued by our backgrounds of living and working in other alpine regions with great design culture – Switzerland and the Italian Alps, specifically. With these impressions in mind, the clients felt our architectural team would be ideally suited to translate the potential of the special site into their family's home.
CHC: In your opinion, what are the best parts of your work on this project?
ITS MATERIALS ABSOLUTELY.
AM: The dark, slate-clad gable form of the house is contrasted by a white linear base. That gable form exists as a common representation of the American Farmhouse vernacular, and this home provides a modern interpretation of that lineage, something of which we are very proud.