Tucked among scrub oak and trembling aspen up Little Cottonwood Canyon, the cabin owned by Molly and Sam Grenlie is a true place of solace. Architecturally-speaking, it is a study in form and function – a roof that's angled to account for snow in winter, poured concrete and cedar planks for durability against the elements, and a battery of windows to take in the canyon's dramatic slabs of granite. But for the souls within these walls, this home means so much more than just architectural intent.
The original structure – a modest, one bedroom, summer cottage perched precariously atop massive boulders – was built in 1914. In 2014, the property was sold to Molly's brother, Kyle, who, tragically, disappeared just a few years later while climbing in Pakistan's Karakoram Range. The family debated selling the cabin but ultimately decided to keep it, partly because of their connection to the canyon. But, also, for Kyle. As Molly says, "Keeping the property felt like hanging on to a small part of him."
Taking ownership of the property was one thing; what to do with it, wholly another.
With its sloping floors, unstable foundation and no shortage of mice, the Grenlies knew it was no place to raise a family. So, they reached out to Lloyd Architects. For Warren Lloyd, the firm's principal, the area known as Wasatch Resort holds a special place. The resort had been platted and developed around 1915 by a group including his great grandfather who'd been contracted to quarry stone for the Utah State Capitol Bldg. As a boy during that time, Warren spent many summers playing in the creek and surrounding environs.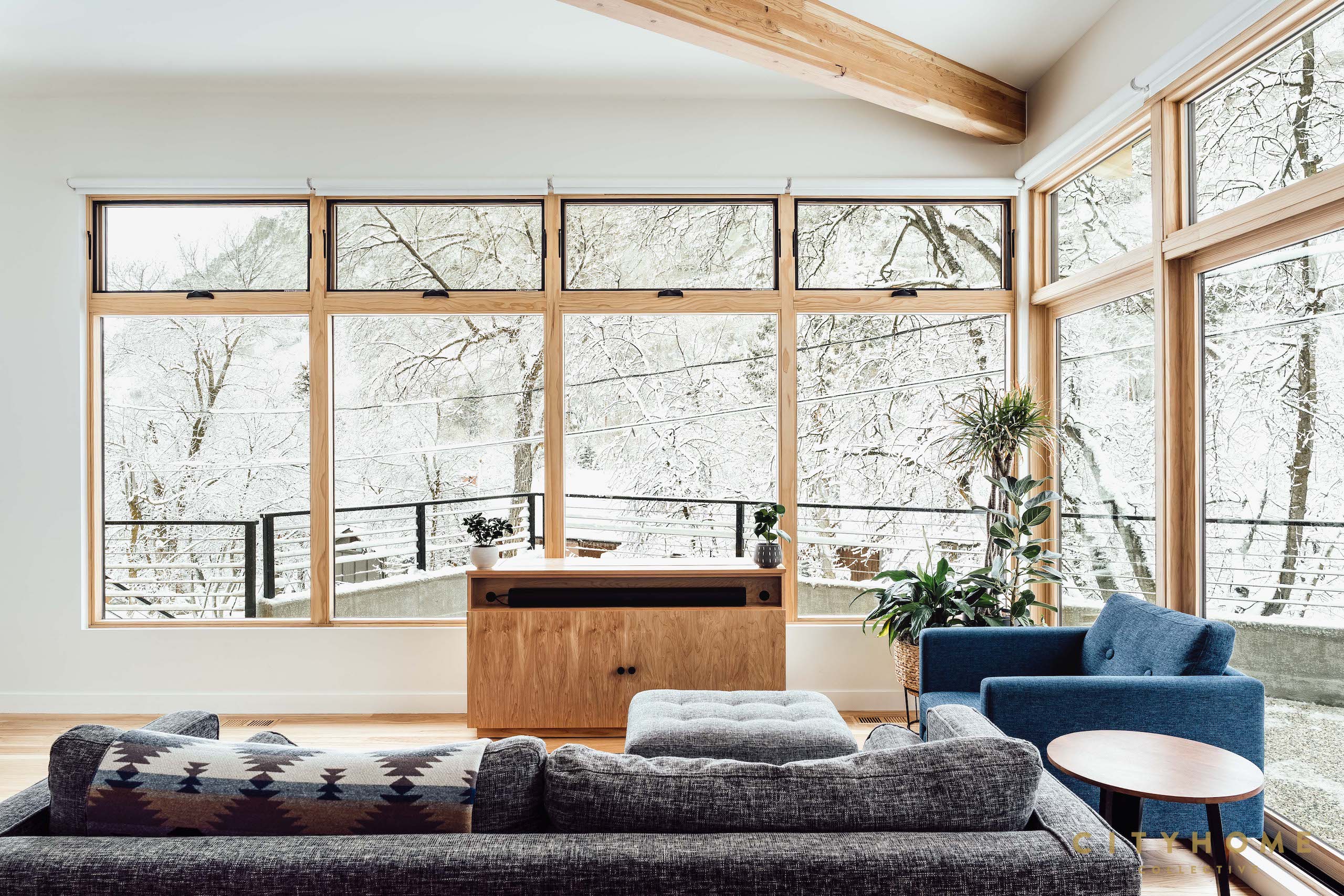 Warren recalls his initial meetings with Sam and Molly, remembering their love of and connection to this part of the canyon for they, too, had lived and recreated in the area for several years prior to purchasing the residence. The idea of a simple, functional, year round cabin filled with natural light soon became their guiding vision.
Building was not without its challenges.
It took Sam and Warren two years to obtain a FCOZ (Foothills and Canyons Overlay Zone) building permit, a process that proved to be very frustrating, and it was not until March of 2020 that it finally began. Construction within Wasatch Resort is no small feat either. With narrow roads and tight turns, getting certain materials to the site required some creativity. Additionally, the building process happened during the pandemic which caused supply issues and lengthy delays.
Now, finished, the residence serves as the ideal spot to raise two small children. "Our kids love being outside," Molly tells us. "And the deck has been a great space to allow them to play while allowing us to be able to keep an eye on them from inside. As the weather has gotten warmer, we have started going on family walks after dinner on the Quarry trail."
Most of all, it's the serenity afforded living in the mountains that resonates with the Grenlies. They start their mornings drinking coffee on the couch and looking out through those windows toward those granite peaks. Says Molly, "I am continually in awe of our views and feel so fortunate to live where we do."