We adore the swatches and samples that come with a complete overhaul, but we also understand that the simplest of tweaks can result in an entirely new vibe for your space. A little paint, for example, goes a long way.
so We've got a few fall-inspired paint colors you can use year-round...
"Calke Green" by Farrow + Ball

If you're the type who prefers to dip a toe before diving in head-first, consider painting the interior of a shelving unit. This is a good way to accentuate an architectural detail, but it's also a surefire way to bring a little fresh life into the space. For this project, we used a cool, mossy green for the shelves--we also utilized the high-gloss version of the same color for the front door, which brought a fun bit of cohesiveness to this bright white home. View the full project here.
"Bold Brick" by Sherwin Williams

A definitive pop for any space, this rusty orange-red is the perfect warm accent to an otherwise cool palette. In this case, polished concrete floors and white walls ran the risk of feeling a bit anemic without this punchy accent. We decided to utilize Bold Brick on all of the interior doors as a nod to the red-rock desert landscape surrounding this project. View the full project here.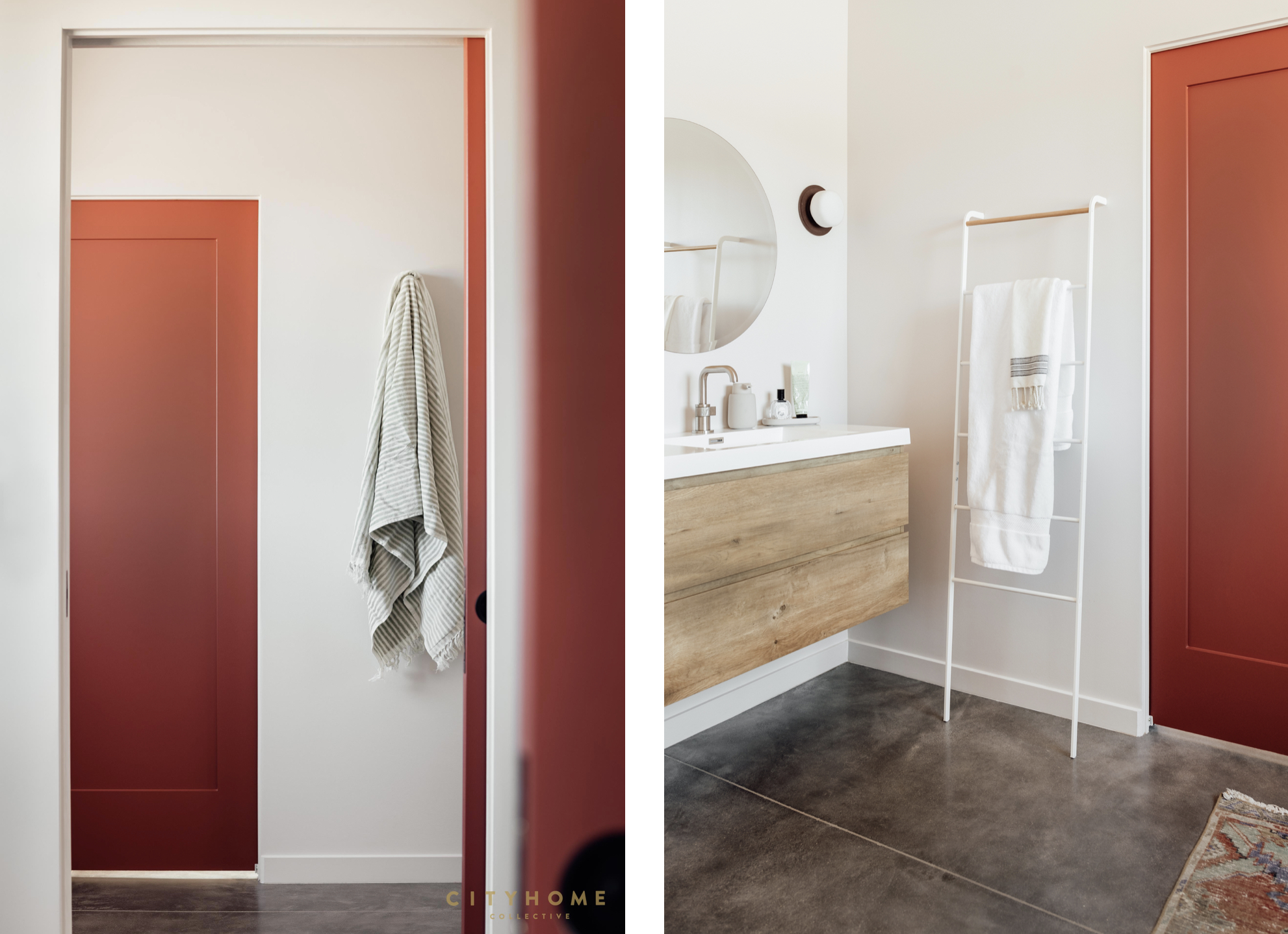 "Joshua Tree" by Portola
Inspired by the desert sunset, this cheery nutmeg hue will brighten up any room. It's bold, yes...but when used with a black molding, crisp white ceiling, and neutral floor, it adds the perfect pop of color. We managed to add some character to this guest room without having to spend a lot on decor. View the full project here.
"Yorktowne Green" by Benjamin Moore
This deeply saturated, historic blue/green color can make a statement, but it's also well-equipped to stand the test of time. For this custom floating vanity, it served to create the perfect balance of old and new when paired with a neutral background, marble, and some mixed metals. View the full project here.
High-gloss "Green Black" by Sherwin Williams

Bathrooms are as good a place as any to go bold. If you have a smaller space, sometimes the best answer is to utilize a dark color and embrace the coziness. You can create a dramatic effect by painting the walls, ceiling, and floors the same color. In this loo, a vintage-inspired toilet, collected art, and black zellige floor tile work seamlessly together. View the full project here.