Social media is a weird, remarkable thing, and admittedly, we don't fully understand its many inside secrets. Its incredible power to 'make or break' seems surprising at times, perhaps because it's utilized on something no bigger than an artisanal chocolate bar. Only the slightest of gestures are required to salute, snub, or submit anything at all in just wee fractions of seconds. Seems like a disproportionate bit of influence for your thumbs to wield…but they do. For better or worse, there's a lot of stuff out there on the Internet, and we offer full praise (and all due double-taps) to those that are putting their best digital footprint forward. You know, those folks that are doing good and following their dreams–and offering up something amazing in the process. One shining, exceptionally close-to-home, example: BALM Apparel.
Her threads have been snapped on some of Instagram's biggest players
With an Instagram following nearing 30k, it's likely that some of you are already acquainted with the brand. You may not, however, know the story of the gal behind the garb. BALM was begat by one of the loveliest locals we know, Tiffany Grine. This is a local gig by our most sincere standards; it's a one-woman operation, and it's run out of the garage of the Grine's 15th & 15th home. Yes, this is the definition of "small business," but BALM's reach is anything but. In fact, it's huge. Think: global. Her work can be seen on actual pop stars and local folk, alike. Shirts of all sorts (tees, tanks, hoodies, whatnot) with messaging that, on some level, appeals to all of us: "don't" and "go away" and "indoorsy," for example.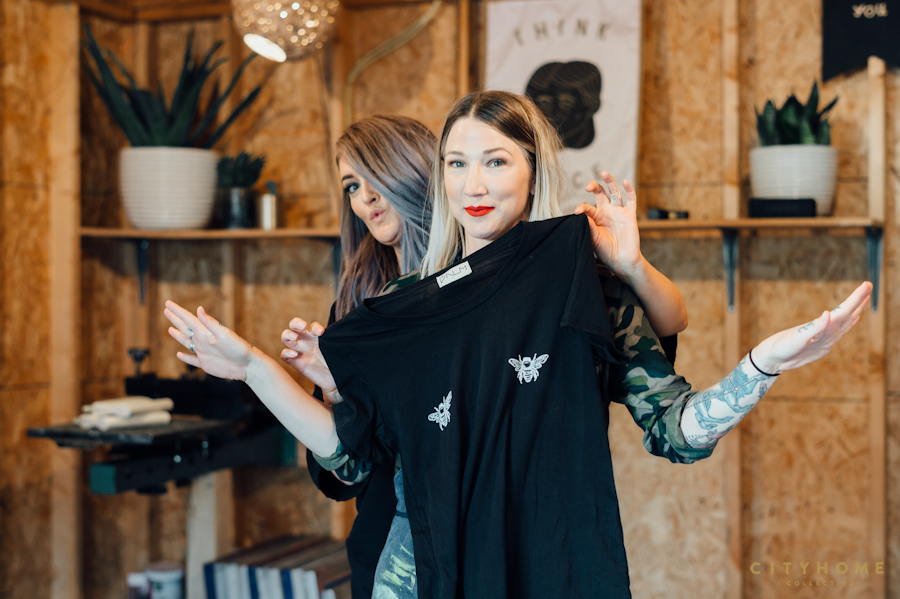 Tiff's in the business of quirky cleverness slathered on a butter-soft tee. business is good.
There are Smiths quotes and demands and honest admissions of imperfection ("psycho. also chill. but mostly psycho."). If we had to pick a favorite, though–without any biases or leanings toward a specific spot on the map, of course–it would have to be SLC TO THE DEATH OF ME. Because, come on.
We chatted a bit with the high priestess of screen print, Mrs. Grine, to discuss the ins and outs about what sparked her inspiration, being Insta famous, and the future of BALM.
How did this whole big thing get started? Growing up in a large family, we never had much money for name-brand fashion, so I always shopped at thrift stores and made my own clothes. I never paid much attention to what was trending, I was just trying to be comfortable. So, tee shirts are kinda my thing. I love the hunt for unique, thrifted tees. I wanted to do something anti-fashion, something for people who don't take themselves too seriously, something fun, silly. So I took a sharpie marker and made my first tee. I borrowed some equipment and made a few designs for myself to wear, and after several people asked where I got my tees, I decided that maybe I could do this on the side. I really only took it seriously when I decided to have a booth at craft lake city. I didn't know what I was doing or if people would respond, but they did.
Salt Lake City holds a special place in our hearts, and I know it does yours, as well. You mentioned that starting a business like yours seems more doable in Salt Lake compared to some other cities, can you elaborate? Craft Lake City was a huge success and I realized that this city wanted snarky, silly tees. And if this city loved what I was doing, maybe I should really push this and make a go of it. So I did. I worked my full-time job and with my husband's help, printed tees. I told myself that if I could supplement my income in a year, that I'd quit and do this full time. So I did that, too. The love that this city showed me really gave me the confidence to go for it. There is a hunger here for sass and lightheartedness and snark and just plain old fun which allowed me to go ahead and speak.
What started off as a hobby/part time work has now snowballed into a full time gig. How has your life changed because of BALM apparel? Running a business that supports a whole family is at once terrifying and rewarding AF. You get to work with your best friend and be at home with your kids, but at the end of the day, you have to also make sure that you can pay your bills. It's been an interesting learning experience.
I know when you were naming BALM, you wanted it to relay a feeling of soothing or comfort…say more: I want to make the thing you can grab up off the floor when your hide is chapped and your mood is crummy, that'll pick you up and kick your ass all the way back to happy town. I want my clothes to feel like when you finally find that tube of chap stick at the bottom of your purse and after picking off the purse fuzz, coat that crusty lip with a layer of "okay, everything's gonna be fine." I want my customers to apply my balm to their skin and let that good soak in. As long as there's a demand, I'll keep trying my best to produce fun shit. I can't imagine anything more rewarding.
All of your designs are original and in constant rotation (save for a few staples). What inspires your designs and/or who are you designing for? You must find that balance between staying true to you and creating something that sells. Sometimes you fail. Sometimes the thing you think is too "out there" and "risky" ends up on every continent…hell, every one of our great states. North and South Dakota, though…that took some time. Tough crowd.
You don't do any marketing…except for social media. How crazy is that? I'd say social media is the only reason I've been successful at all. The internet (and more specifically, my Instagram) is how I've chosen to reach the world. I've been able to connect to consumers around the world for free. I don't have a beautifully-curated feed, and I purposefully keep that homemade vibe, reminding my followers that I'm just a girl in a garage. And yet, photographers, customers, and fashion bloggers around the world want to shoot awesome photos in my clothes. That's insane. I'm quite literally a frazzled mom/wife just making whatever pops into her head, and now I have all of these incredible relationships with creatives from all over the world. How else can you achieve this with little to no money, no master plan? I was fortunate enough to be in a city that loved and supported what I was doing, and I had an app on my phone that allowed me to be myself and connect with like-minded people. I get to make a thing for someone, ship it, then see them wearing it because they love it so much that they've taken a photo of themselves to share with their internet friends. Then I get to comment, thank them for spending their hard earned money on my clothes, and gush at how awesome they look, and they reply with all the gratitude. As far as producer/consumer relationships go, it's the damn satisfying full circle kind and it rules!
Any new big announcements/designs for us to look forward to? Thoughts of having a brick and mortar shop? I don't have aspirations of world domination. I just want to keep crafting yummy, comfy, silly clothes.
What advice do you have to other young entrepreneurs thinking about quitting their day job? If I had any advice to give, it would be to start slow, be careful..no need to go all in, guns a-blazing. It will take time, so use it to make great relationships, interact with your customers, build a strong foundation of loyal consumers that know they are integral to your success because you've told them so. This way you can make mistakes and fine tune your hustle without causing too much damage.