Modern is marvelous and mid-century is magical, but in our humble opinion, the importance of architectural style will always be second to how a home makes its inhabitants feel. Whether you've a cabin, a condo, a palatial spread, or an apartment, we're of the belief that it's the personal touches that create a truly magical space. After all, making a house one's own is what makes a home, and—while we love houses—we don't think we'll ever get enough of "home."
Francisco and his partner, Robert, set themselves on a venture to acquire a piece of Downtown Salt Lake City….but it wouldn't be just any condo that would lure Robert from his Manhattan digs. After a few walls were knocked down, floors refinished, and new paint and stone were added to this Downtown loft, the concrete columns of this space were enough to tempt Robert to journey to Utah and make this industrial condo his canvas.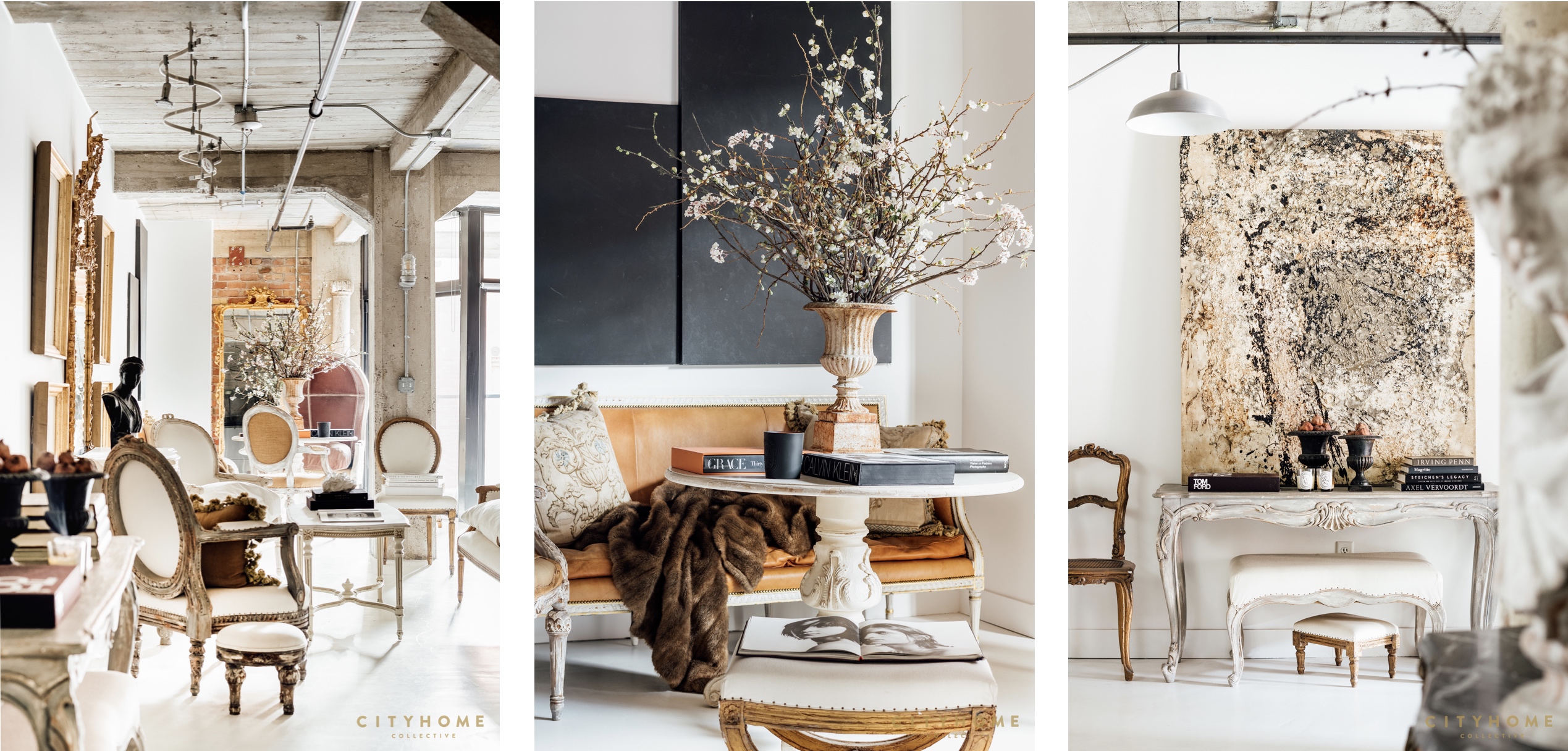 Robert Olson has always had a way with space.
Collecting objects over the years, he has manifested a collection of pieces that enabled him to take an open space and make it into a palace in the city for him and his partner to share. As I enter the space, my breath is taken away, as—from the doorway—there is already enough to capture my attention for hours: an entryway decorated with brass candle sconces, a crystal pitcher filled with an arm of blooming branches, and, around the corner, a cloud-plush bed and a marble-top credenza holding a stunning photo of Marilyn Monroe beside a Grecian bust. The bright orange of an Hermès shopping bag vibrantly sits beside a zebra print chair. Each place the eye lands on is a vignette to explore.
The stories here are as plentiful as the objets d'art: original work gifted from a New York artist, a glass cabinet filled with black and white modeling photos from back in the day. Little moments, each made of objects, art, and furniture, all meant to work in conversation within this industrial canvas or brick and concrete, all a blend of old-world European and modern-day life. Upon being asked what inspires his style, Robert responds that it's his life experiences; he adds texture through layers of a worldly life lived. The styling of his home is simply putting his life on display in a way that one can look upon and feel. "I appreciate the textures," explains Robert, pointing to a velvet and burlap French throne chair. "The contrast of high-end furniture profiled with lower-end material is something I have always loved." The space is a collection of what was and what will be, moments to appreciate and spaces to lounge. Memories from the past and yet to be created. Robert and Francisco, welcome to Salt Lake City.