By now, you've most certainly decked your halls, strategically placed your mistletoe, and anchored your tree with a beaming topper. Good job, y'all! Now, in keeping that holiday spirit, we want to offer some festive children's books for you and yours. Cuddle up with your hot cocoa, crackling fire and settle in (envisioning a Hallmark movie here, and are gonna roll with it). We took our own advice and did just that.
Meg Raby, SLC's very own storyteller, was kind enough to join us and read from the following handpicked books below!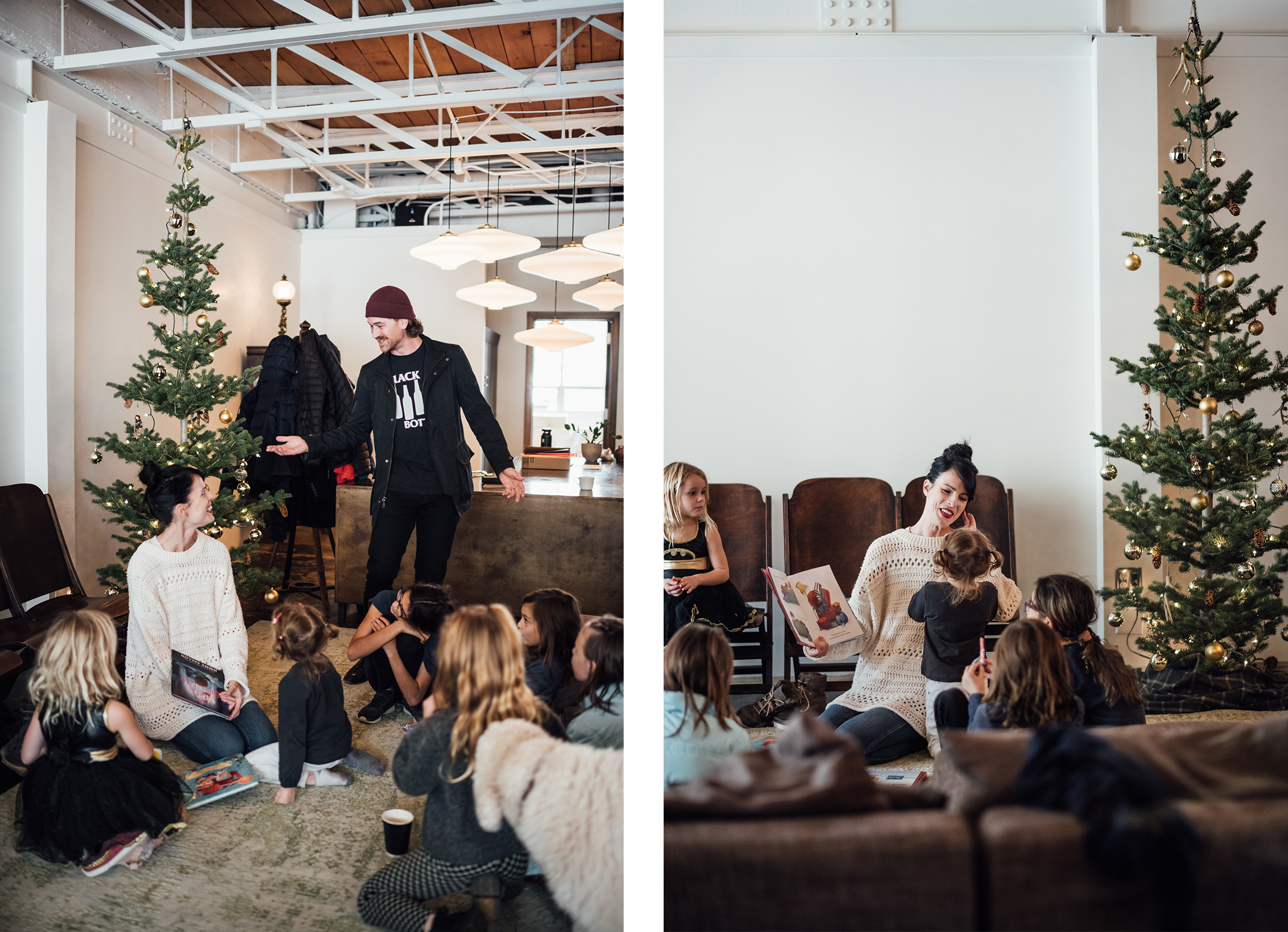 1. Pick a Pine Tree by Patricia Toht, illustrated by Jarvis. A visual delight, Pick a Pine Tree is a family must during the holiday season about the joy of the season and the excitement of picking out a Christmas tree to decorate.
2. Finding Christmas by Lezlie Evans, illustrated by Yee Von Chan. Tis the season for gift giving and celebration for three little woodland animals, when unexpectedly they run into a neighbor. Sure, it's fun to sing carols, decorate and wrap presents, but finding Christmas is more of a movement of intentional kindness the reader will beautifully see in this classic-like tale.
3. Llama Llama Holiday Drama by Anna Dewdney. Llama Llama is here for the holidays and has had a bit too much prepping and waiting for the big day to arrive. He needs a gentle reminder of what the season is all about from Mama Llama. A fantastic, rhyming read aloud for the season.
4. Five More Sleeps 'Til Christmas by Jimmy Fallon. The words roll right off the tongue in this rhyming romp about the countdown to Christmas. Full of fun and humor for the whole family.
5. Little Blue Truck's Christmas by Alice Schertle, illustrated by Jill McElmurry. Little Blue is in charge of Christmas tree deliveries to each of his friends in this sweet holiday board book. Best of all, there's an actual light-up surprise at the end that makes this read extra magical.