"Modern Art Deserves a Hearing" - Maud Hardman, 1948
If you love the mid-century modern aesthetic as much as we do, then you'll want to put a trip to the Springville Museum of Art on your to-do list this season. The Museum (whose incredible Spanish Colonial Revival-style architecture is alone worth a visit) is currently featuring Mixed Reviews: Utah Art at Mid-Century, an impressive exhibition that celebrates mid-century art, culture, and design. The show features almost 70 artworks from the Museum's collection by traditional and modern artists working in Utah in the 1940s to 1960s, plus two galleries of mid-century interior design and decorative arts curated and designed by our very own Cody Derrick and Kelly Carper.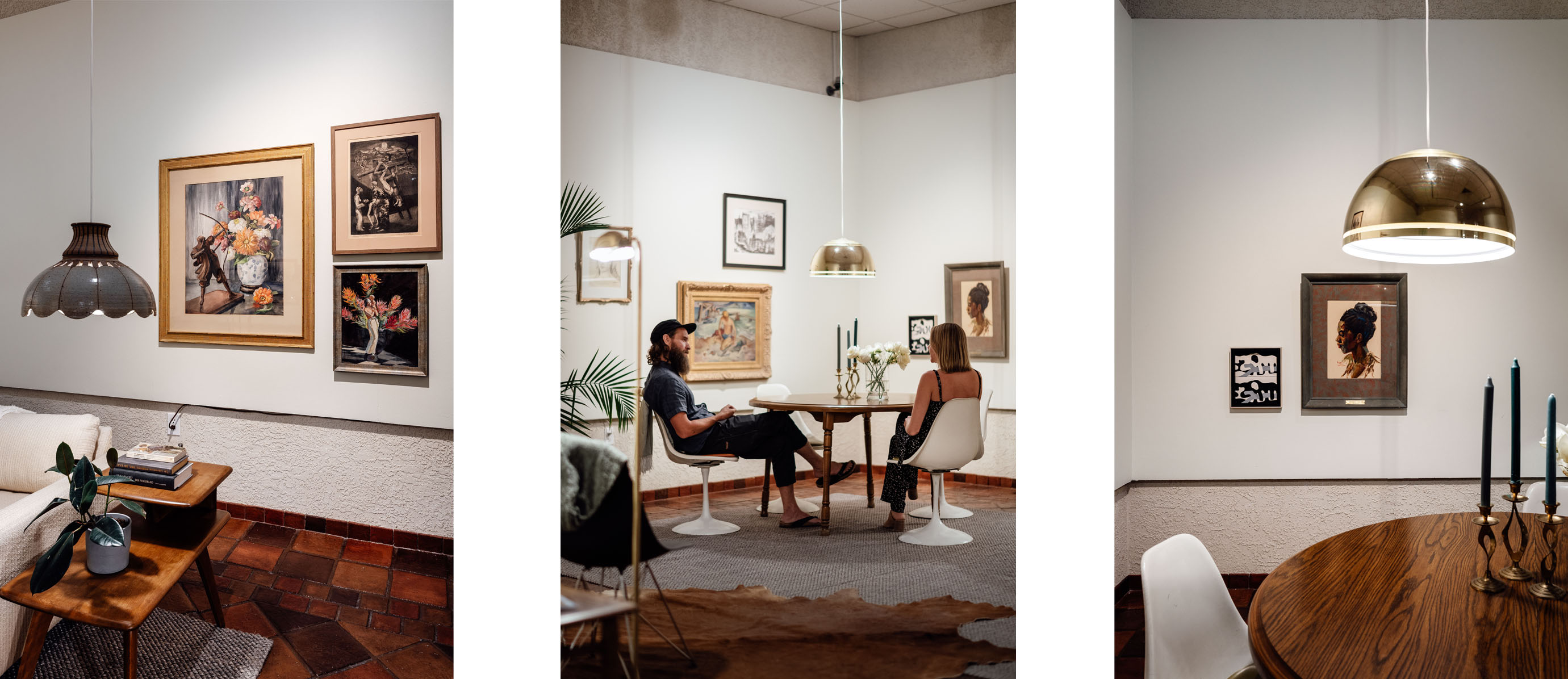 Kelly: This was a great partnership that brought together Cody's design eye, my background in art curation, and the Museum's incredible art collection. Cody and I designed the space with vintage furniture from cityhome's own collection (with several pieces purchased locally from The Post and Strawberry Mansion) with a few key pieces sourced from Ron Green at the Green Ant. We had the exciting opportunity to select paintings from the Museum's permanent collection, and we chose pieces from the period that exhibited the mood we associate with mid-century and the vibe we wanted folks to experience in the space. We kept the furniture period-correct, but approached the art curation with contemporary arrangements and included a few modern touches. We wanted the environment to feel nostalgic while also pointing to the continued relevance of the mid-century aesthetic.
We hope you feel at home there.
The Springville Museum describes the overall exhibition: In the years following WWII, critics, artists, and aficionados in mid-century Utah debated the role and merits of Modern art. Some argued for the traditional and beautiful, while others championed the turn to abstract styles and subjects. Ultimately, they argued, the viewer should be the judge. Good art, they claimed, could be determined by the viewer.
Seventy years later we're reopening the debate and inviting you to become the critic. Which pieces do you like best and why? Which pieces capture the world, experiences, and ideas of Utahns post WWII? Which ones are the most fun? Celebrate mid-century modern art, culture, and design with us in this fun and playful exhibition.
You get to be the judge!
This exhibition is on display through May 13th, 2023, and you can learn more about it at smofa.org/mixed-reviews.