What do a pixel and a torch have in common? Nothing. That is, until Johanna Kirk–jewelry designer and photographer–opened a quaint, perfectly minimal Sugar House shop to peddle her wares. Pixel + Torch is a perfectly-culled expression of Johanna's Scandinavian roots: clean lines and blonde wood abound, with a smattering of striking, seductive jewelry. Walls perfectly dotted with stunning, framed art reminiscent of watercolor…works that, at second look, are revealed to be Utah landscapes. It's photography. It's hand-crafted jewelry. It's Pixel + Torch.
Beautiful pendants, bad-ass knuckle-duster rings, delicate earrings...
Says Johanna, "Growing up in Sweden provided me a built-in love for natural materials, sleek lines, simple and functional designs which carries over in everything I make." She collects stones from around the world and skillfully silversmiths them into unique pieces. "I design with strong women in mind. I'm surrounded with so many wonderfully strong and intelligent women whom I look up to and who inspire me. I love women who are unafraid of taking up space, who dare to stand out and are unapologetically themselves." Her designs are bold and powerful and entirely exclusive.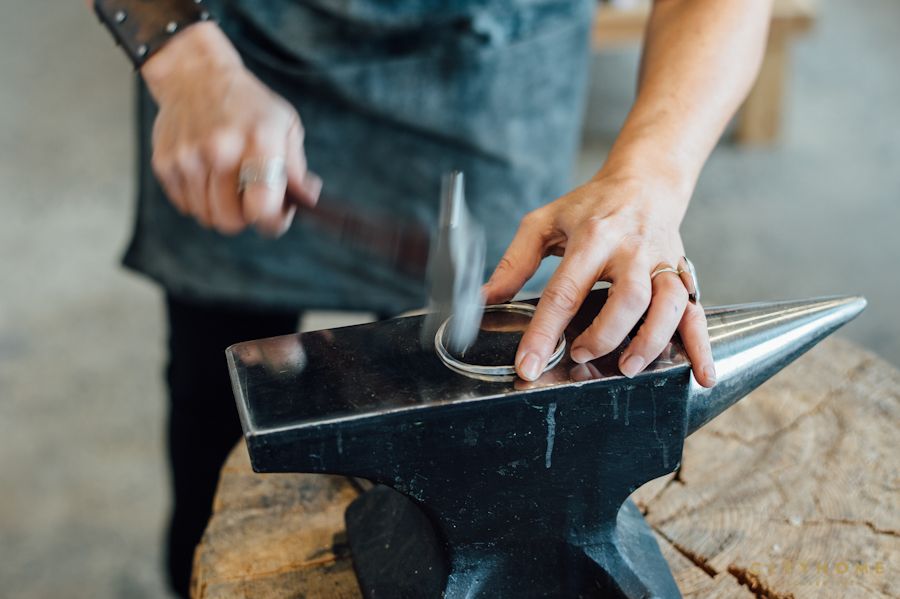 Johanna wields a blowtorch with skill, and aT the shop YOU MAY WITNESS the process first hand.
Each piece its own, you're likely to have trouble choosing, but don't be disheartened…you can always layer ("I have too much jewelry," said no one, ever). Pixel + Torch also has a few, well-selected wares in the form of Swedish apothecaries, pottery, candles, gorgeous throws, and the softest/thickest sheepskins ever made (akin to a cloud, we assume). We chatted with Johanna about why she's here and what inspires her work. Read below…then pop over, feast the senses, and adorn thyself.
We visited Johanna's shop to peruse the worse, watch the woman work, and find out a bit about what makes Pixel + Torch so delightfully badass...
PIXEL + TORCH | 2030 900 E | 801.598.6005 | Instagram
What inspires you? I find inspiration all around me. In nature, the texture of leaves, stones I pick on the beach, architecture, art, poetry. The way the light hits an object can spark an idea. I have always been an observer and my years as a photographer taught me to pay attention to seeing and noticing things around me. I can spend hours walking around a city and looking at light, textures and shapes and to think about composition. I rarely draw anything on paper. I can't draw. Instead designs take shape in my mind and then I have to feel the material with my hands to start working on the idea to complete the thought. I see it in my hands as I begin building it. And inspiration is one of those things that grow with just doing the work and putting the hours in. The more I actually just sit down and make, the more easily creating comes. So I guess working inspires me. The excitement of taking something from idea all the way to completion and the feeling of "I made this", it's wonderful. I love that feeling. Makes me feel like a kid, it's so pure and it constantly inspires me do it all over again.
What comes first, the stone or the design? Describe your style. If a piece has a stone, it definitely starts with the stone. Something about the color or shape, lines or texture. I hold it in my hands and ideas being to take shape and I'll design a piece around it. But I also love to make silver pieces that are modern and sculptural without any stones. I think my style is Scandinavian modern chic, definitely influenced by my Swedish upbringing. Simple but not simplistic. Sleek and clean lines. Never busy. Let the shape and textures do most of the talking. I like timeless design. I want it to feel modern but not trendy. I want my pieces to look current today and 10 years from now. Modern jewelry from the 50s and 60s still feel modern today. That's my goal with my designs. I have pieces I have loved since I was a kid. I still love them 40 years later. That is really great design and that's what I hope to accomplish.
What brought you to Utah. And what made you stay, for that matter? I originally came to Utah as an exchange student my senior year in high school. At the time I was a ski racer so I wanted to go somewhere where I could learn English, experience American culture while continuing skiing and thus it became Utah. I really didn't know anything about Utah before I came here. But the skiing didn't disappoint. I had a ski release from my school and was able to leave at 12:30 in the ski season and go up to Snowbird and ski. It was a great year. When the year was up, I went back to Sweden and my family. I spent a few years back home, finishing up school there. I decided to come back to Salt Lake for college. I graduated from the University of Utah in news-editorial journalism and photojournalism and was offered a job right out of school which was a huge break as photojournalism jobs are not easy to come by. Sweden was going through a pretty bad recession at the time so I figured I'd stay and gain some work experience. I first worked at the Standard-Examiner in Ogden and later the Deseret news as a staff photographer. By the time I started thinking about moving back to Sweden I met my husband. So I stayed. We've been together 17 years and have twin 13-year-old daughters. My family still lives in Sweden so we go home with our girls in the summer to see my siblings and parents. I feel like we get the best of both worlds and our girls are able to experience life in another country. It gives all of us a really nice balance.
What do you love about Salt Lake City? I love that everything feels really close and accessible. We have lived in Sugarhouse the past 17 years and love how walkable our neighborhood is. We walk to restaurants at night, to the bookstore, the movies. And how close the mountains are, for hiking and skiing, that we can be up in several different resorts in a matter of 30-40 minutes. It's unbelievable. I spend my childhood driving for hours from Stockholm to get up north to good skiing. Here's it's everywhere and close. We are so lucky. That I can grab a few runs in the morning and still be at work by 11 to open my store. I think that's my favorite thing about Salt Lake City.