Ogden Contemporary Arts Center is a non-profit, community art space offering some stellar contemporary art exhibitions that are well worth the drive north. The organization's vision is to...
"inspire local and regional artists through active involvement with the international contemporary art community"
– and their diverse programming seems to be doing just that. Recent exhibitions range from quirky installation art like the King's Mouth by Wayne Coyne of the Flaming Lips, to culturally significant exhibitions like Vida, Muerte, Justicia: Life, Death, Justice, which featured Latin American and Latinx artists whose work responds to global themes of social and racial injustice.
The current exhibition at OCA is curated by yours truly - Kelly Carper, whose work as a real estate agent is coupled with creative projects in our local art community. The exhibition is LAND BODY, featuring eleven female artists who explore connections between the human body and the landscape. The artists specifically look at metaphorical and physical relationships between desert landscapes and womens' bodies, often integrating their own bodies with the land in order to create. As a whole, the exhibition reminds us of the interconnectedness between humans and the natural world...
..while calling us to live more consciously aligned with nature – an idea we can definitely get behind.
The diverse exhibiting artists include Utah artists Wendy Wischer, Jaclyn Wright, Al Denyer, Josie Bell and the Also Sisters (Sonia and Miriam Albert-Sobrino), as well as regional artists Cara Romero, Chelsea Call, Jill O'Bryan, Nikesha Breeze (all from New Mexico) and Sama Alshaibi (from Arizona). Below are a few highlights from the exhibition that we're especially keen on…
Wendy Wischer's Shattered is a tree-shaped floor sculpture with a mirrored surface.
We see our reflection in its fragmented branches, which signifies the fragility of the natural world and our place within it. Wendy is a Salt Lake City artist and professor at the University of Utah.
Cara Romero is a contemporary Native American photographer based in Santa Fe, New Mexico, who exhibits two powerful images of an indigenous woman and girl emerging from the earth. The photos are inspired by the artist's connection to her ancestral homeland in the Mojave Desert, and her Chemehuevi tribe's origin stories...
...in which the land is born from the body of a woman Creator.
New Mexico artist Jill O'Bryan created the two 10 x 6 foot drawings in the main gallery.
These Desert Frottage drawings record her body's interactions with the desert; she lies down on large pieces of paper and rubs them with graphite to reveal the desert earth below.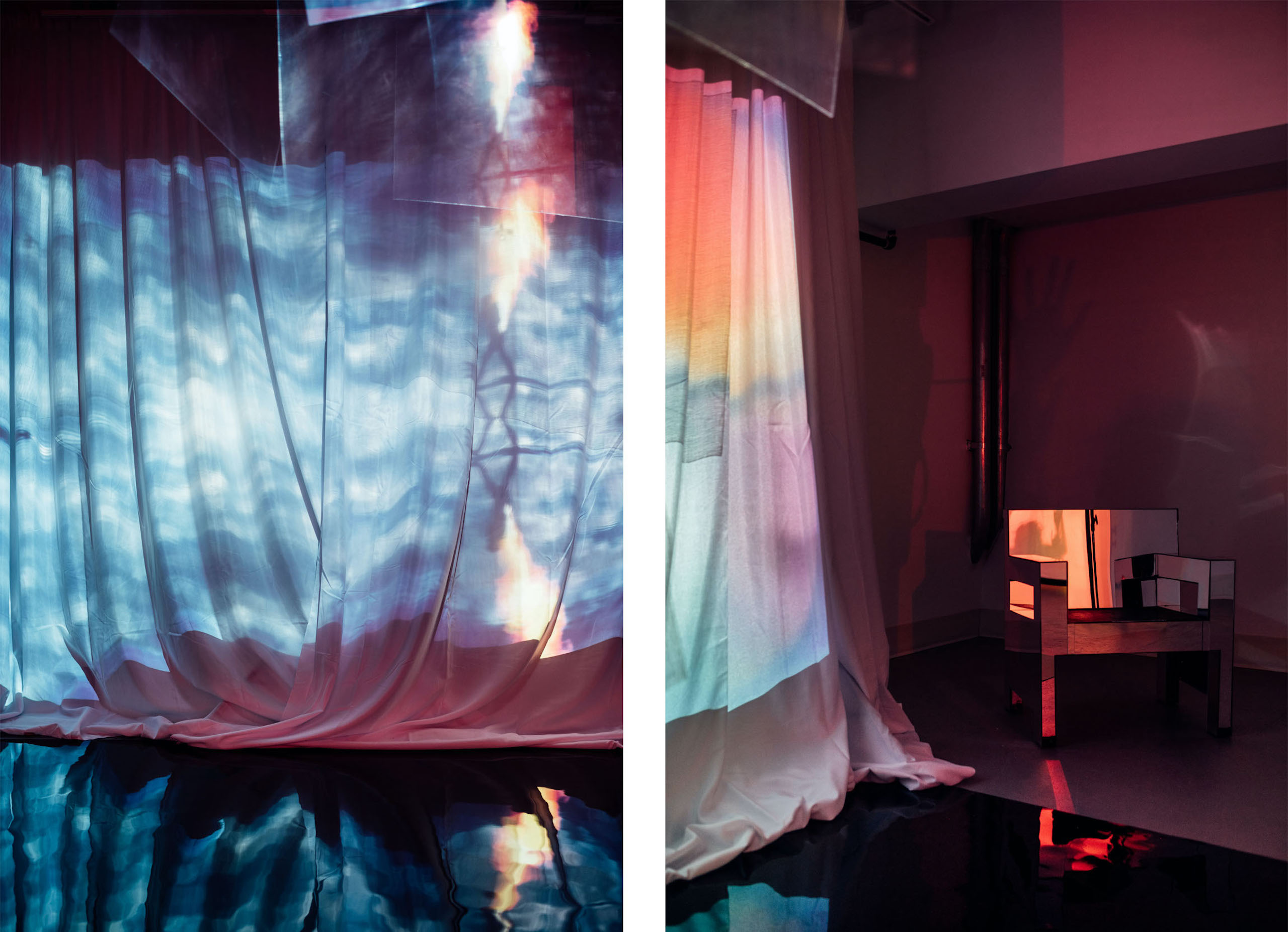 Completing the exhibition in OCA's second floor galleries is an immersive digital installation by Galician filmmakers Sonia and Miriam Albert-Sobrino, together known as the Also Sisters. An adaptation of their recent project, On the Margins of Metaxy, this piece draws viewers into a more liminal land-body experience using dreamy and disorienting imagery of the female body moving through shifting landscapes.
LAND BODY is on display at OCA through MARCH 13th.
Check out ogdencontemporaryarts.org for open hours and events, or email [email protected] for more details!