This Cliff May home was listed as a teardown and two adventure seekers with a baby on the way, mind you, decided they wanted to take on the project. The home has great bones and an amazing design and with the couple's experience, they knew they could respectively restore and make it their own. Eagerly, we kept in touch during the process and followed up with some questions:
Rachael: When you and Keaten bought this home with me, it needed a lot of work - new roof, kitchen, bathrooms, sewer, landscape, driveway and more. Was this another project for the two of you or were you planning on making this a long-term home for your growing family?
Taylor: We were so excited to find a Cliff May under the radar since it was listed as a "basic teardown." We knew the house needed a lot of work, but we wanted to give it the restoration it deserved. It was intended to be a long term home for our family, so the finishes are high end, functional and durable, especially since we have two young kids.
R: This is a mid-century Cliff May designed home, did you approach renovations differently because it's a famous architect and style?
T: Keaten and I were mindful of the structure of the home. Since it was in such bad shape (yes, you could see the literal bare earth where pieces of flooring were missing) we ended up having to do a lot more work than we thought. We kept the original lines and floor plan of the home, making sure to pay attention to the original post and beam aesthetic. My personal favorite thing in the original structure is the massive exposed metal beam in the living space. If you look closely you'll see the upside-down manufacturer number, which is cool and quirky. We really wanted a mid-mod project after traveling around the past year and didn't know that Cliff May had a development of a few homes in Salt Lake City; so we feel really lucky we found one in this sweet mountain pocket.
R: What are the things that matter the most when developing and approaching design within a space?
T: We prefer to keep design elements minimal. Open space, indoor-outdoor living, and natural light are the most important aspects for us. We like to keep things clean and classic, with a soft organic spin. Since this home is on the mountain side, we made sure our design complimented the surroundings. It's most important to us to have a healthy living environment and implement natural finishes when designing a space. All the paint we use is Zero VOC, the bathrooms are both entirely finished in eco-friendly, naturally antibacterial and low-maintenance Tadelakt plaster, and the flooring is an engineered Zero VOC hardwood. We are proud of these high-end finishes, and both agree that quality matters most when approaching any space.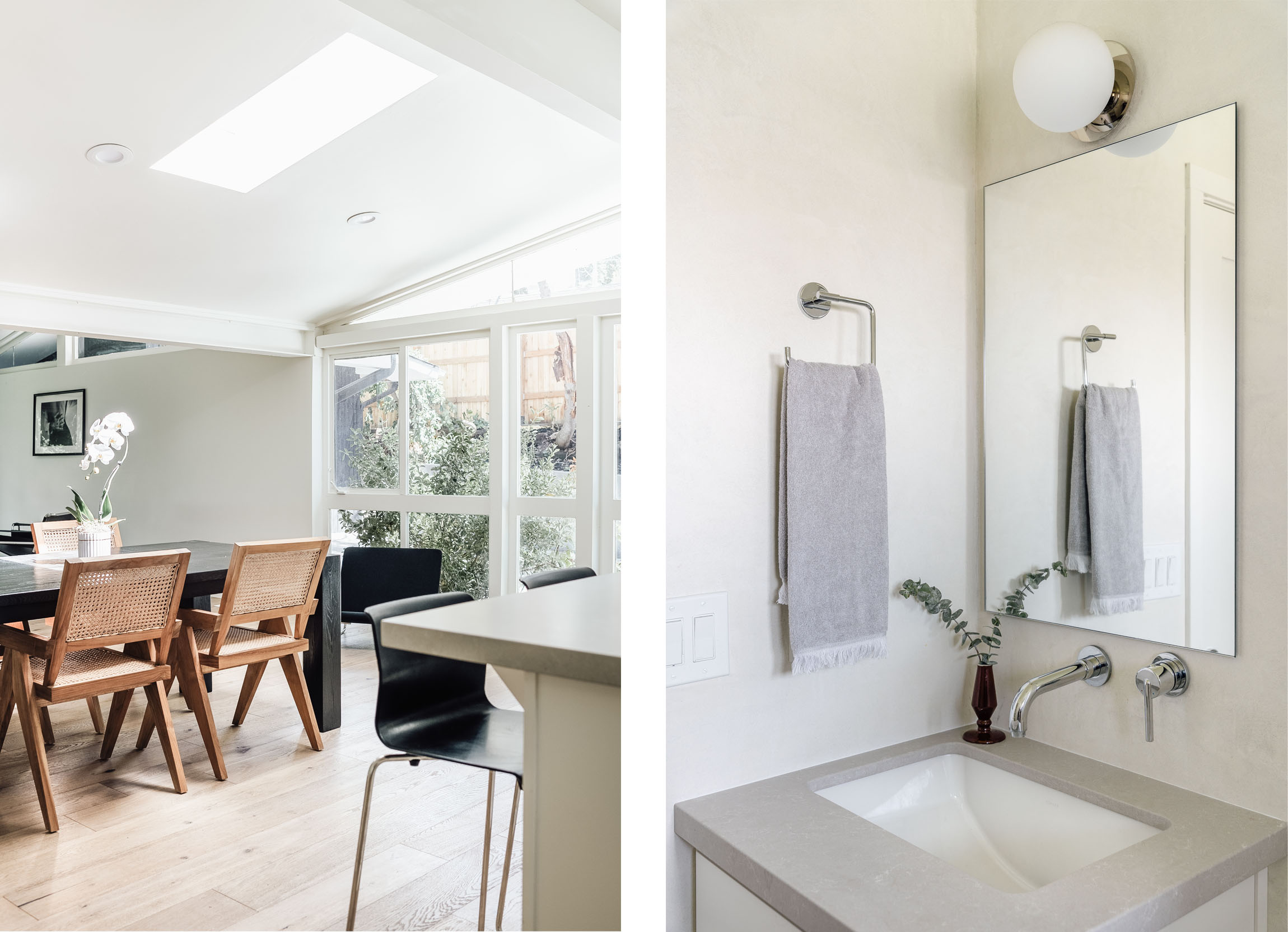 R: What are some of your favorite places and things about the home? What will you miss most?
T: Sitting by the floor-to-ceiling windows in the dining area was a common theme for me. It's where I sat to drink my morning cup of coffee and enjoy the peak of Mount Olympus, which changes seasonally and I will definitely miss that the most. Keaten's favorite part is the detached studio. Since working from home is the new norm, it's important that we had a quiet space to get work done and also be creative. The house is cozy, yet very functional and as parents we definitely love the layout with two young kids.
R: Any advice or secrets for the next owners of this well loved mid-century modern mountain ranch house?
T: The landscape and scenery is so dramatic and incredible in this mountain pocket. Each season is just stunning. There are incredible hiking trails right up the street. It truly feels like a mountain getaway, yet you are only a few minutes from the city. We absolutely love this home and area and know the lucky new owners will too. This home was a labor of love for our family. We couldn't be more excited that we were able to save it and now pass it on to someone who will love it like we did.