We at cityhomeCOLLECTIVE travel for a lot of reasons. We travel because we believe in cities, and in how they live and breathe. We wonder what might influence our own great city. We travel to experience art, food, and design in its many forms, from store fronts to fonts to amazing architecture. We travel to see how people live—to find new makers and new showrooms to source from (see our first "Layover List" here). We watch for unique service and new ways to see the world. We wonder how we can apply that to caring for our own clients more.
And when we land in places that we really love that also happen to be close enough to our borders for y'all to make a quick trip, then we share.
We know the world is large, but we also know that as we get to know each other as creatives, and as we continue to care about each other's crafts, it becomes more intimate. We believe that the love of our industry at cityhome has helped us see how much we all have in common, from one city to another…how much we can all learn from one another. We don't just love Mexico City because it actually reminds us so much of Salt Lake City (it does, though). We love Mexico City because the people there remind us of the people in Salt Lake. In anticipation of our return for Mexico City Design Week in October, I took a quick trip to find the goods, to see the architecture, to soak in the art, to eat the food, and (to be honest) to fill my cup after a year that drained it. I'll tell you what, it runneth over…I have traveled the world, and I have never met a kinder bunch. Let this be the beginning of our creative alliance with Mexico City. Below are a few spots that inspired me on all fronts.
1. Amsterdam Avenue: Take a walk and take note of how every city could create walkways that separate pedestrians from street traffic—trees and plants and all that amazing greenery that we all want when we stroll down the neighborhoods we love. It is honestly the number one most magical magic in Mexico City, and we are sharing this with our city planners. Salt Lake we want more tree-lined walkable streets down the center of our wide-ass streets! Those pioneers made them wide to turn the teams of oxen round…let's turn them into something more like Mexico City!

2. Lardo Restaurant: Chef Elena Reygadas cooks from a wood-burning oven, and we were told by our favorite server (we ate there three times in one week, including a birthday dinner, brunch, and a perfect lunch on a rainy day) that she is the most important chef in Latin America. I think he (thanks, Alan!) may have been right. Elena's restaurants, service, decor, and food were absolutely perfect…with a side of easy.
3. The Frida Kahlo Museum (La Casa Azul): This place did something to me that hasn't happened in a while. I was utterly moved to tears by not only the experience of being in Frida's house (looking at her art, reading her quotes, and seeing the wardrobe that helped hide her body's ailments), but by the emotions of the patrons. In a world where we are used to seeing people put a phone between their face and the Mona Lisa, I was honored to view art in such an intimate setting with people who were immersed in the life of one of our most spectacular artists. Art lovers are beautiful. And raw. Art, in and of themselves. (Oh, and to see Frida's photos of all her badass friends was amazing. Did you know she was homies with Isamu Noguchi, Man Ray, and Pablo Neruda? I didn't. And right now there is a collection of her "under armor" that enabled her to stay upright and mobile. Fascinating and beautiful.)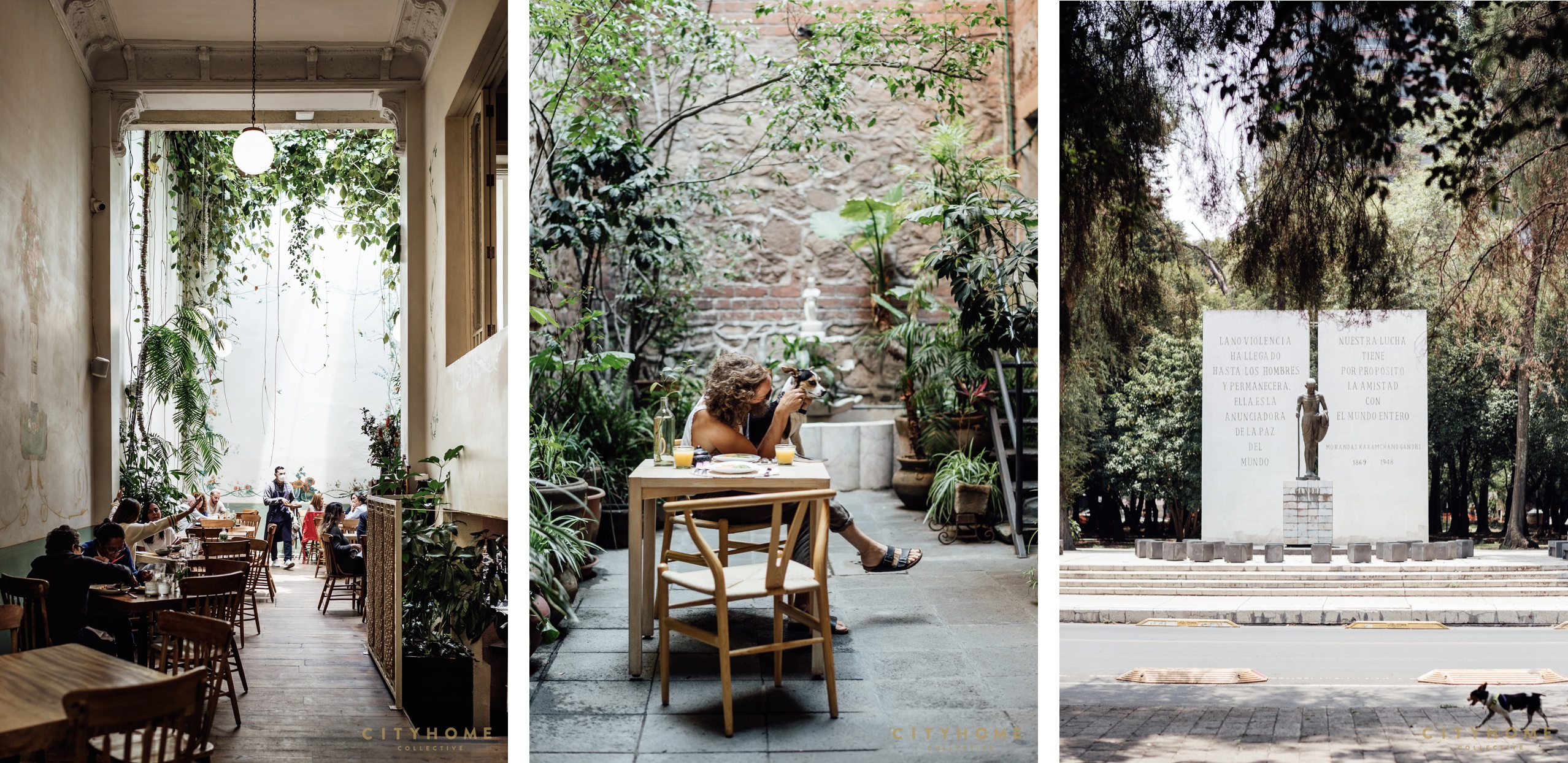 4. Patio 77: This place is the goddamn best. Bonito is the house pup. I love him, and he loves me. He is worth the visit and the booking. Ask for Elvia…she'll get you set up. I stayed here because it is cute as hell, owned by a fella that has a badass design atelier down the street, and also happens to be the first sustainable b&b in Mexico City. Eight rooms in a heavenly mansion built in 1890. The neighborhood is on the come-up and it's just next to a market where you can get all your produce for the week.
5. The Ignacia: I wish I would have designed this renovated house-turned-hotel. Wildly, the courtyard looks up to a bridge to the cutest room that feels a bit like the bridge I have at my own home. I had more than one or a dozen moments of serendipity in this place—it's special. The food, the design books, and the pottery collection…all only second to the architecture and the crew that make the whole place feel like home. If home was a perfect example of a fresh design in a sophisticated restoration.
6. Rosetta: Best interior vibe of the trip, and that's saying a lot because Mexico City is cool as hell. This place has live plants dripping from the tall ceiling with hand painted, stenciled walls and curated wardrobes that could have been on a runway (without being pretentious). The food made me want to grow a cactus garden, and the lighting and music actually lived up to my restaurant expectations, which doesn't happen often. 10 out of 10.
7. Diego Rivera Museum (Museo Anahuacalli): Did you ever see that scene in Sense 8 with the cutest gay couple in cinematic history? Well, go watch it again, then go to this museum and cry about the freedom of love, the plight of the laborers, and the strength of the people. You'll be in good company. These sketches (rejected by the Rockefellers in NY) are nothing less than an immersive experience that literally left me speechless, smiling, and crying…Hernando and Lito, aside.
8. Museo Jumex: If you want a museum day from both the inside and the outside (i.e. a fully immersive art and architecture experience), head here for some contemporary art…then go to the mezzanine and gaze at the Soumaya Museum, designed by David Chipperfield. I can't say anymore. Still speechless.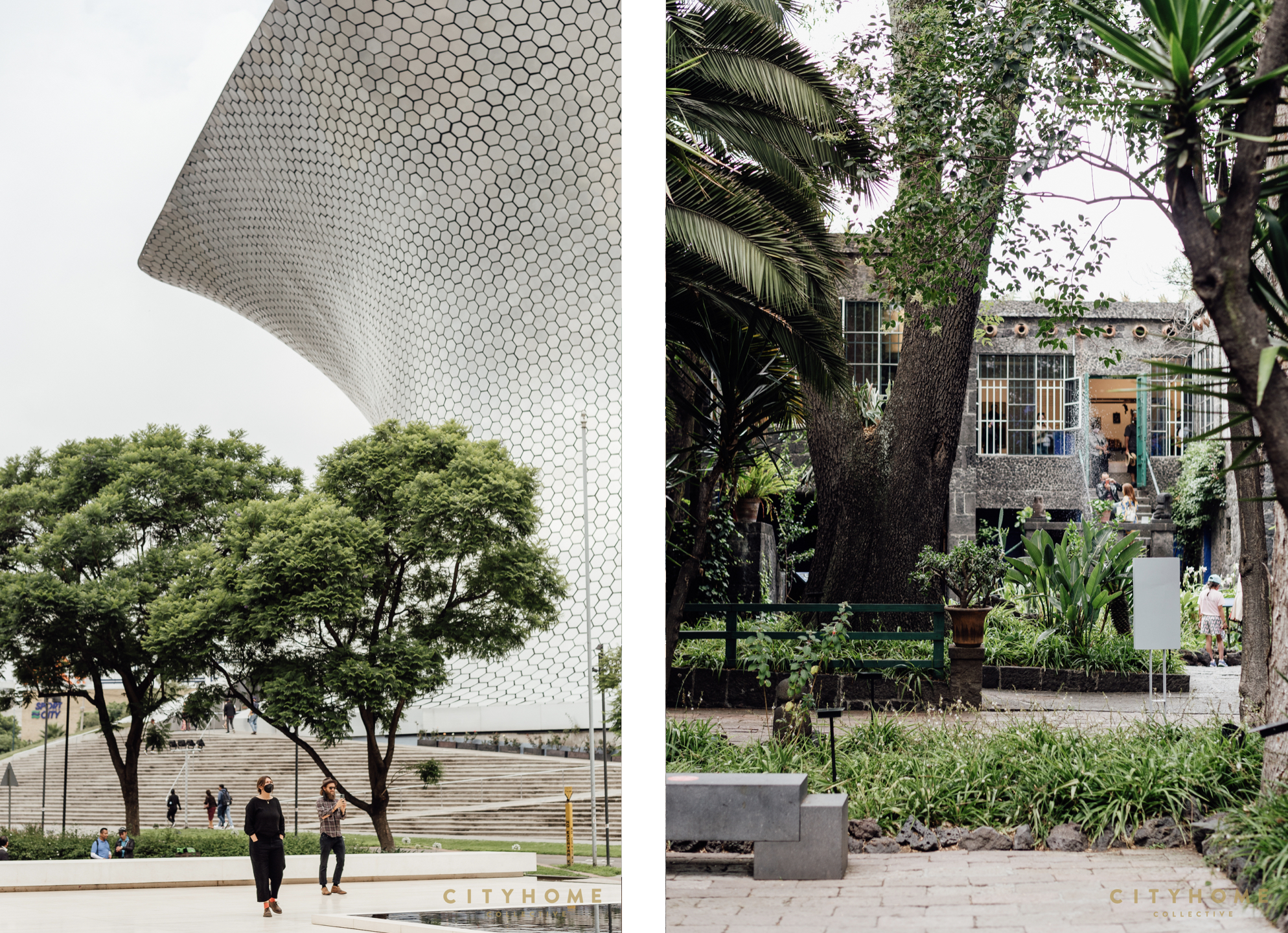 9. Emilia's Restaurant: You can tell a lot about the vibe of a restaurant by the cheer of the voices coming from inside. What a way to find this gem. As we walked by, it just sounded like the kind of spot we were looking for—people enjoying life in a dim space filled with natural materials and minimal design. Chef Lucho made us feel like regulars in this neighborhood establishment. In a city overflowing with perfect eateries, this is my #1…I choose Em's.
10. National Museum of Anthropology: Whoa. The architecture, the mushroom fountain, the history lesson, the number of pyramids in this region. The warrior energy and evolution of our species on display here is almost haunting in the fullness of its story. Humans have been sophisticated as hell for a long-ass time.
11. Chic By Accident: This place was so damn chic. For real. A showroom filled with art, furniture, antiques, and photos…one of the most well-curated spaces I saw during my trip. We are gonna be collaborating with these folks, for sure. Stay tuned.
12. Blanco Yoga: Just in case anyone wants to keep a healthy habit while on vacation. These folks keep a warm-hearted vibe with the best teachers in Mexico City. A small space with a big heart, I made friends here that I hope will last a lifetime. If you ever wanna know what "welcome" should feel like, walk into Blanco and feel what happens.
13. Quentin Cafe: It's some of the best coffee in town, yes…but it's also an example of what good design can be in a small space. From the custom, jagged-marble tables on the exterior to the narrow, lit hallway that leads to the dopest little back-room den, this joint is unassuming from the front, and just how we like it in the back.