Home is a feeling of safety, compassion and authenticity that we hold deep in our hearts.
That's exactly what Encircle has created, a home. A home for anyone in our community that needs it, especially the LGBTQ community. From the open and warm entryway, cozy touches, and sounds of laughter flooding the space, it truly creates the sensation of being home with friends and family, seeing as you are. In addition to holding space for those in need, Encircle offers therapy, friendship circles and helps many families navigate their family matters, because: family matters. Its walls are full of love, from photos of influential LGBTQ faces covering the music room wall to positive affirmations placed throughout. The cherry on top - most of the home was donated for the community, by the community. Want to support? Volunteer, fundraise, donate or grab a coffee at Encircle Cafe - proceeds sustain resources for queer youth!
Encircle SLC | 331 South 600 East Salt Lake City, Utah 84102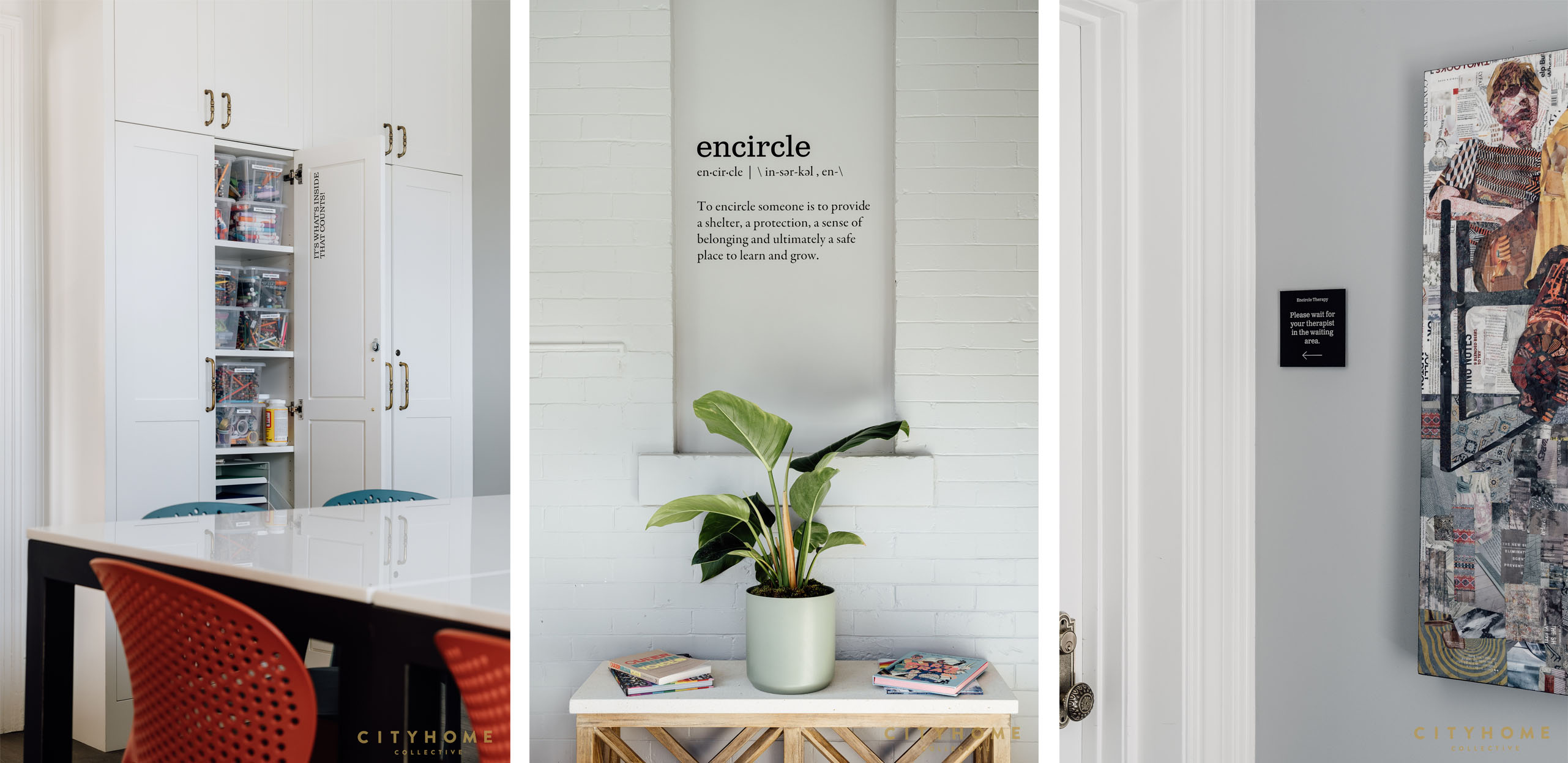 I had the pleasure of chatting with Chloe, the SLC Home Director. She's one of those people you could sit and talk with for hours and leave feeling happy and fulfilled. Originally, she grew up in Corona, California, then moved to Provo to attend BYU. Living in Utah, she's found a true love for rock climbing while finding time to read the books she loves. She graduated from the University of Utah with a master's degree in social work and now wants to explore the world. Chloe radiates authenticity and kindness, instilling all of that into the youth and community of Encircle.
"Encircle gave me a space to explore myself, to feel confident in who I am...
and now working at Encircle, I feel like I am continually learning new things, growing, and meeting new people. I truly have met the most fantastic people at Encircle." The Encircle home is a place of love, you feel it when you walk through the front door. That sensation is amplified by all the hard work of the community, staff, and Chloe.
What drew you to your job here at Encircle?
A couple of things - Firstly, after I came out, Encircle had just opened and I attended their programs, support groups, and friendship circles, for about a year. So, I had a real deep love for Encircle because it was important in my coming out. Secondly, I truly love working with the LGBTQ community. I felt like this was the perfect place for me; I get to build relationships, be involved with the LGBTQ community, and I get to help people become the best versions of themselves, all of which I love to do.
What is your favorite part about working at Encircle?
Getting to see people grow! It's really cool to see people walk in, searching for community, searching for a place where they belong, trying to understand their identity, and then seeing that blossom in them. Getting to see them realize who they are or how they identify, I would have to say is my favorite part.
What is your favorite room and why?
The music room with all its faces of LGBTQ people. I would say it's the best because aesthetically, it is really pleasing. Everything about this room is wonderful! Also, I love the faces of the LGBTQ people. Growing up, I didn't know it was okay to be black and to also be gay or queer; this wall lets me see that there are so many people like me, doing so many different things that also identify as LGBTQ. For me, when I first came out, it didn't seem that there were other people who identified the same way I did, or other people in positions of power identifying the same way. So this room for me is a way to see that we can do everything and we can identify in a variety of ways. We are not confined to a specific identity or specific career.
What does home mean to you?
Home means safety, authenticity, and unconditional support. For me, that is like the home I grew up in. When I go back and visit, that is how I feel; I can be completely myself. Even if it's different, my family loves me unconditionally. That's the kind of space I want to create here at Encircle.