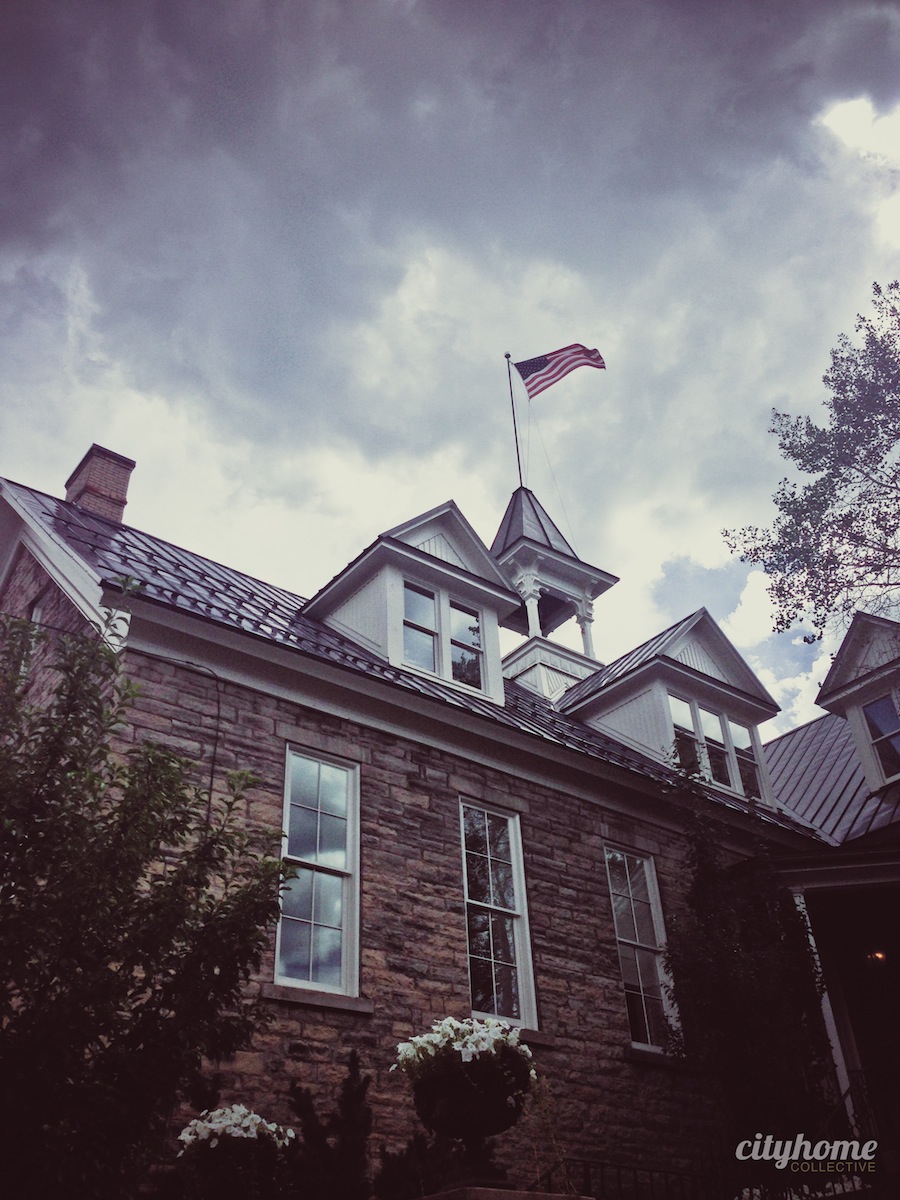 In celebration of my milestone 30th birthday, I wanted to spend some grown-up, sophisticated lady time with a few of my best gals. Gentlemen, you don't have to stop reading here... like any good spooky story, this one too starts out with a couple of girls getting away for the weekend.
First, a little background info: I was in search of a cool, local, boutique hotel in or around Salt Lake City that wasn't a chain and wasn't on everybody's radar. I wanted to get away, but not so away that it would require boarding passes. Upon the suggestion of the beautiful Corigan Kushma [lady knows her local shit, by the by], I checked out Park City's Washington School House Hotel. Five seconds on their website and I knew this was the place. The vibe, the décor, the fact that it used to be a schoolhouse in the 1800s...color me intrigued. Their sparkling wit and heavy use of puns won me over. My sisters were skeptical at first. We all like a little "spooky," but we're none too fond of all-out "scary". Whether purposeful or not, the School House website is "chalk" full of ghostly innuendos [the Back to School Special makes mention of the "pitter patter of little feet"]. This place is even on the Official Park City Ghost Tour.
Our journey began with a perfect, dreary drive up Parley's Canyon. Our destination was located on Park Street, just one block parallel to Main. A looming bell tower and soaring American flag indicated we had arrived, and we were met outside [our bags were immediately taken to our room by what could have been a ghost...we never saw him again]. The schoolhouse itself is a beautiful, limestone structure, but it aint got nothin' on the interior. This place is magnificent; intricately detailed without being over-decorated. It feels cozy, communal, and safe [like any school should] and it looks like a well-decorated living space -- neither overly familiar nor foreign. There's a thousand details to note, including a host of lux fabrics and finishes. The check-in desk is perfectly situated between a soaring entry and living room. A 16' fireplace stacked with antique French limestone is bedazzled with a 10' gilt mirror from an opera house in Bezier [that's France]. This, in turn, reflects a 6' custom, white lacquer antler chandelier positively shining with crystals. The living room leads to a banquet dining table where we had an amazing, locally-curated, complimentary [not continental] breakfast with our stay. Freshly-picked heirloom tomato scramble, pineapple pancakes with warm maple syrup, and endless french press service. Makes a girl feel pampered without the pretension. Case in point, our gracious host and Assistant General Manager, Michael Gregory, patiently and thoroughly answered questions on the structure, the history, and the 'spookiness' rating.
The Washington School House Hotel houses a total of 12 beautifully-renovated rooms with a max capacity of 28. According to Michael, the majority of their patrons are Salt Lakers looking for a romantic getaway, though the winter months see them booked solid thanks to skiing and Sundance tourism. It's already been featured in Travel & Leisure, Outside Magazine, Utah Style and Design, Dwell, and Architectural Digest...interior design by Paul Allen has made sure of that. "The concept is simple, really. Total luxury. Good taste. A judicious use of color. Exquisite fabrics, fine artwork and a carefully curated collection of antiques."
Our weekend stay was absolutely, as promised, an unforgettable experience. And changing seasons are a damn fine color on the Schoolhouse. If you want to find a ghost story, you can go looking for it -- the halls are lined with faded pictures of students past. If you aren't big on spooky, not to worry -- nothing but pleasant vibes felt all around [think more "Casper", and less "The Shining"]. Suggestion: book your reservations now, before this charming little place becomes a blip on one too many a radar. You'll thank me. School's adjourned.
Washington School House Hotel | 543 Park Ave., Park City | 435.649.3800