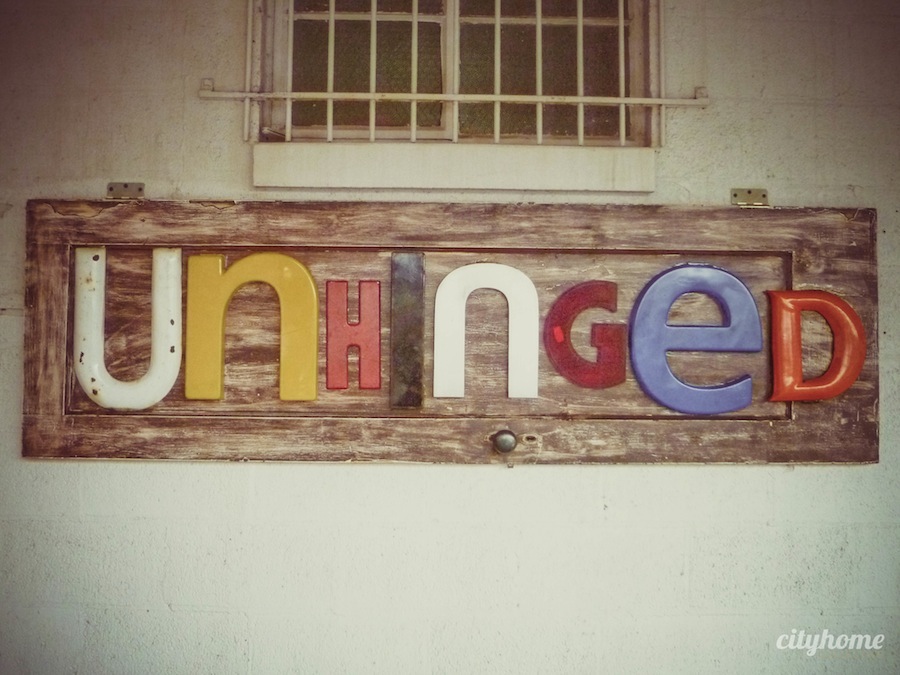 Unhinged....must we continue to give reasons why Salt Lake's the place to be? Another of my dear friends, Corey Folster, recently opened up a clothing boutique for men and women in Sugarhouse. Corey's lived other places, but ultimately, he chose Salt Lake as a landing pad for his creativity. Another win for us. Read up, then go shop.
1.  Why did you want to open Unhinged? Why Salt Lake? I wanted to open a store in Salt Lake because I wanted to create a unique experience in shopping; something I think is new and different for Salt Lake. I always love remade, upcycled, found and vintage items...I thought that mixing them in with great new fashions and everyday products would give the consumer a way to use and experience their wardrobe differently. Growing up in Sugar House was great, and it was always a neighborhood for fun, unique shops (still is). Naturally, that area was my first choice. Having lived in several other states, I think Salt Lake City is really coming into its own with local products and designers...I wanted to be part of that. It's hard to find anything truly unique in the mall experience, but local shops can provide it.
2. How is Unhinged different from other local clothing boutiques? First, the Unhinged product mix is very different. The mix of vintage and new gives the store a unique twist. I also have many products and brands that are new to Utah, like Naked & Famous Denim, Alchemy Goods, Cheap Monday and Free People. I have a growing focus on locally-made products, as well, which means more and more ONE-OF-A-KIND items found nowhere else. Another important focus for me is men's clothing. I feel that it's under served in SLC, as most boutiques are very tilted toward women only. I want to cater to both sexes, but offer a more rugged atmosphere to shop.
The fashion is fun, but what it is really about is the store experience.  There is something about walking into a store that you love that takes you out of the moment and makes you feel special, like reading a great book or visiting a favorite museum. I want my store to make people feel something new.
3. Tell me a little about your background. I have been working in retail ever since graduating from the University of Utah. I love the "store environment" and have been running stores since then. I've had the opportunity to work for some of the best retailers out there in a variety of roles. My passion is for visual merchandising, but I have a strong belief in the customer experience, which I think has been declining in the big box and mall stores for some time. I'd always wanted to provide my own vision for that experience and SLC has the right environment to give it a try.
4. Who inspires you? I am inspired by people who take an idea and make it a reality. I think so many people say "I could make that, paint that, sew that, etc.", but I'm inspired by the people who actually do it. I have a brand in the store called Alchemy Goods. They make bags from old bicycle tires, seat belts, and billboards; they were one of the first to really do upcycling right. I first discovered them several years ago, while living in Seattle, and they only sold at a table in a flea market. They're still small and local, but they sell their products in many places. It was important to me to be the first to introduce them to Salt Lake. How amazing to take a small idea and watch it grow into a full blown industry. When I meet someone who is making an item, and then has the courage to go out there and try to get it sold, that really inspires me.
5. Why partner with Erica and Haus of Mirth? One of Unhinged's primary goals is to provide a venue for new designers and showcase something unique for Salt Lake City. The Haus of Mirth launch is the perfect example of that vision. Ready or not, SLC, here it comes!
Erica is an amazing, creative talent. Her designs are new and innovative. What attracts me most is the attention to detail and the one-of-a-kind feel in what she makes. Haus of Mirth is a new and different experience and that's what Unhinged is all about. She also uses recycled and upcycled vintage in her work, which is at the core of the store's brand. Customers at my shop are looking for that special item to 'pop' in their wardrobe...Erica provides that with her unique clothing and accessories.
6. If you owned Salt Lake what would you do? First, wine must be sold at supermarkets, haha.  Also, Salt Lake needs a weekly, year-round flea market. More local, more, more!
Come join us at the Haus of Mirth Launch Party this Friday at Unhinged, Dec 9th 6-9pm. Free parking in back. Take advantage of discounts from 10%-25% off during the event.
Unhinged | 1121 E. 2100 S. | 801.467.6588 | www.unhingedslc.com
Find Unhinged on Facebook and Twitter (unhingedslc).