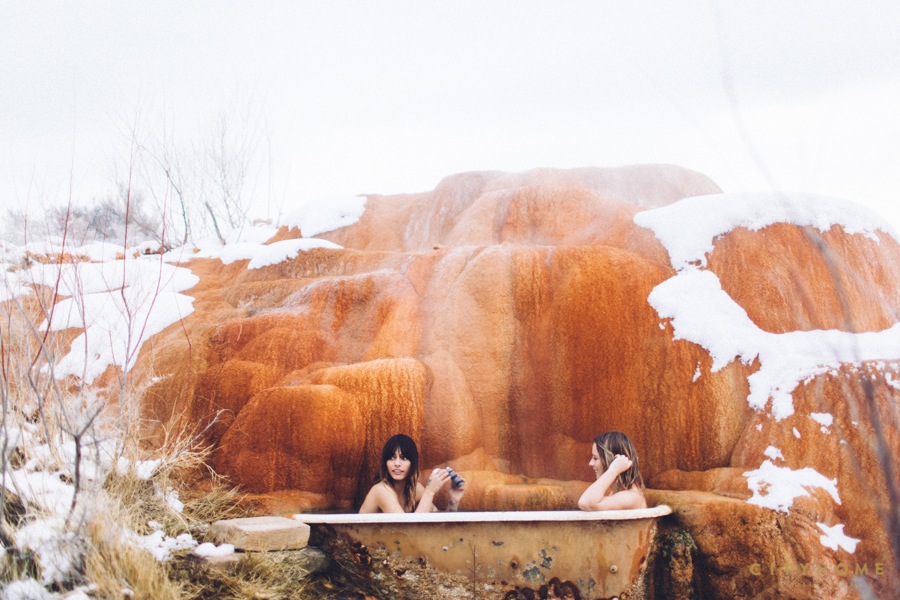 A few weeks ago, we gave you our first installment of The Day Trippers, a new series that--much like The Weekenders--aims to provide you, our salty comrades, with a good bit of info and inspo for getting out and enjoying our state (and her close neighbors). While The Weekenders is focused on any amazing place that is realistically "doable" in a weekend's time (Jackson Hole, anyone? Joe's Valley?), The Day Trippers will require less fuel and fewer hours of your precious time. Regardless of what you spend on gas, however, you can trust that every spot we tell you about will be well worth the effort. For us, this is the stuff of which memorable Sundays are made.
There's a bit of a "bathing" theme on our website as of late (see here and here), and that's got everything to do with the fact that we're basically shivering 24 hours a day. What we lacked in official winter weather last year, we're more than making up for now. In fact, we love it. More snow is in order, and we'll take whatever Mother Nature's looking to dish this season. But we're damn cold in the mean time, so if we can have a little something to do with warming all of us up, then we're equal to the task. Another perfectly magical way to get toasty these days? Mystic Hot Springs. The drive down is peaceful, the valley beautifully barren, and the reward ever-so-relaxing. Mystic is the ideal spot for a soak, and a veritable time machine to the mid 70s. This is a space where hippie sensibilities are fully intact and modern conveniences, not so much. You go to Mystic for mineral deposits that have all but fully enveloped the claw-foot soaking tubs…not for high-end amenities. You go for unpolluted views of meteor showers from a 100º, calcium/magnesium/iron-enriched bath. You take it as it is, full stop. And you love it.
MYSTIC HOT SPRINGS (Monroe, UT), 2.5 HOURS: Nothing more exciting, we think, than hopping on a plane or the open highway and heading south. Something about that particular direction…it's all warmer days and lazy ways down there. (Obviously, you'll put on the brakes long before you get to Mexico, but it'll put you in a good mood, nonetheless.) Now, queue up your jam bands compilation and jump on I-15 southbound for roughly 120 miles. Take the Scipio exit at (mile marker 188) and cruise US-50W for about 25 miles or so to I-70W. Proceed to exit 31, where you'll take a left at the bottom of the off ramp and drive a couple of miles to Hwy 118. That will take you right to the heart of wee Monroe, and from there, you'll just make a left on 100 N and head up the hill about 5 blocks. Voila. That's it. You're there.
Soak it up: The great thing about Mystic Hot Springs is that it blurs the line between a Day Tripper and a Weekender. That is to say, it's totes feasible to make a day of it, but if it's a weekend getaway you want, they've got you. Mystic accommodations are in right line with the Bohemian vibe: you've got the option of staying in one of a few pioneer-style cabins or actual buses. Not all cabins have electricity, but they've all got beds. You won't be "roughing it," but you won't be spoiled, either. It's a simple stay with the benefit of a soak. A bed and a bath in the truest sense. (Tent camping and RV spots are also available.) In all, Mystic has 2 large soaking pools--one shallow, one deep--and 8 claw-foot tubs, a few of which are large enough for more than one adult to comfortably enjoy (proof below). They're all kept somewhere between 98 and 110 degrees, so there's a temperature for every taste, and you can take a dip anytime you like, 24 hours a day. Snag the right tub and you'll be peering over the valley with no obstructions, steam coming off your head and the stars spread out above. And, this is why you came.
Our recommendations: Whether you decide to stay the night or head back home after a day of steeping in minerals, there's a few things to consider. For one, Mystic hosts live shows on their outdoor stage (consider it: watching from the tub) during the summer, so there are reasons to visit in all seasons. Star gazers, lucky you. Bring your binocs, if you're so inclined, and your guide to the night skies, 'cause the Milky Way is yours for the lookin'. COLLECTIVELY, you know we're big believers in the importance of making every experience beautiful, and we think you'd be well off to consider the small details. Blankets for a picnic, and the foods/drinks to make you happy. Speakers for your music (kept at a respectful level, that is), and maybe some oil lanterns for ambience. A good book to read while you cook in the warm waters. Take a peek at the insane photos below. As one of our fave photographers once put it, "We do this not to instill jealousy, but to enrapture you with inspiration." Utah's got so much god damn good stuff to show us…let's go see it.