Damn! These Heels is back and the lineup is making us a wee giddy. The Utah Film Center has been dragging beautiful cinematography, inspiring & provocative storytelling, and gut-splitting, cutting-edge independent films to Salt Lake City for more than 10 years. This festival is a peek at some serious artistic influx -- that's not to be trifled with.
COLLECTIVELY, this is our second year as a sponsor, and we intend to continue. The festival has shown substantial growth in popularity, and the community is clearly pleased. In fact, they'll switch venues this year in order to accommodate increasing numbers of attendees; previously housed by the Tower Theater/9th & 9th area [love, love], Damn These Heels simply needs a bigger boat. Rose Wagner Performing Arts Center will be answering the call.
As the Mountain West's only LBGT film festival, we happen to think it's really important that everyone show some support. Grab a lover/friend/sister/grandpa and make a point to see the best of independent and foreign cinema in this growing genre. More info on the festival at the bottom of the page -- for now, check out the trailers for our COLLECTIVE picks...Joshua Tree and In the Family.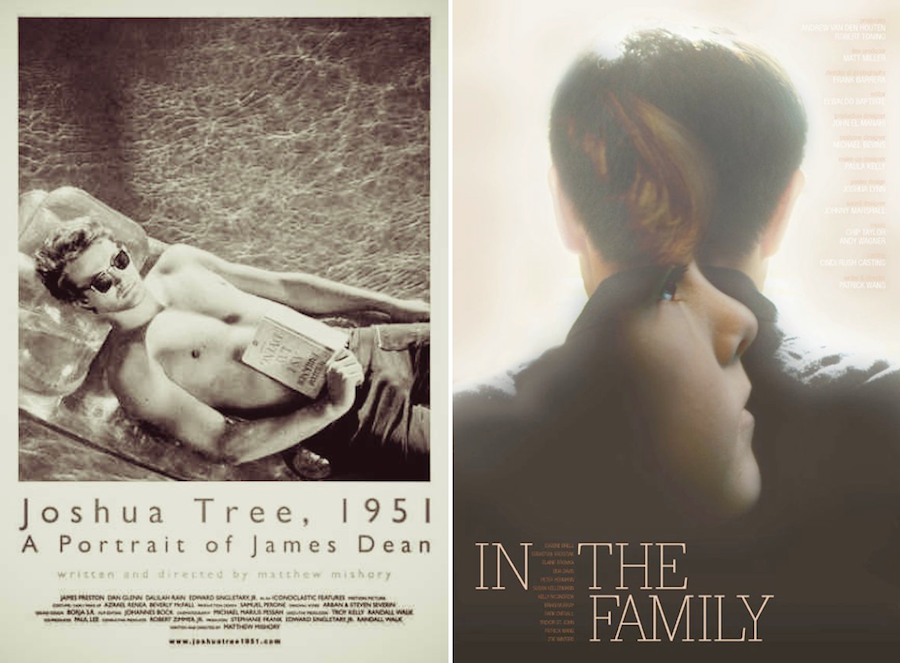 Joshua Tree
"Sumptuously shot mainly in black + white, Joshua Tree is in fact a very aptly named portrait of James Dean — one of the most beloved and enigmatic pop culture icons in history. Leading up to Dean's breakthrough fame, Joshua Tree provides an enthralling, and often baffling, glimpse of the legend who entranced the world with his brooding demeanor and wild zest for life. This beautiful film, interspersed with poignant poetry and sharp insight, boldly addresses head on the controversial issue of Dean's bisexuality." – Damn These Heels FB Page --
In The Family
"Cody and Joey are two characters most unlikely, and yet very lucky, to find love with one another in the small and charming town of Martin, Tennessee. They raise Cody's newborn son in a loving and happy home for six years until tragedy unravels their concept of family. After Cody dies in an accident, Joey's life is turned upside down as he struggles with Cody's relatives in a custody battle. Although the legal outcome is predictable, the film's setting, characters, and story are surprising. Martin is a pretty town with gentile neighbors who care as deeply about one another as they do about doing what they perceive is the right thing. Southern stereotypes and melodrama are missing in this complex but not uncommon story written and directed by Patrick Wang, who also stars in the film (yes-he is Asian, and yes-he has a Southern accent). Although it is quite long, In the Family is a powerful and impressive first feature by Wang, who clearly is passionate about the issues presented. Wang is self-distributing his movie, and he is definitely a filmmaker and actor to keep on your radar. Although the film explores a sad and unjust situation, In the Family ends with an honest and satisfying resolution."      – Marcie Collett --
Damn! These Heels | July 13-15, 2012
Rose Wagner Performing Arts Center | 138 W Broadway SLC, Utah 84101
Visit Damn These Heels.org to purchase tickets, all access passes and watch film trailers.
Utah Film Center | Damn These Heels Facebook Page