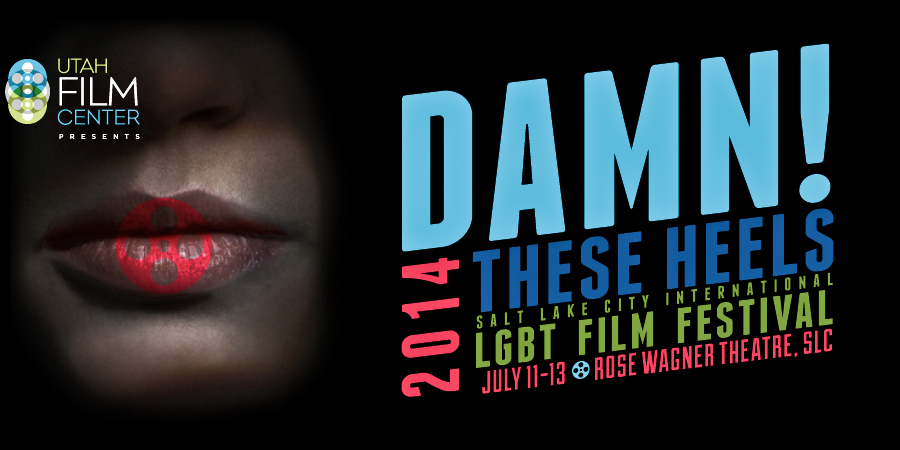 On the off chance that you've missed nearly everything we've ever said, we'll clue you in now: SLC is positively busting with interesting people and the radical shit that they do. We find it our COLLECTIVE calling to toot the horns of our brothers and sisters in arms against all things bland 'n' blasé. So, in the interest of waving flags and whatnot, allow us to introduce to you [or remind you of] the Damn These Heels! LGBT Film Festival. DTH! has been trudging around in a pair of six-inch Louboutins for precisely 11 years, and in that time, they have imported--much to the delight of popcorn-lovers citywide--some seriously ovation-worthy films from nearly every nook and cranny of the globe.
For those of you just tuning in, Damn These Heels! is Utah's only LGBT film festival, and was so benevolently brought to us by the great minds at the Utah Film Center [which you can get our COLLECTIVE take on here]. Damn These Heels! "provides a forum in which LGBT issues, ideas, hopes, dreams, and art are explored through film and discussion." With solid turnouts year after year, it's no surprise at all that it has become the Utah Film Center's longest-running festival [and with many of the films not being shown anywhere else in the state, you'd be a damn fool to miss it]. Thanks to willing moviegoers and the work of many, the film fete outgrew her previous home at 9th & 9th's Tower Theatre, so now you'll find her solely Rose Wagner Performing Arts Center-side these days.
Sure, DTH! is chock-full of think pieces and documentaries [we're thrilled to see Lady Valor: The Kristen Beck Story and To Be Takei], but there are also dramas, coming-of-age stories, screwball comedies, and--of course--a musical. The Utah Film Center aims to connect the good minds of SLC through film and discussion, and Damn These Heels! ain't no different, folks. You don't have to be L, G, B, T, or Q to enjoy this highfalutin' haul of fantastic flicks. We've spoken time and again on striving to COLLECTIVELY bring the goods of the world to Salt Lake City, and in that respect, we salute DTH! and its members [the folks that tirelessly toil to unearth the best goodies for us to enjoy] as allies. We got the chance to ask a few questions of those indefatigable folks, including PR & Communications Coordinator Dana Hernandez, Utah Film Center Artistic Director Patrick Hubley, and queen of the salty silver screen herself, Utah Film Center Founder and Board Chair Geralyn Dreyfous. Many humble bows and curtsies for their time, and heaps of applause for this fabulous cause! We've attached a few trailers that we think round out the list of 16 flicks this year, and we can't wait to watch every last one. Now, put on your platforms and buy up your tickets.
Damn These Heels! 2014 | July 11th - July 13th, Rose Wagner Theater, SLC | Tickets and times
How was DTH received in its early years? Was the audience that immediately identified with the effort a big one, or did this healthy following take years upon years to cultivate? "Damn These Heels was warmly and colorfully welcomed by the LGBT community because the Film Center encouraged the community to embrace this festival as their own. Fortunately, from the get go, Damn These Heels had strong allies like Diane Stewart and Donna Weinholtz hosting wonderful events that built community support. John Patton, an early festival supporter, named the festival and had a committee of community leaders curating the initial festival lineup—bringing everyone together. Since then, audiences have grown substantially. It has helped that we moved the fest to July to avoid PRIDE fatigue and now exclusively use the Rose Wagner Performing Arts Center as the festival venue, which has also allowed the events to be bigger and has given community partners and sponsors a larger festival presence." ~Geralyn Dreyfous, Utah Film Center Founder and Board Chair
What sort of growth have you folks seen in the LGBTQ film world? Do you find that the quality/content/number of submissions rolls with the political tide? Or are the two relatively unaffected by one another? LGBTQ cinema is definitely thriving. Every year there seems to be more great films to choose from, but I'm not sure if there is a correlation with the political tide. Since Damn These Heels features films from all over the world and each country has a different political climate it's hard to say. However when considering documentaries, it makes sense that the political climate in any given country would impact this genre, as docs tend to be more focused on current events and issues.
We recently did a piece on the Utah Film Center, basically because it's such a fantastic organization for our community. How does Damn These Heels fit into the overall scope and reach of the UtFC? The Utah Film Center promotes a diversity of ideas, to provide forums for underrepresented groups, and to develop new audiences for film. DTH, does just that, it provides a forum in which LGBT issues, ideas, hopes, dreams, and art are explored through film and discussion. Many of the films screened at DTH won't be screened anywhere else in Utah, or in our region for that matter, so we're offering a unique curated film experience that mimics what we do on a regular basis with our other film festival and film series.
What progress do you think DTH! has made in terms of bringing the LGBTQ community/issues to the pop culture forefront? The constant growth in attendance seen each year at Damn These Heels is a testament to the types of films shown, to the longevity of the festival, and to the growing acceptance and understanding among all people for the LGBT and ally community. Each year the films tell interesting stories that deal with issues affecting everyone, so credit must be given to the filmmakers and the great stories and storytelling methods they use, as well as to the programming committee—all of these things help Damn These Heels attain a broad appeal.
The festival is featuring films from all over the world--from Berlin to Spain to San Francisco--so you must have a veritable slew of titles to choose from. How do you pick which are screened at DTH!--and who picks, for that matter? This year, the high quality of LGBT themed films made selecting a program incredibly challenging—it was tough to narrow the list down to 16 films. The programming committee, which consisted of Utah Film Center staff members as well as other key members of the LGBT and ally community, put together a diverse lineup full of great films. The well-rounded program includes documentaries, dramas, comedies, midnight, and experimental films. But don't worry, even though some great films were excluded from the festival they will be included as part of our monthly Damn These Heels LGBT film series hosted at Brewvies.
How do you explain the Utah Film Center and DTH's success--nay, growth--in a time when it's far easier to prop up in bed with your laptop, NETFLIX, and a bottle of pinot? The Utah Film Center offers you an experience—that your bed can't (although we're not sure this is entirely true, because we don't know what type of company you all keep in your bed). It's not just the films that are provided, but the Film Center surrounds you with like-minded folks and gives you a chance to delve deeper into the issues you care about by bringing in filmmakers and subjects of the films out for post-film discussions. The Film Center also loves entertaining (as UtFC members know), pre-film receptions are thrown whenever a filmmaker is in town and this year, after each night of Damn These Heels the Film Center is presenting an after party at a local bar or restaurant. Overall, the Utah Film Center is here to inform, entertain, AND offer opportunities for others to make meaningful connections with fellow humans.
The festival aims to create an entertaining environment in which "LGBT issues, ideas, hopes and yearnings could be explored through film". Is there a film [or films] in this year's lineup that you think will fan the flames of some particularly hot topics? "I think most films in the festival touch on some kind of hot topic, but there are two DTH films that I hope will inspire conversation: LADY VALOR: The Kristin Beck Story, is an amazing portrait of an individual who fought for our rights and the American ideal but who, after embracing her true gender identity, is now fighting for acceptance and the rights that she once fought to protect as a Navy SEAL; Mala Mala is a touching look into the trans community in Puerto Rico that has received great critical responses at festivals around the country. Both films illuminate the transgender experience and will make anyone who sees these films realize how important it is for EVERYONE—regardless of race, religion, gender, sexuality, etc.—to have access to the rights, privileges, and respect that all people deserve."~Utah Film Center Artistic Director, Patrick Hubley
Is the DTH! festival strictly for entertainment purposes, or is this an actual contest? Is there a winner of Damn These Heels? DTH is currently a non-competitive festival but festival goers can vote for their favorite dramatic and a documentary film.
What can we [or any members of the community, come to that] do to help? Thankfully, the Utah Film Center has a dedicated staff and slew of willing volunteers. To support the Film Center and Damn These Heels it always helps to attend the screenings, spread the word about Film Center programming, and if you're able, to become a member or sponsor.
Compared to What: The Improbable Journey of Barney Frank*
Compared to What: The Improbable Journey of Barney Frank is the surprise film of the year, a rare and intimate peek into the life of Barney Frank, the quick-witted, cantankerous, and most prominent openly gay congressman in the United States. A flawless example of what happens when the personal meets the political, the bare-all access of this documentary reveals Frank as one of the most sharp-tongued, entertaining, and lionhearted politicians of our time. *Film will be shown on opening night only and can be seen by those with a festival pass.
CTW Trailer 2 mins from Pack Creek Productions on Vimeo.
The Circle
This award-winning film chronicles a tumultuous period for Switzerland's pioneering gay male organization, The Circle, as seen through the eyes of timid schoolteacher Ernst Ostertag and drag performer Röbi Rapp, partners for more than 50 years! The couple first met through their association with The Circle, the centre of Switzerland's discreet, but thriving, gay community. The Circle was known both for the magazine it produced, which was read by thousands in Switzerland and abroad, and for its legendary annual masked balls.
Mala Mala
This gorgeous and well-crafted film premiered to great reviews at the 2014 Tribeca Film Festival. A celebration of the trans community in Puerto Rico, this documentary is an intimate exploration of self-discovery and activism featuring a diverse collection of individuals. Similar to the groundbreaking film Paris Is Burning, Mala Mala follows the lives of a transgender sex worker, her straight-identified male partner, a trans club owner, a local performer, a trans activist, an aged salon owner, and a familiar performer who appears on the television show RuPaul's Drag Race.
To Be Takei
Just a few weeks after the historic gay weddings occurred in Utah, To Be Takei became one of the most relevant, must-see films at the 2014 Sundance Film Festival. The filmmakers and the two Takei husbands were received with long, standing ovations, and George Takei delighted audiences with angry condemnations of Governor Herbert, which were surprisingly rage filled coming from a seemingly mild-mannered 70-year-old.
My Straight Son (Azul no tan rosa)
Diego, a successful fashion photographer in Caracas, is in a longtime and loving relationship with his partner Fabrizio, an OB/GYN physician who would like to settle down. Fabrizio proposes that Diego move in with him to "formalize" their relationship. While considering Fabrizio's offer, Diego learns that his son, Armando, a teenager who lives in Spain with his mother and whom he hasn't seen in five years, will be coming to live with him for a short time.