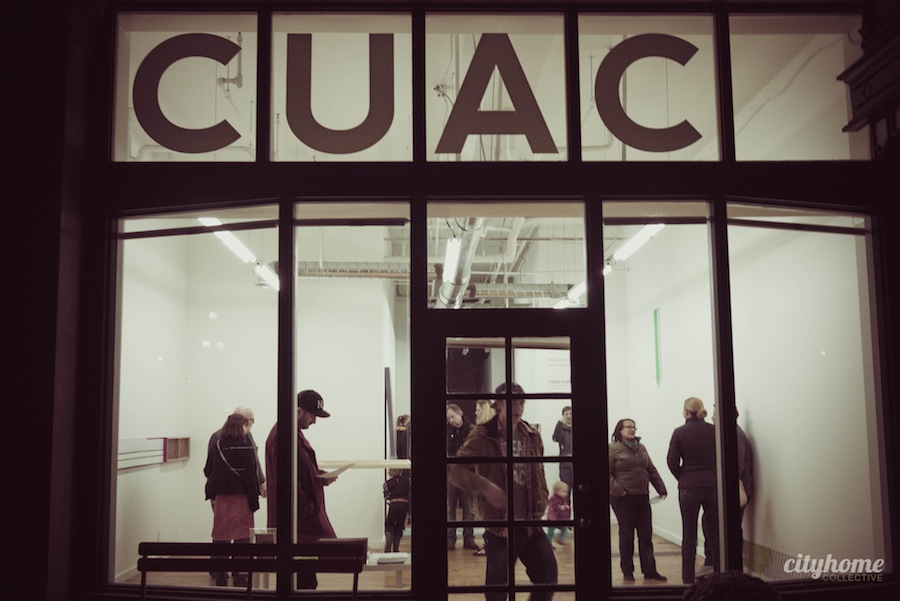 The contemporary art scene is flourishing in Salt Lake City, thanks to a myriad of good humans and resolute artists. For the record, we're jazzed as hell about it. Much of the 'thanks' for this can be directly straight to local artist, Adam Bateman, and his downtown, non-profit gallery CUAC : Central Utah Art Center. This is a twisty little art-love story, riddled with controversy, Footloose-themed parties, and passion. We probably don't have to ask you now to keep reading.
Adam Bateman is known for his sculptures and installation art...he's shown his works across the globe. A native of Ephraim, UT [pop. 6,150-ish], he saw an opportunity in 2005 to take over the Central Utah Art Center [located in said wee town], which was slated to close after 14 years. Doing so would have meant -- at the time -- leaving his life and world of art in New York. Or, maybe not. CUAC had always been more of a local-art based gallery, but Adam had a bigger vision. He started building bridges, working to connect the art center with big-name artists from all over the country [many of whom had Utah roots].
CUAC became a hub of rich culture and contemporary art. For nearly 8 years, they thrived in Ephraim, exhibiting the work of not only internationally-renowned artists, but also that of Ephraim's residents [over 30% was local, in fact]. Still, in 2012, a sad series of local government changes would be the catalyst for bringing CUAC to our very own 200 South in SLC [thanks, Ephraim!]. In short, a new mayor/city council became a bit uneasy about the art that Adam was exposing to residents of Ephraim. In fact, Adam remembers distinctly the gallery opening night of NY artists, Xaviera Simmons and Chitra Ganesh, when the Mayor stopped in and saw photos of [gasp!] bare breasts. Adam refused to compromise the content of the art shown at the center. And then ironically [oh, wait...this isn't the definition of irony], the very next day CUAC was evicted from the building they'd spent years raising money for and inhabiting creatively.
It was a clear violation of their 1st Amendment rights, and CUAC refused to leave the building. They began 'Occupy Ephraim,' and even had the good sense to throw a Footloose-theme party [curse you, small-minded Utah towns!] at the gallery. Push came to shove. The city of Ephraim sued CUAC in state court, so CUAC sued the city in federal court. And while the pushing and the shoving commenced, Adam decided to keep CUAC in operation, so they found the perfect little spot last December -- near the corner of our very own 2nd & 2nd downtown. The circumstances are extreme, but SLC came out on the winning end of this.
The new spot will see Adam continuing to create worthwhile connections between his city and the rest of the art world. He plans to give these artists a reason to come to Utah and a reason to stay in Utah. "I want to create a critical mass here," Adam says. "I want to help the outside world understand how special this place is." Handshakes and hugs, brother...we're with you. He's got a method of pairing local artists with bigger name artists in every show, and it's weaving a complex web of contemporary art around our city. Their artist roster to date has been impressive, effectively legitimizing the gallery and attracting more and more of the same. It also happens to go hand-in-hand with another goal of the art center; Adam wants to educate us all as 'art collectors'...to illustrate the importance and value of investing in art.
He's really celebrating two art victories this year: 1) A settlement with the city of Ephraim, to the tune of $60,000.00 and a public statement acknowledging the importance of freedom of expression, and 2) Adam became the first Utahn to receive the very prestigious Joan Mitchell artist grant, to which we say, "shit yes!" Check out the current show, featuring Chris Purdie and Steven Stradley, and don't miss the first US showing of Spanish visual artists, Momu and No Es, in March. Additional details available on the CUAC website [link below].

CUAC | 175 E 200 S | 385.215.6768