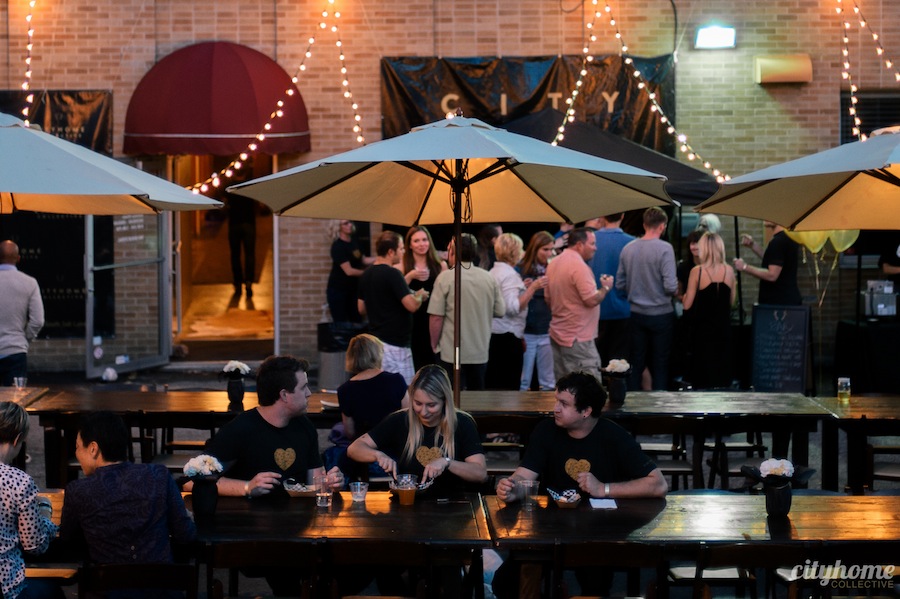 You showed. The forecast turned dark, and the massive sheets of bullying rain threatened us, and still you showed up. We all took cover for 20 minutes or so, yes…but it strengthened our friendship and our resolve to enjoy. And then--as with all good love stories--the clouds parted and together we danced, mingled, and blazed through varied meats and ales.
Oh, the meats and ales! We have some really top-shelf people and places to thank for all that good stuff you enjoyed at our Friday night riot. To the amazing folks at Squatters, we bow humbly. A party ain't a party without a good brew or two, and we are immensely grateful for your contribution [without a doubt, so were our attendees]. Even Stevens…ain't nobody got a sloppy joe like you [vegan or otherwise], and it was nice to gaze across the parking lot and see red sauce on every last person's happy mug. A million thanks for your gratifying ground meats. To Saturday's Waffle: you parked and pleased, friends. Eating pumpkin and praline grids served with a bow tie and a smile? It's all we ever wanted. And to the good guys and gals at Beer Bar…we assume the huge line at your table stood as proof enough that our guests are head-over-heels for the bangers you're grilling. So are we. Danke shoen for being here. Sweets and coffee, anyone? We had those, too. Beckie and the gals at Maison Confiserie et Boutique supplied us with the most adorable cotton candy cart in existence, which happened to whip up organic pear, lavender, and rose flavors for the masses. Needless to say, we loved it…thank you. And our COLLECTIVE hats are off to Pago/Finca pastry chef, Courtney McDowell, and Darby Doyle, who deep fried fresh churros all the live-long night. Mmm. Churros. Little goes better with those sticks of bready magic than a hot cup of reeaaally good coffee, and we have the Charming Beard gang to thank for that. A cup of ink certainly hits the spot on a rainy night, and we're COLLECTIVELY indebted for the warmth.
The gals of By Proxy Co. and the handsome Johnny Bonner and pal -- we love you dearly for mixing the cocktails and serving so damn swimmingly. DJs Concise Kilgore and Chaseone2, you shake our asses like nobody else, and this won't be the last time your beats grace our space. And to Brynn at Blooms & Co…just look at how god damn cute those tables looked. Thank you, thank you, thank you. To Jon and the folks at Alphagraphics…thanks for spreading the logo love. To our COLLECTIVE faves, Jess + Nata, of Big Bear Photo Co. and this editor's #1, Kerri Fukui, for capturing the magic of the night. Gracias. [And to our InstaContest participants, stay tuned…we'll announce winners of the contest next week!] Finally, to everyone who helped with setup, and breakdown, and everything in between…thank you. Takes a frickin' village, man. Takes a village. We hope you all enjoyed as much as we did.
'Til next year, everyone.
COLLECTIVELY,
Devoted.