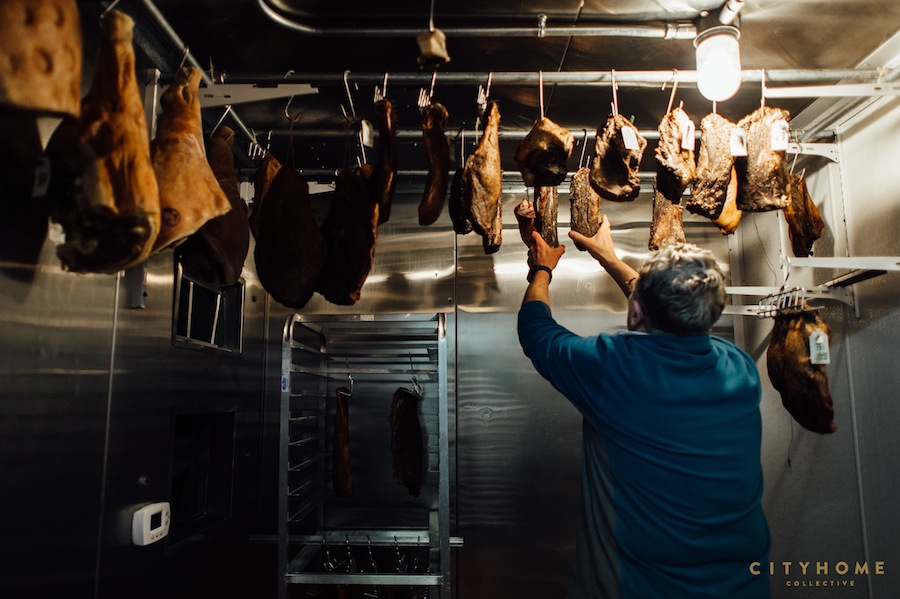 Remember those fab sausages served up with style last autumn at last year's COLLECTIVE Brew + 'Q bash? Those sassy snacks were courtesy of none other than Salt Lake City's answer to Abe Froman: Frody Volgger of Salt & Smoke Meats (C'mon, y'all. The Sausage King of Chicago? Bueller?) If you haven't been over to Chef Frody's snug shop in South Salt Lake yet, you'll find out soon enough that these are sausages that have nothing to hide in either procurement or process. Sourced from local family-run farmsteads like Christiansen Family Farms in Vernon, UT, the pork is as delectable as it is decidedly conscionably raised, and prepared under the direction of artisan butcher and ardent champion of all things sustainable and delicious, award-winning chef, Frody Volgger.
We've volubly sung Frody's praises before, most notably in our love story to all things boozy and brats-worthy at BEER BAR, one of our absolute fave day-drinking patios. But now that summer grilling season is officially in full swing at our own cozy casas, we'll be heading to Frody's storefront Fridays and Saturdays to stock up for the weekend and beyond. You'll also find eager fans snagging up a bounty of grate-worthy protein at the Downtown Farmer's Market, where the team of Salt & Smoke has a bustling stall and cadre of coolers ready for your perusal.
In addition to some of our go-to favorites—dozens of sausage varieties, amazing ready-to-eat artisanal charcuterie like coppa and swoon-worthy speck, thick artisan bacon, chops, and farm fresh eggs—Team Frody has ventured this year into deliciously bovine territory with beef from family-run Lonetree Ranch outside Evanston, WY. Says Salt & Smoke butcher babe and operations manager extraordinaire, Cassie Little, "We've been looking for a good grass-fed beef purveyor for a while, and we were blown away by the rich flavor and marbling of their beef. It's unlike anything else available on the market for taste and quality." They've created some pretty superlative beef jerky selections just itching for take-along on your next hike, road trip or (if you're doing it Bueller-style) day-long sloughing adventure in the big city.
S&S is also the go-to for special requests. True story: Cassie and Frody totally saved my unprepared ass last year when I was making antelope chorizo at home after a hunt. I had run out of pork trim ('cause everything's better with a little pork, amiright?), and within hours of my panicky phone call, they had me stocked up and back in business with some gorgeous pig jowls. Charcuterie disaster, averted. The gang at Salt & Smoke also expertly prepares primal cuts of beef, lamb, and pork perfectly prepped for immediate grilling and broiling, along with custom cuts to order for finicky gourmands or folks who'd rather leave the fancy knife work to the pros. Savvy SLC locavores in the know plan ahead for busy holiday entertaining come fall: Salt & Smoke brines turkey for pre-order, smokes whole hams, and prepares crown roasts, geese and duck for home roasting. Happy Holidays, indeed. For the 411 on hours, location and pre-ordering specialty cuts, check the website below.
Frody's Salt & Smoke Meats | 155 W. Malvern Ave., SLC | 801.680.8529