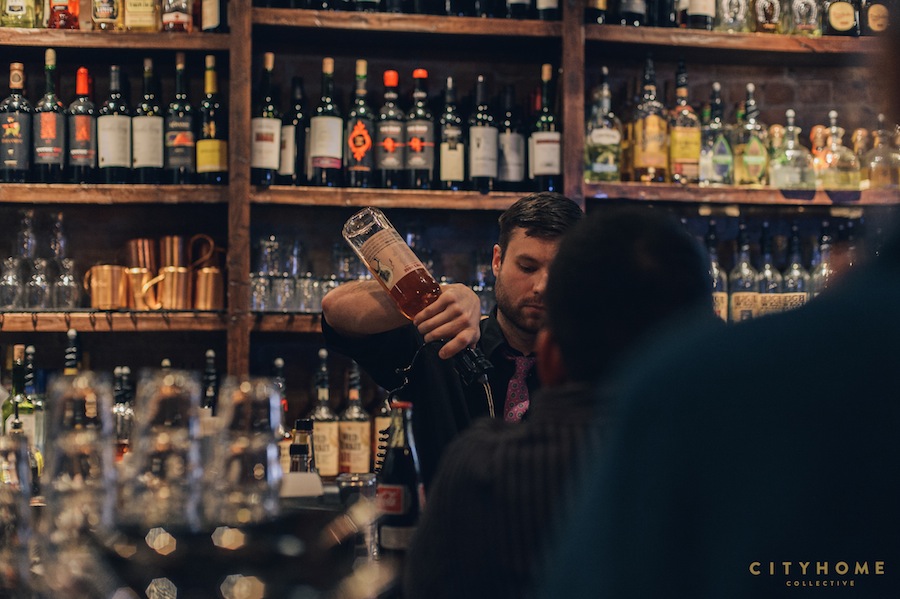 Ah, winter, and all it's sparkling, snow-capped frosty glory. Time for celebrating, staying in with the family, snowboarding/skiing, egg-nogging, and—for those of us who dabble in the drink—taking in the joys of varied holiday cocktails, hot toddies, Irish coffees, and the like. December is a damn good time to have a sip, say we, from the warm-your-cockles nightcap to the bubbly you'll sip far too much of on New Year's Eve. It's all eat, drink, and be merry this time of year, but for those of us in the Beehive state, it can sometimes feel a bit easier said than done.
Navigating the maze that is Utah's liquor laws can make this place feel arid to a thirsty traveler. We've got some bizarre ways that hearken back to the wink-and-nod days of Prohibition, no doubt, and our restaurant scene, for example, is laden with strange rules. The "Zion curtain" that all but ruins good design and behind which all mixed drinks must be prepared in an awkward take on the peep show; the drink that can't actually land on your table unless you've ordered food. And while bars are less restricted, they've still got plenty of guidelines to which they must hold fast. Take, for example, the fact that you'll never lay eyes on a free-pour in our state…all shots are calibrated to a strict 1.5 ounces via a dispensing system. No doubles or side cars. Oh, and any beer over 3.2% must be sold in a bottle. To the at-home drinker, things are a bit better, if not still stymied. To get anything stronger than the aforementioned 3.2% ale sold in grocery stores, we must brave the local oasis: State Liquor Stores, which are closed on Sundays and holidays, and crowded on most others (we've all been caught in the crush of late-Saturday or pre-holiday madness as shoppers rush to stock up for the long, dry days ahead). Of course, there's the coming-of-age tradition to run across the border--rum-runner style--to stock up on beer, liquor, and clove cigarettes…then sneaking back, your suspension dragging with the weight of contraband and gleeful rebellion. On the bright side, however, we're not the only state with a metered system (which does serve to decrease drunk driving), and to be frank, there are those in the Bible Belt that are far worse off...dry counties still exist, people.
If you can get past the surface of these restrictions, however, you'll discover a spirited culture of refined palates and industrious nerve spreading across the state. Thanks to slight relaxing of our liquor laws, we now host a growing number of local wineries, breweries, and distilleries that have risen from the ashes and are making a name for themselves across the country. Several producers cleverly have package store licenses right at the source, so you can buy your hootch without the pesky State Store mayhem and even, gasp, on the Lawd's Day. Home brewing is a favorite past time, and Salt Lake City now boasts some of the finest craft cocktails a night on the town can offer (we suggest grabbing one at Bar X, Copper Common, Pallet, or Finca). It seems that the tide might be turning toward a more liberal libation attitude (praise be!). While the liquor stores are closed on Sundays, many of these business are in fact open. Lucky you, they've got inventive cocktail menus, well-schooled mixologists, and perfectly-paired wine lists that make it pretty easy to get a buzz in the Beehive.
It's easy to assume this ethanol renaissance is a newcomer to the region; we are a state steeped in the notorious teetotaler attitude of it's founders, after all. But our culture of craft brews, local wine, and smokey mountain whisky is much closer to the days of Utah yore than many might suspect. Utah's history is as drunken and stumbling as that of the rest of our country, and with good reason: back in the 1800s, alcohol was used as medicine, a preservative, and as a lucrative income to subsidize the building of the State of Deseret. In fact, Salt Lake's own Main Street was known as Whisky Street until 1870, and Brigham Young himself was said to have owned three or four distilleries. Mormon settlers were known for their particular brand of whisky called Valley Tan (referred to famously by Mark Twain in some of his essays), and it could be purchased at ZCMI, along with other liquors, beers, and wines of the time. But naturally, there were efforts to curb the consumption of alcohol, and many counties went dry by 1911, but our love of spirits wasn't quelled for a moment. Private stills, bathtub gin recipes, and a kind of local sugar mash all became a normal part of local life in mining towns like Coalville and Park City, and by the time Utah adopted Prohibition in 1917, those who drank were well practiced in the art of distilling, brewing, and bootlegging. As bars closed, local production turned up their profits. Working with the same level-headed industry that governed many other parts of life in Utah, the Beehive's boozy underbelly kept making alcohol. Enforcement of the law nationwide was difficult to fund without the added income from liquor taxes and sales, and Prohibition in Utah was all but a failure. Wives took over the stills while their husbands served prison sentences, and fines were quickly paid off with money gained from selling more product. Raids on speakeasies in Salt Lake City often netted as many off-duty policemen as they did civilians. Between 1925 and 1932, federal agents seized over 400 distilleries, 25,000 gallons of spirits, 13,000 gallons of wine, and 332,000 gallons of mash. In 1933, Utah made the deciding vote to repeal prohibition and in 1935, the first state liquor stores opened their doors to the public. In return, they showed a great deal of gratitude: in the first 15 days, they netted $54,866 in sales (the equivalent of $961,433 today).
With history in mind, it's not so hard to understand why Utah's relationship with booze is permanently set as "It's complicated". We've come a long way from Twain's rough Valley Tan to High West's modern aged-oat interpretation of that Utah standard (complete with Porter Rockwell's mug on the label), and time's are definitely still a-changin'. We'll continue to imbibe our perfectly-measured liquors and wait in line for a bottle of red on Christmas Eve. We'll order some fantastic food if it means we get a craft cocktail alongside our plate, and we'll continue to puzzle over why there is no such thing as a Happy Hour. For those who find themselves in a constant state of frustration over 3.2% draft laws, pour limit, and club licensing, we can always exercise the right to contact legislators and the DABC to affect the changes we so desire. But at least we can rest assured that our strange laws have foundation in an equally strange past, and we can pay homage to the stubborn and industrious nature of our state. Thanks to those goodly pioneers who appreciated a good belt as much as we do today, we can raise our glass to the bootleggers of yesteryear and count ourselves grateful that they proved beyond any doubt that alcohol is here to stay.