AIGA 100 Show | Judge Ye Not…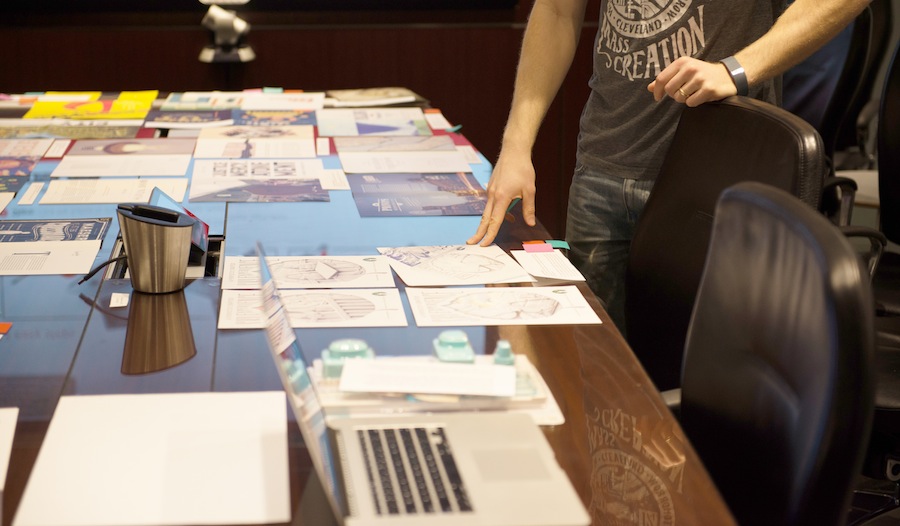 Judge not, that is, as the judges have already been chosen. Ye needn't bother. As always, our COLLECTIVE hats go off to to the team of artistic critics–lovingly selected by the Salt Lake Chapter of AIGA, the professional association of design–to pick the cream o' the crop for the 2016 AIGA 100 Show. Each year, the expert judges are charged with the task of sifting through hundred of entries of sublime design, and each year they must excruciatingly choose but a mere 100 to receive "Awards of Excellence" certificates and placement in the 100 Show winners' book. The top seven professionals will receive the coveted Copper Ingot award, and three student projects will be recognized as Student Winners.
Each year the SLC chapter of AIGA holds the 100 Show in the hopes of seeking out and commending "the best design in Utah regardless of the form it takes." And the forms it takes are many. The show celebrates the best design in Utah, which is "interpreted as anything designed for a client for commercial use," and must incorporate "graphic design, specifically some combination of typography and images." The guidelines are meant to be open-ended, because the AIGA believes that "limiting the definition of 'design' to print, environmental or web projects is a dated concept," and we COLLECTIVELY commend the forward-thinking notion. The theme for this year's 100 show is Queens & Kings of Design, and included among the royals are the distinguished judging trio: Nicole Flores, Ben Johnson, and Drew Melton (full bios below). We certainly revel the talent and attention to detail that goes into all facets of design, and we jump at the chance to support local and support the arts any chance we get (so supporting local art is a total no-brainer). This year's title sponsor is the venerable O.C. Tanner, and the award show kicks off Saturday, May 14th, so get your tickets now and mark that calendar up right quick. As always, AIGA promises to "do this party up right and will honor the amazing (and growing) talent of designers we have in the community." Queens, Kings, and in-betweens: come one, come all.

AIGA 100 Show Gala | Saturday, May 14th, The Gateway Mall (old Anthropologie space) | Purchase tickets here

Nicole Flores — Associate Creative Director, Hatch SF
"Nicole is an expert at integrating design elements of days past with dynamic, modern styles of the present. With more than 11 years experience, she's a keen problems solver with a firm grasp on raising a brand's relevance. Nicole does not drink coffee. Ever."
Ben Johnson — Owner/Creative Director, Elegant Seagulls
"Like a baby bird taking flight Ben has grown his studio, Elegant Seagulls, from a one-man operation to one of the largest agencies in MI. As creative director he oversees all things design. When not cracking hilarious jokes Ben enjoys surfing, snowboarding, CrossFit, and spending time with his family and two dogs."
Drew Melton — Independent Designer/Co-founder, Carmel Type Co.
"Drew is a Graphic Designer who is having an ongoing love affair with lettering & typography. He spends most of his time creating lettering illustrations for advertising campaigns, wine and liquor labels, logos among a wide variety of other projects. These projects have allowed him to work with brands such as Nike, Toyota, Penguin Books, Harrods and Target among others. In his spare time he designs illustrative fonts to sell through the type foundry he co-founded called Carmel Type Co."
Judge information courtesy of: AIGA