Place of Worship | Adobe Utah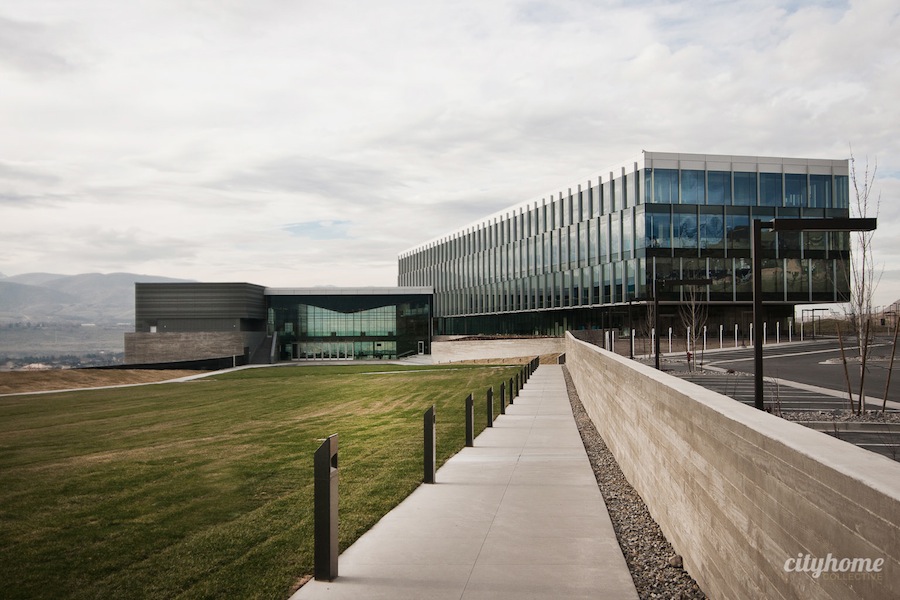 To our complete delight, we were able to take a sneak-peek-style tour of the Adobe Utah Technology Campus a few days ago. COLLECTIVELY, we're in complete and utter awe. Impressive stats aside for now, this structure is a stroke of architectural and design genius, both inside and out.
We're told that the venture injected 5 million+ per month into our local economy and may ultimately create up to 1,000 new jobs. It's akin to a big, shiny, gold star for Utah that will likely bring us some top-shelf tech talent in the next few years. The big numbers that went into growing this baby make the final product seem all the more impressive, as they managed to steer clear of the expected. Rather than a stale business complex, we've landed at a bit of a mecca.
It's easy enough to find construction statistics on the massive undertaking. Mind-wobbling quantities of concrete, piping, steel, and network cabling were employed; miles of materials building-blocked to create things like road-spanning bridges and massive walls of windows that can take 100-mph winds. You know…feats of engineering and such that amount to 280,000 square feet of attention-getting looks and sound construction in equal parts.
For our piece, however, we love that Adobe appears to have gone at the interior with creative guns blazing. It's a vast expanse of employee-pleasing details [we assume the annual holiday party will be awesome]. The furniture and basic design are a win; simple, modern, easy on the eyes. Some of the more eclectic details stand out as random [say, the biggest lava tubes on earth or the piano room carpeted in turf], but they're no less stellar for it. The building is filthy with amazing artwork, and every last piece of it carries some manner of Adobe-meaning. One example is the giant work of El Mac in the atrium. As a photo-realist graffiti artist, El Mac utilizes Adobe Photoshop to create giant murals the world over with spray paint. Appropriately, Adobe set him to it, resulting in an incredible piece of a little girl coloring, which is meant to "inspire the child in all of us to dream, explore, invent and create the future". Mike Giant, a graffiti artist with a bent for lettering, was asked to grace the walls of the café; in brilliant fashion, it's perfectly littered with terminology that reflects the Adobe values and culture.
We could go off about a thousand other details, like the computer-laden "Dungeon" downstairs devoted strictly to gamers, or the kinetic art of Andrew Smith, or the room full of bike racks for pedaling employees, but we'll save it and let the photos do the chatting. There's clearly too much to cover, anyway. Someone should get us a job in this joint.